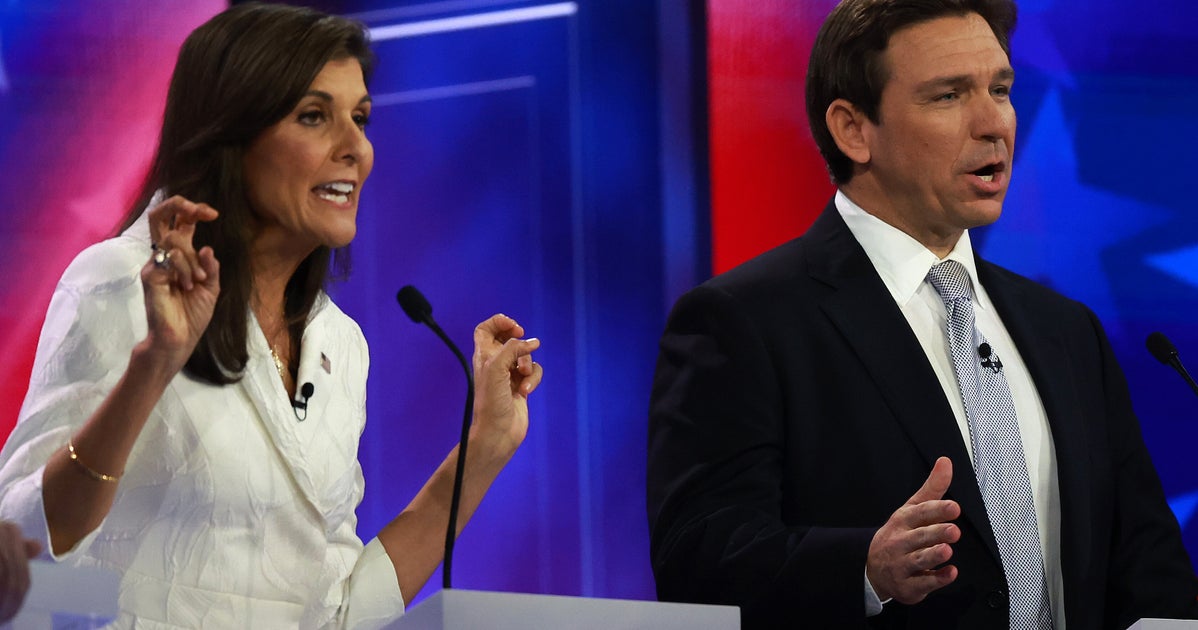 Voting in the Republican presidential primary begins in just two months, but in their third televised debate Wednesday night, the candidates not named Donald Trump yet again chose not to make much of a case against the one who is.
The five on stage in downtown Miami were asked not once but twice why they would be a better choice for GOP voters than Trump. Only one ― former New Jersey Gov. Chris Christie, who appears to have little chance of winning the nomination ― even brought up the many criminal charges the coup-attempting former president faces.
"The real missed opportunity was on the ability to win," said Bob Vander Plaats, a prominent Christian conservative leader in Iowa. "We need a change in who's leading the party and/or the movement if we are to win in 2024."
Florida Gov. Ron DeSantis, who began the year actually ahead of Trump in some polls, mentioned Trump's failure to build a border wall and the increase he left in the federal debt. Former South Carolina Gov. Nikki Haley, who has been rising in the polls and many see as the best general election candidate against incumbent Democrat Joe Biden, suggested she didn't really want to discuss Trump at all.
"You know, everybody wants to talk about President Trump. Well, I can talk about President Trump," she said. "I can tell you that I think he was the right president at the right time. I don't think he's the right president now. I think that he put us $8 trillion in debt, and our kids are never going to forgive us for that."
Trump holds a 30-percentage-point lead over both Haley and DeSantis in Iowa and New Hampshire. Iowa's caucuses are set for Jan. 15, with New Hampshire's primary eight days later.
Neither Haley nor DeSantis, though, seemed to show much interest in taking on the front-runner, who on Wednesday night effectively taunted them all by staging a rally at a football field 10 miles away.
In the very first question, all five debate candidates were invited to explain why them and not Trump. South Carolina Sen. Tim Scott answered with an explanation of his Christian faith. Ohio businessman Vivek Ramaswamy instead attacked Republican National Committee chairwoman Ronna McDaniel, calling on her to come up on stage to resign before switching to attacking the news media.
DeSantis expressed outrage that Republicans have now had bad election nights for the past five years ― "We saw last night! I'm sick of Republicans losing!" ― without ascribing any specific blame to Trump.
Only Christie brought up the obvious issue of the four criminal indictments Trump faces, two of them for his actions leading up to his Jan. 6, 2021, coup attempt. "Anybody who's going be spending the next year and a half of their life focusing on keeping themselves out of jail and courtrooms cannot lead this party or this country," he said.
Wednesday night's Trump avoidance continued a pattern that began with the first debate in August.
Six of the then-eight participants famously raised their hands to affirm if they would still support Trump, even if he were convicted of a felony, should he wind up the eventual nominee. Only former Arkansas Gov. Asa Hutchinson and Christie ― both former federal prosecutors ― refused to go along.
Hutchinson failed to qualify for the second debate, and Christie trails Haley, DeSantis and Ramaswamy in polls.
Trump and his campaign advisers have clamored for the RNC to stop hosting debates and essentially declare Trump the 2024 nominee. They cite his big polling lead in the early voting states in the primary calendar and an even bigger lead in national polls, while claiming that they are not at all concerned about any of the other candidates.
Trump, nevertheless, continues to disparage those closest behind him in surveys. He has been bragging of late about the childish insult he came up with for Haley ― "bird brain" ― while he continues to call DeSantis "desanctimonious."
Republicans who want the party to move beyond Trump said Haley had the best night Wednesday.
"Haley had a very strong performance," said former Nevada GOP chair Amy Tarkanian. "DeSantis sounds good as long as you're not looking at his mannerisms."
"Nikki owned the night," said former New Hampshire Republican chair Jennifer Horn. "No stumbles. Sharp, and pulled no punches."