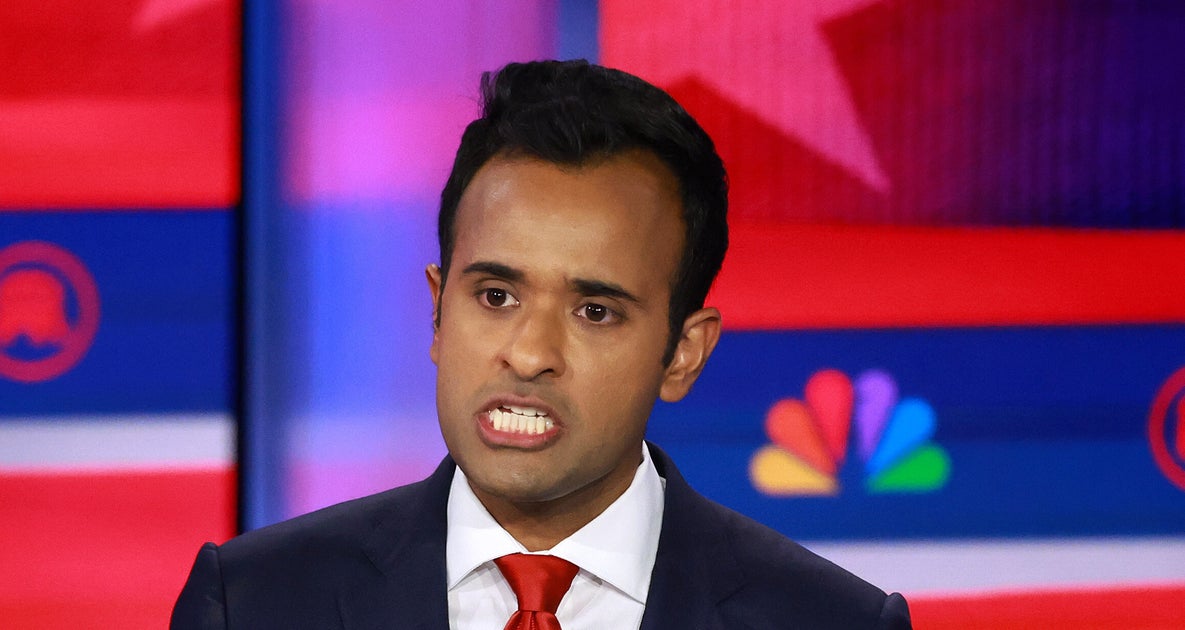 Entrepreneur Vivek Ramaswamy told reporters he had one strategy heading in to Wednesday night's third Republican debate: "Be unhinged."
From his opening answer, the near-billionaire delivered on his promise, attacking the moderators, peppering his competitors with barbs, and repeatedly attempting to be the loudest voice on the debate stage in Miami.
Here are six of his wildest moments:
He called Ukrainian President Volodymyr Zelenskyy a 'Nazi.'
Ramaswamy said he was "absolutely unpersuaded" that Ukraine should receive additional foreign aid from the United States amid its war with Russia on Tuesday, attacking the country's president and saying Ukraine was "no paragon of democracy."
He went on to call President Volodymyr Zelenskyy, who is Jewish, a "Nazi" and a "comedian in cargo pants."
"To frame this as some kind of battle between good versus evil — don't buy it," Ramaswamy said.
He said Nikki Haley was 'Dick Cheney in 3-inch heels.' And Ron DeSantis, too.
In one of the biggest zingers of the night, Ramaswamy attacked Haley's foreign policy record during a question about the Israel-Hamas war.
"Do you want a leader from a different generation who's going to put this country first, or do you want Dick Cheney in 3-inch heels?" he said, referencing her time as U.S. ambassador to the United Nations.
He then added, "In which case we've got two of them," a dig at reports that DeSantis is likely wearing lifts in his shoes.
He attacked moderator Kristen Welker.
Ramswamy used his opening remarks to attack moderator Kristen Welker, saying she and others in the media were responsible for the "Trump-Russia collusion hoax."
"Think about who's moderating this debate. This should be Tucker Carlson, Joe Rogan and Elon Musk," he said, saying the Republican Party should not have allowed NBC to host the debate. "We've got Kristen Welker here. You think the Democrats would hire Greg Gutfeld to host a Democratic debate? They wouldn't do it."
Conservative radio host Hugh Hewitt was also a host on Wednesday night.
He blasted Republican National Committee chairwoman Ronna McDaniel.
Ramaswamy has painted himself as far outside the traditional GOP establishment, and used Republicans' losses during the elections Tuesday to call for institutional change.
"I am upset about what happened last night," he said. "We've become a party of losers. There's a cancer in the Republican establishment. Let's speak the truth. Since Ronna McDaniel took over as chairwoman of the RNC, we have lost."
"We got trounced last night," he continued, "and I think we have to have accountability."
He appeared to get into a heated exchange with McDaniel after exiting the debate stage later that evening.
He hit Nikki Haley's daughter for using TikTok.
In one of the most tense exchanges of the night, Ramaswamy attacked Haley amid questions about whether the U.S. should ban the social media app, TikTok. National security officials have warned the app could have serious security concerns, and Haley had lambasted Ramaswamy for using the app himself in a previous debate.
"Her own daughter was actually using the app for a long time, so you might want to take care your family first," the businessman said.
"Leave my daughter out of your voice," Haley, visibly angry, replied. "You're just scum."
He called for 'sexual responsibility for men.'
Ramaswamy said he was troubled by the recent vote in Ohio to enshrine abortion protections into the state constitution, before saying Republicans had missed an opportunity to garner more political victories.
"Here's the missing ingredient in this movement, sexual responsibility for men," he said. "It's not men's rights versus women's rights. It's about human rights."
"We live in an era of reliable genetic paternity tests that are 100% reliable," he went on. "So we could say men deserve more responsibility, so we could tell women we're all in this together."