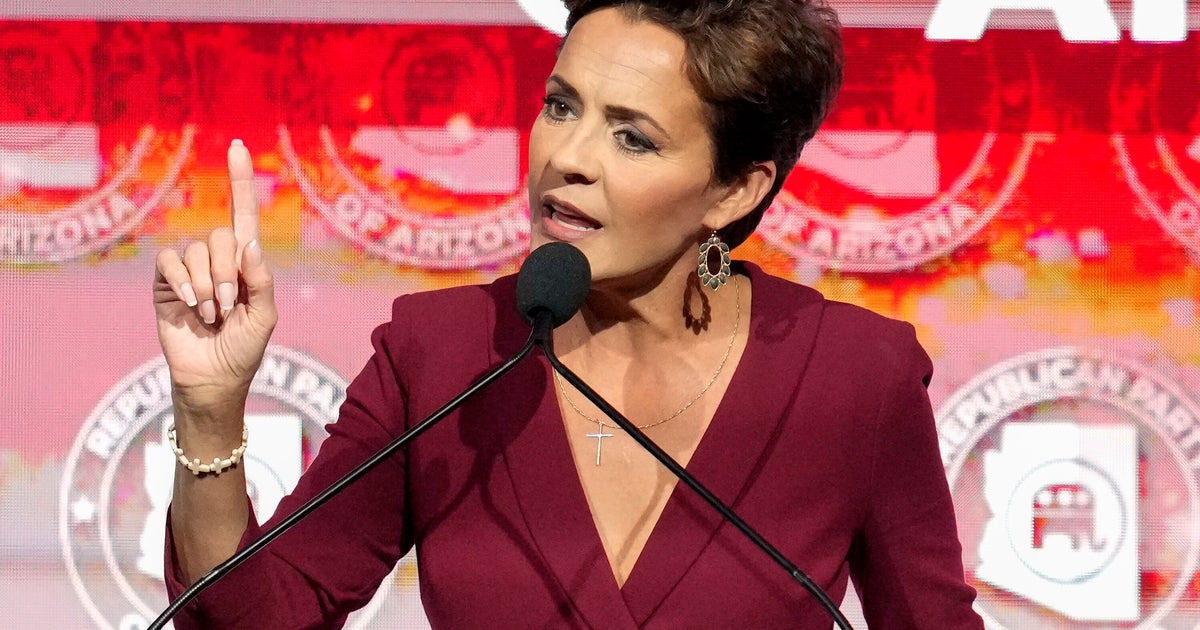 "I take every hit with gladness," Kari Lake told the audience at her Senate campaign launch Tuesday night, a serene smile spreading across her face.
This is the new Kari Lake — or at least the version who will be running for U.S. Senate in Arizona.
There was no talk of a stolen 2020 election or squishy RINOs. Lake, almost zen-like in a flowing white blazer, even welcomed support from across the aisle.
"I may disagree with Arizonans who voted for Joe Biden … but I don't think you're a threat to democracy," she said. "You are a citizen just like me. And I know you're struggling as well."
Lake repeated the sentiment, in case you thought she might have been joking — with a bad joke: "I don't care if they're with the Republican Party, the Democrat Party, the pizza party or the pool party. If they want to put America first, I will work with them," she told the audience gathered at her rally in Scottsdale, Arizona.
This was nothing like the Lake, who had previously suggested that she didn't want the votes of Republicans who had backed the late Sen. John McCain. Or the one who, only four months ago, threatened violence against prosecutors investigating Trump. Or the Lake who embraced Trump's big lie and refused to concede her own election against Democrat Katie Hobbs last year, even after she lost her challenge in court — none of which Lake referenced on stage Tuesday night.
Lake debuted a milder, softer, less grievance-laced vision of herself as the Republican nominee in a potential three-way race against a progressive Democrat and an incumbent senator who might not end up running in a swing state where persuadable unaffiliated voters now outnumber voters in each of the major political parties.
Regarding her 2022 race against Hobbs, which she lost by more than 7,000 votes and still refused to concede, Lake said: "We saw the disaster of Election Day in Arizona. Sometimes, when things don't go the way we expect, we find ourselves questioning and asking why, and I really, truly do — believe me, I've been talking to God about this. I said, 'Why God?' — I think God has bigger plans for us."
Lake said she planned to keep fighting for "honest elections," which she framed as neither a strictly Republican nor Democratic issue. "It's an American issue," she said.
She didn't mention the 2020 election directly, even when introducing former President Donald Trump, who recorded a video endorsement that she played for the audience. Trump called Lake a "fighter" and an "amazing woman respected by everybody."
The former news anchor's official campaign launch sets up a possible multi-way election for Arizona Senate in 2024: Lake, the likely Republican nominee; Rep. Ruben Gallego, the likely Democratic nominee; and potentially incumbent Sen. Kyrsten Sinema, the Democrat-turned-independent who hasn't said yet if she's even running for reelection.
Judging Lake's toned-down rhetoric, it's clear she and her advisors understand the challenge at hand: independent voters now surpass both Republicans and Democrats as Arizona's largest voting bloc, meaning that Lake can't rely on the MAGA base alone to get her to the Senate.
"If she continues to just try to appeal to the [GOP] base and no moderates, independents …. she's missing out on tens of thousands of votes," said Barrett Marson, a GOP consultant in Arizona. He said that's a lesson that Lake should have learned from her last race. "She literally said if you're a RINO, I don't want you to vote for me. Well, they didn't, and she lost."
Lake wasn't all cheer and positivity. She aimed the "fake news," a normal foil for the ex-newscaster. But even those attacks lacked some of the sting of her previous tirades against her former profession. "I even want those fake news fools back there. I even want your votes to count as well," Lake said with a sly smile.
Lake mentioned her two likely opponents in the general election (but didn't even bother to address her opponent in the Republican primary, Pinal County Sheriff Mark Lamb) but framed the Senate race in Arizona as a battle against President Joe Biden, who will also be on the ballot when Lake is running, in a probable rematch against Trump. (Lake was previously floated as a potential running mate for Trump's effort to reclaim the White House.)
"Joe Biden has us on a fast track to total destruction, and I don't know about you, but I'm ready to put him on an Amtrak back to Delaware," said Lake, who cited Arizona's water crisis, immigration at its border with Mexico, and drug abuse and trafficking as her major priorities as a senator.
Arizona Democrats, with an eye toward a very unsettled race that could tip the balance of power in the Senate away from their party, were quick to call Lake an extremist — once again.
"We're rolling the tapes on Kari's record. Voters need to know how dangerous her agenda would be for Arizonans and the entire nation," read a plea for donations from the Arizona Democratic Party, followed by a statement from the party chairman: "Her announcement showed all the reasons Republicans — and Arizonans of every political party — didn't want her to run, and all the reasons she'll lose again in 2024."