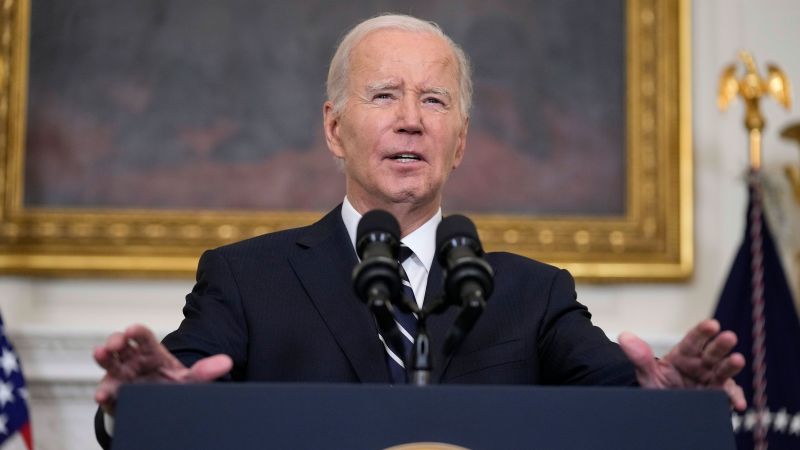 President Joe Biden over the last two days participated in a voluntary interview with special counsel Robert Hur as a part of his classified documents investigation, the White House announced Monday.
"The President has been interviewed as part of the investigation being led by Special Counsel Robert Hur," White House counsel's office spokesperson Ian Sams wrote in a statement Monday. "The voluntary interview was conducted at the White House over two days, Sunday and Monday, and concluded Monday."
"As we have said from the beginning, the President and the White House are cooperating with this investigation, and as it has been appropriate, we have provided relevant updates publicly, being as transparent as we can consistent with protecting and preserving the integrity of the investigation," Sams continued, referring additional questions to the Justice Department.
The interview marks the first major development in the case known to the public in months and stands in stark contrast to Biden's predecessor. Former President Donald Trump never interviewed with special counsel Robert Mueller during the investigation into Russian interference in the 2016 election despite extensive negotiations over a potential interview. Trump currently faces criminal charges in two separate special counsel investigations, including one regarding his own handling of classified documents after he left the presidency in January 2021.
The interview comes months after Biden told CNN there had been "no such request and no such interest" for an interview with the special counsel in the investigation.
A spokesperson for Hur, who oversees the Justice Department's probe into classified documents found at Biden's home and former private office, declined to comment to CNN.
The interview was scheduled weeks ago, according to a person familiar with the matter.
The president had a light public schedule Sunday and Monday with no public events, and reporters were given relatively early notice that Biden would not have any public appearances. On Monday, the president met with administration officials about the fighting in Israel in the morning and spoke with allies in the afternoon.
Hur was appointed in January to investigate incidents of classified documents being found at Biden's former Washington, DC, office and his Wilmington, Delaware, home. Upon announcing the investigation, Attorney General Merrick Garland laid out a timeline of the case that began with the Washington discovery in November 2022.
The National Archives informed a DOJ prosecutor on November 4 that the White House had made the Archives aware of documents with classified markings that had been found at Biden's think tank, which was not authorized to store classified materials, Garland said.
The Archives told the prosecutor that the documents has been secured in an Archives facility. The FBI opened an initial assessment five days later, and on November 14, then-US Attorney John Lausch was tasked with leading that preliminary inquiry. The next month, on December 20, White House counsel informed Lausch of the second batch of apparently classified documents found at Biden's Wilmington home, according to Garland's account. Hours before the announcement of Hur's appointment, a personal attorney for Biden called Lausch and informed him that an additional document marked as classified had been found at Biden's home.
The documents were found "among personal and political papers," according to a statement from the president's legal team. The FBI later searched Biden's Rehoboth Beach, Delaware, home in February and found no additional documents.
While Biden has not often commented on the case, he said in January that he was surprised to learn that classified documents were found in his former office.
"I was surprised to learn there were any government records that were taken there to that office," Biden said in response to a reporter's question at a news conference in Mexico City, where he was attending a trilateral summit with the leaders of Mexico and Canada.
He emphasized at the time that he did not know what was in the documents. As CNN previously reported, US intelligence memos and briefing materials that covered topics including Ukraine, Iran and the United Kingdom were among them, according to a source familiar with the matter. Biden didn't know the documents were there, and didn't become aware they were there, until his personal lawyers informed the White House counsel's office, one source familiar with the matter told CNN.
The president said his attorneys "did what they should have done" by immediately calling the Archives.
"People know I take classified documents, classified information seriously," Biden added, saying that the documents were found in "a box, locked cabinet – or at least a closet."
After documents were found in his Wilmington home later in January, Biden said he was cooperating fully with the Justice Department. Biden added that the documents were in a "locked garage."
"It's not like they're sitting out on the street," he insisted when a reporter asked why he was storing classified material next to a sports car.
This story has been updated with additional reporting.