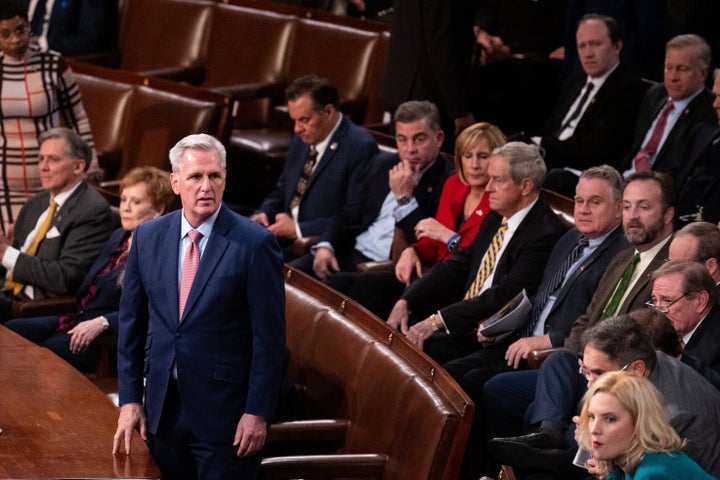 His upcoming visit this week to the U.S. Capitol will look more than a bit different.
House Speaker Kevin McCarthy (R-Calif.) told HuffPost on Monday that Zelenskyy will meet with a select group of lawmakers and party leaders in a bipartisan setting when he visits the House side of the U.S. Capitol.
"We're going to do a bipartisan meeting. A group of members. Hakeem's going to have some, I'll have some, based on the committees and stuff, and we'll do a meeting together," McCarthy said, referring to House Democratic Leader Hakeem Jeffries (D-N.Y.).
Zelenskyy is expected to attend the annual United Nations General Assembly in New York this week and then go to Washington to meet with President Joe Biden. The Washington Post reported he was expected to arrive in the capital on Thursday.
Thursday is currently the last working day of the week in Washington scheduled for House lawmakers. However, with House Republicans wrestling over how to pass legislation keeping the government open past Sept. 30, McCarthy has threatened to hold representatives longer.
Still, the change in atmospherics could not be sharper. McCarthy, since taking the gavel from now-speaker emerita Nancy Pelosi (D-Calif.) when Republicans took control of the chamber, has had one-on-one meetings with the leaders of Italy, the United Kingdom and India when they have visited.
In addition to inviting Zelesnkyy to speak to Congress and make the case for more U.S. aid directly to lawmakers as well as to the American public, Pelosi gifted Zelenskyy with a flag that had flown over the U.S. Capitol on the day of his visit, and Zelenskyy gave her a Ukrainian battlefield flag signed by soldiers. The pair also made brief remarks at a photo-op.
But as the war has passed the 18-month mark, there are signs of war fatigue, especially among Republicans. A CNN poll released in early August found 71% of Republicans opposed more aid to Ukraine and 59% thought the U.S. had done enough already to support the country.
Donald Trump, the leader in the Republican presidential primary who is campaigning while out on bail from various indictments, has said publicly he could negotiate a quick end to the war but has in the past suggested Russia be allowed to keep some of the land it's occupied, a condition Ukrainians reject.
Zelenskyy's visit comes as Congress is mulling whether and how to fulfill Biden's request for about another $20 billion in aid to Ukraine as part of a supplemental spending request also including disaster aid.
McCarthy said Monday his fellow House Republicans were split on the issue and hinted that he may try to tie additional aid, a high priority for the White House, with border enforcement changes sought by House Republicans.
"I think there's a number of people who want to make sure it's successful there. They also want to make sure the American border is secure, too," he said.