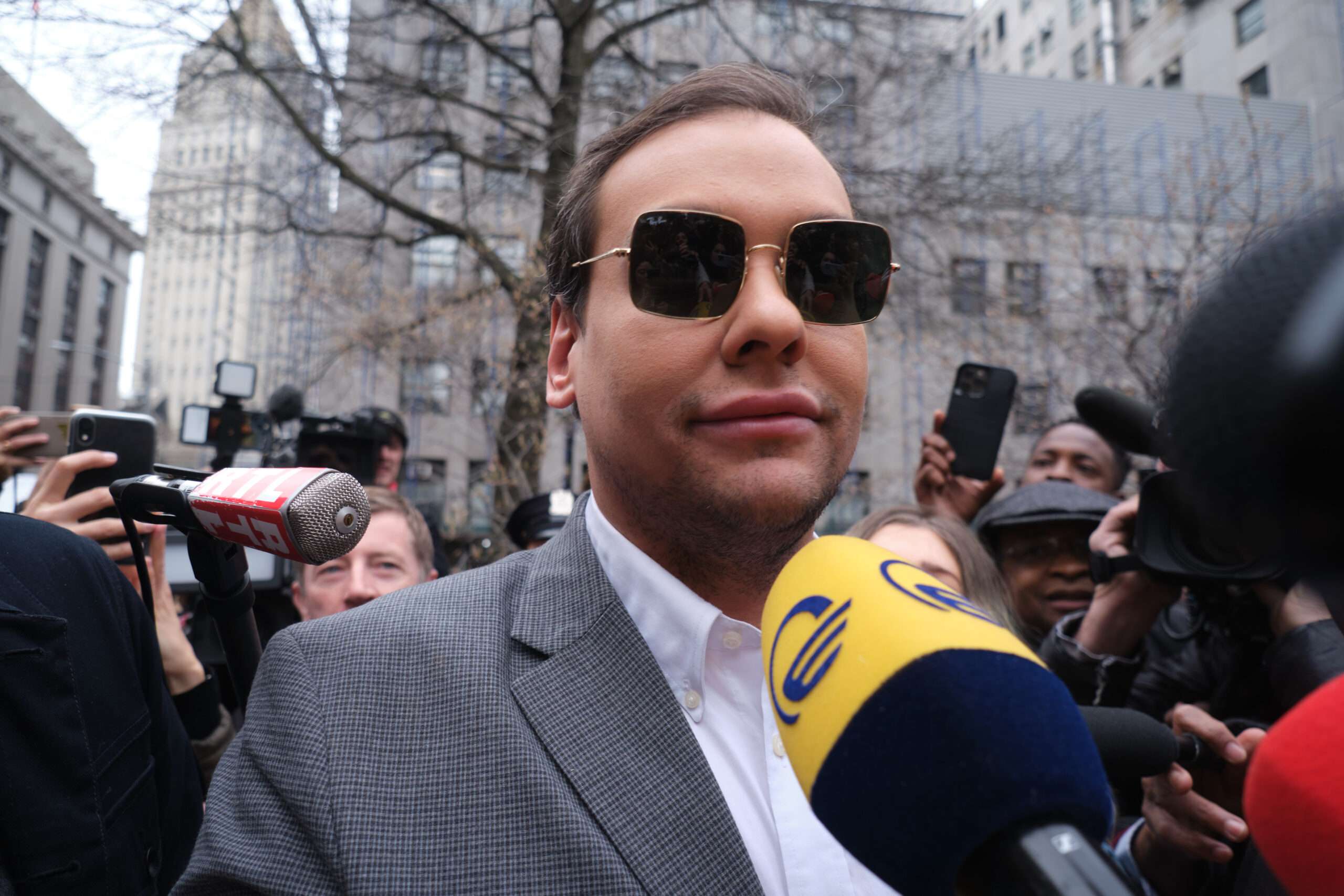 This week, Rep. George Santos (R–N.Y.) was indicted on 13 federal counts, including wire fraud and lying to Congress. Today, the Justice Department unsealed the indictment and announced that Santos had been taken into custody in New York. He later pleaded not guilty to all charges.*
"This indictment seeks to hold Santos accountable for various alleged fraudulent schemes and brazen misrepresentations," said Breon Peace, U.S. Attorney for the Eastern District of New York, in a press release. "Taken together, the allegations in the indictment charge Santos with relying on repeated dishonesty and deception to ascend to the halls of Congress and enrich himself."
In December 2022, just weeks after Santos won his House seat, The New York Times published an extensive report calling into question nearly every aspect of Santos's resumé, including his college and professional histories. Later reporting showed that Santos falsely claimed that his mother had died on 9/11 and that he was a descendant of Holocaust survivors.
While telling tall tales on the campaign trail is not a crime, the indictment alleges that Santos was up to much more. Prosecutors say that during his 2022 run for Congress, Santos encouraged supporters to send campaign contributions to a Florida-based company he operated "under the false pretense that the money would be used to support [Santos'] candidacy." Santos then spent "thousands of dollars of the solicited funds on personal expenses, including luxury designer clothing and credit card payments."
Santos also reportedly enlisted a political consultant, identified in the indictment as Person No. 1, to falsely tell supporters that the company was either a 501(c)(4) or an "independent expenditure committee" like a super PAC, and therefore not bound by typical campaign limits of $2,900 per person. The scheme allegedly raised tens of thousands of dollars by promising that the money would fund TV advertisements, but Santos instead funneled it into his personal bank accounts and spent the cash.
The indictment also alleges that Santos falsely applied for unemployment benefits intended for people who lost their jobs during the pandemic. In June 2020, Santos "falsely claimed to have been unemployed since the week of March 22, 2020," and then "certified his continuing eligibility" weekly through April 15, 2021. During that time, Santos allegedly collected $24,744 in unemployment benefits while earning a $120,000 salary as the regional director of a Florida investment firm.
Ironically, the House will soon vote on H.R. 1163, the "Protecting Taxpayers and Victims of Unemployment Fraud Act." The bill "addresses fraud and overpayments of pandemic unemployment insurance (UI) benefits" and incentivizes states to investigate and recover fraudulent payments. Santos is a co-sponsor of the bill.
The indictment contains seven counts of wire fraud, three counts of money laundering, one count of theft of public money, and two counts of making false statements to the U.S. House. It alleges that Santos misused $50,000 in fraudulent campaign donations.
Under the federal wire fraud statute, Santos could face fines and as much as 20 years in prison. Harry Litman, who previously served as Deputy Assistant Attorney General and U.S. Attorney for the Western District of Pennsylvania, wrote on Twitter that Santos, "trapped and likely broke," may "wind up pleading guilty to minimize his jail exposure & fine."
In 2018, former Rep. Stephen Stockman (R–Texas) was sentenced to 120 months in prison and ordered to pay more than $1 million in restitution after being found guilty of 23 counts of mail fraud, wire fraud, and misuse of campaign funds.
*UPDATE: In a court appearance, Santos pleaded not guilty to all charges.