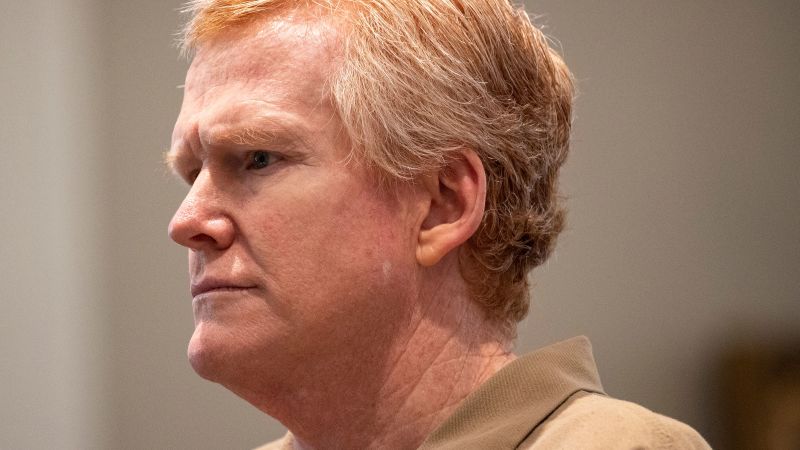 The South Carolina attorney general has asked an appeals court to order convicted murderer Alex Murdaugh's defense team to correct and refile their motion requesting a new trial, while also noting an ongoing investigation has raised significant doubts about the disgraced attorney's claims of jury tampering.
Murdaugh, a disbarred personal injury attorney, is appealing his conviction for murdering his wife and grown son. However, last week his attorneys requested that appeal be suspended as they seek a new trial for Murdaugh based on jury tampering allegations.
In a five-page response filed Friday afternoon, State Attorney General Alan Wilson's office is asking the state court to give Murdaugh's team 10 days to refile a corrected motion. It lists several "procedural defects" in Murdaugh's original court motion submitted on September 5, arguing it did not meet the requirements necessary to suspend his appeal and allow his motion for a new trial to proceed in the circuit court.
Last week, the attorney general asked the South Carolina Law Enforcement Division to investigate the claims in Murdaugh's motion for a new murder trial, according to a joint statement from Wilson and the investigative agency.
"The state's only vested interest is seeking the truth," the September 7 joint statement reads. "As with all investigations, SLED and the South Carolina Attorney General's Office are committed to a fair and impartial investigation and will continue to follow the facts wherever they lead."
The state's response Friday doesn't directly dispute the allegations of jury tampering by Colleton County Clerk of Court Rebecca "Becky" Hill included in the original motion from the defense. But it does note the investigation is ongoing and has already "revealed significant factual disputes" that undermine the credibility of Murdaugh's claims.
Murdaugh's attorneys claimed Hill "tampered with the jury by advising them not to believe Murdaugh's testimony and other evidence presented by the defense, pressuring them to reach a quick guilty verdict, and even misrepresenting critical and material information to the trial judge in her campaign to remove a juror she believed to be favorable to the defense."
CNN has reached out to Murdaugh's defense team for comment.
In their motion for a new trial, the state said Murdaugh's defense team failed to show the evidence in question was discovered since the trial or demonstrate the evidence could not have been discovered before the trial, which lasted for six weeks between January and March this year. The response also said the original motion is missing a required affidavit from Murdaugh himself.
The state also argues conflicting remarks were made during press conferences and media interviews by Murdaugh's attorneys about when evidence of the alleged jury tampering was first discovered, stating they must be explained and clarified. In the new motion, Murdaugh must establish exactly when and how he first learned about the allegations he raised, the state said.
If the defense files a new motion that meets the legal standard, the credibility of Murdaugh's claims will be under the discretion of Judge Clifton Newman, who, in March, handed down the two life sentences the disbarred attorney is currently serving in a South Carolina state prison, according to the state's response.
In a separate case, Murdaugh is scheduled to appear before a federal court judge next week, where he is expected to plead guilty to nearly two dozen charges related to fraud and financial crimes, pending a cooperation agreement, according to Murdaugh's defense team.
Murdaugh is also set to stand trial in November on charges related to stolen settlement funds from the family of the Murdaughs' late housekeeper, Gloria Satterfield. It is the first of 101 state charges related mostly to accusations of stealing from his clients' legal settlements, with victims' alleged total losses amounting to almost $8.8 million, according to prosecutors.