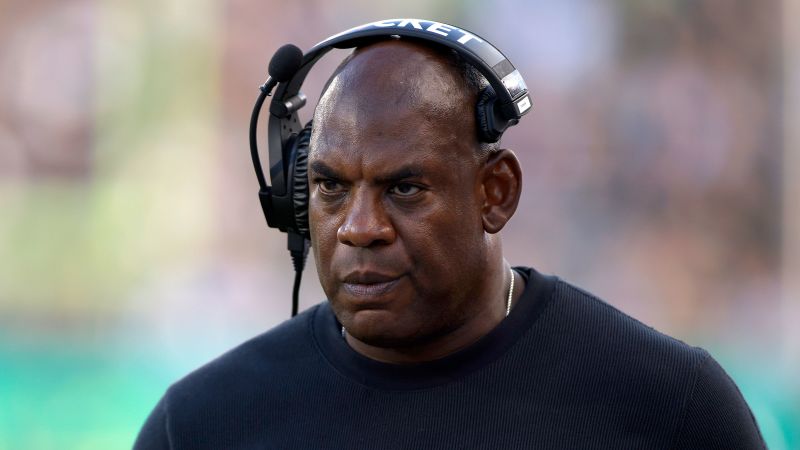 Michigan State head football coach Mel Tucker has been suspended without pay amid an ongoing investigation, the university announced Sunday.
Vice president and director of athletics Alan Haller announced in a news conference Sunday that Tucker is the subject of an ongoing investigation that began in December. An investigative report was submitted in July and a formal hearing will take place the week of October 5, Haller said.
Tucker's suspension comes on the heels of an explosive report published in USA Today Saturday night.
According to the USA Today report, Tucker is alleged to have made sexual comments and masturbated while on a phone call with Brenda Tracy, an advocate and rape survivor.
In a letter to investigators, Tucker characterized his and Tracy's relationship as "mutually consensual and intimate," according to USA Today.
CNN has not independently verified the details of the USA Today report.
Tracy started the nonprofit Set The Expectation, where she speaks to athletes about ending sexual violence, according to her website. Tracy was raped in 1998 by four college football players, leading to her advocacy.
Tracy served as an honorary captain for the team's spring football game in 2022, according to the program's social media accounts.
This is Tucker's fourth season with the team as he became the head coach in 2020 for the Spartans, according to the university's website.
"This morning's news might sound like the MSU of old; it was not," Michigan State University interim president Teresa K. Woodruff said Sunday afternoon. "It is not because an independent, unbiased investigation is and continues to be conducted."
Secondary coach Harlon Barnett will fill in as acting head coach, Haller announced, and former MSU head coach Mark Dantonio will become an associate head coach. The Spartans take on the Washington Huskies on Saturday at home, according to their football schedule.
Woodruff made note of counseling resources that are available for anyone who may be affected by this news and mentioned the Center for Survivors and Office for Civil Rights on campus.
"If you have heard or experienced or know of behavior that does not seem appropriate, please know that you have the support and resources here at MSU," Woodruff said.
CNN reached out to Tracy and her attorney on Sunday but has not heard back.
CNN also reached out to Tucker's agent following the announcement of his suspension but has not heard back.
CNN's Melissa Alonso and Jacob Lev contributed to this report.