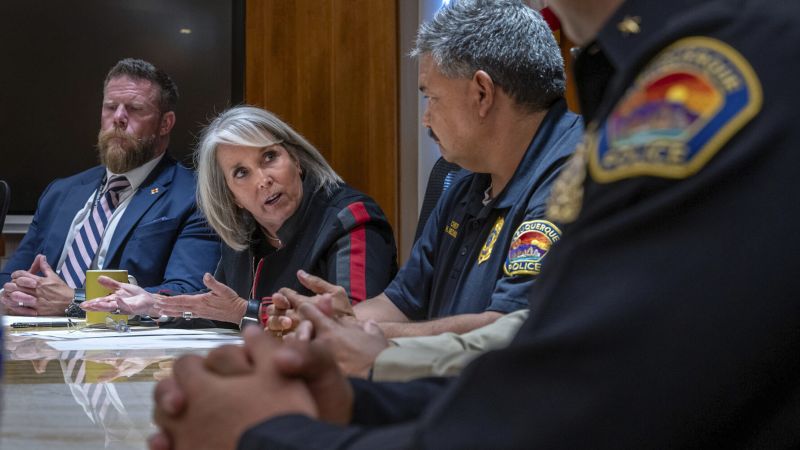 The National Association for Gun Rights filed a lawsuit against New Mexico's Democratic governor and health secretary Saturday over orders declaring gun violence a public health emergency and suspending open and concealed carry laws in cities and counties based on crime statistics.
Gov. Michelle Lujan Grisham issued the emergency order after the shooting deaths of three children from July through September, as well as a pair of mass shootings in the state.
The lawsuit, filed in the US district court for New Mexico on Saturday, lists Lujan Grisham and New Mexico Department of Health Secretary Patrick Allen as defendants.
The National Association for Gun Rights argues in the lawsuit that the orders violate the Second Amendment.
"The State must justify the Carry Prohibition by demonstrating that it is consistent with the Nation's historical tradition of firearm regulation. But it is impossible for the State to meet this burden, because there is no such historical tradition of firearms regulation in this Nation," the lawsuit reads.
Throughout the suit, the plaintiffs cite a 2022 Supreme Court decision that struck down a New York gun law that restricted the right to concealed carry outside the home.
The lawsuit also lists Albuquerque resident Foster Allen Haines as a plaintiff. Haines intended to partake in the state's open carry law, according to the complaint.
"Haines is precluded from doing so by the Carry Prohibition, which deprives him of his fundamental right to keep and bear arms for lawful purposes protected by the Second Amendment," the lawsuit reads.
The plaintiffs ask the court to grant an injunction prohibiting the emergency order from being enforced, the lawsuit states.
A second lawsuit was also filed Saturday against Lujan Grisham; Allen; Department of Public Safety Secretary Jason Bowie; and State Police Chief W. Troy Weisler by Bernalillo County resident Randy Donk and the Gun Owners of America. The suit likens the executive order and public health emergency declaration to "martial law" and argues that it is a suspension of constitutional rights.
This lawsuit also asks the court for an immediate temporary restraining order and later a preliminary and permanent injunction to be granted.
Caroline Sweeney, a spokesperson for Lujan Grisham, said in a statement Sunday that the governor "is prepared to fight challenges to her decision."
"Gun violence is a public health emergency in the state and extraordinary measures are required to prevent more innocent New Mexicans from being killed by guns," the statement said.
CNN has reached out to the Department of Health for comment on the lawsuits.
Lujan Grisham last week also issued a statewide enforcement plan that includes a 30-day suspension of open and concealed carry laws in Albuquerque and surrounding Bernalillo County, CNN previously reported.
The order, which went into immediate effect, temporarily bans the carrying of guns on public property in those counties with certain exceptions, according to the governor's office. Citizens with carry permits will still be allowed to possess their weapons on private property such as gun ranges and gun stores if the firearm is transported in a locked box, or if a trigger lock or other mechanism is used to render the gun incapable of being fired.
The order also prohibits firearms on state property, including state buildings and schools, as well as at parks and other places where children gather. Under the order, licensed firearm dealers will be inspected monthly by New Mexico's Regulation and Licensing Division to ensure compliance with sales and storage laws.
This story has been updated with additional information.
CNN's Jack Forrest, Conor Powell and Andy Rose contributed to this report.