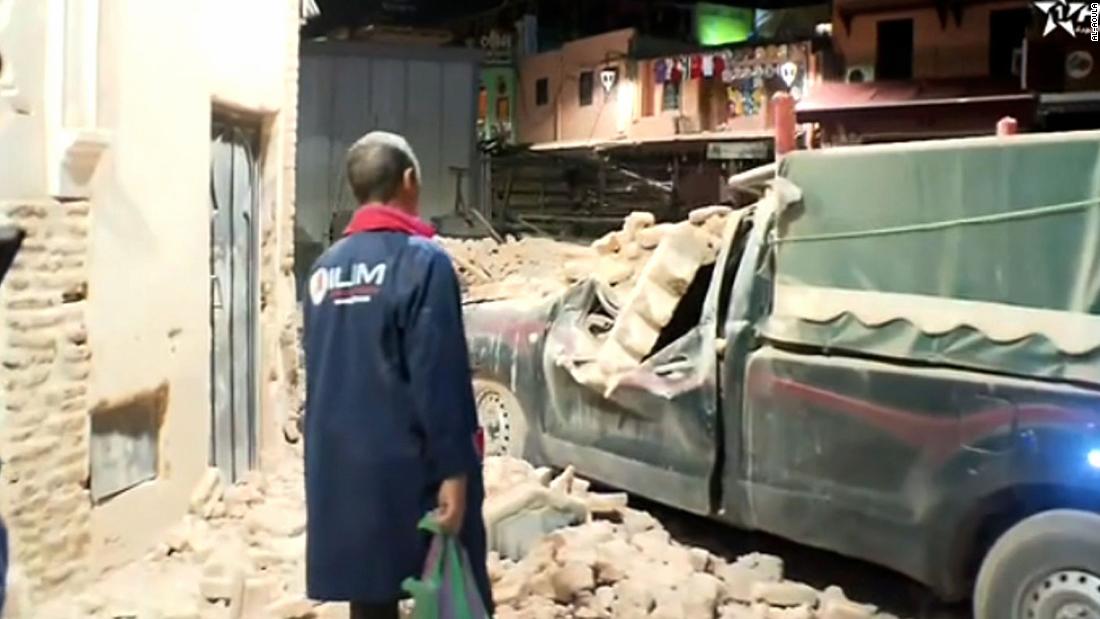 As night falls in Morocco, those who've had their homes destroyed by the deadly 6.8-magnitude earthquake may find themselves again sleeping on the streets. Search and rescue teams are trying to reach those affected near the mountainous epicenter, and experts warn the number of dead may continue to rise.
These are the latest developments:
Death toll climbs: At least 2,000 people have died and another 2,000 are hurt due to the quake, according to state broadcaster Al Aoula, which cited the interior ministry. Morocco will observe three days of mourning following the disaster, the Royal Palace said Saturday.
Eyewitnesses near the High Atlas mountains say there is "destruction everywhere." It was the strongest quake to hit within 500 kilometers (about 310 miles) of the area in more than a century, according to the US Geological Survey.
Uncertainty looms: CNN's Benjamin Brown, who was in Marrakech at the time of the earthquake, observed many of the city's parks, plazas and parking lots transformed into impromptu campsites amid destruction and fear of aftershocks.
Injured people from closer to the epicenter were brought to city hospitals, with medics performing open-air triage with many patients.
History destroyed: Marrakech's Medina and city walls, adored by tourists, were hit particularly heavily, their century-old structures unable to withstand the violent shake.
The Tinmal Mosque in the High Atlas mountains, a prime example of Almohad architecture, was also severely damaged.
Moroccan response: Morocco's King Mohammed VI issued instructions to set up a commission for relief services, which will provide care, housing and foods for those affected.
Global aid and reactions: Leaders from around the world — including US President Joe Biden, Chinese leader Xi Jinping, France's Emanuel Macron, Israel's Benjamin Netanyahu and Turkish President Recep Tayyip Erdogan — have extended their condolences to Morocco. Indian Prime Minister Narendra Modi opened the G20 summit in New Delhi on Saturday with "heartfelt condolences" to everyone affected by the quake.
France activated a fund that allows all local governments throughout the country, regardless of their size, to make financial contributions for emergency humanitarian operations abroad.
Israel's emergency services has geared up to mobilize in Morocco, the United Arab Emirates will establish an "air bridge" to deliver supplies, and Algeria reopened its airspace for humanitarian aid and medical flights despite having previously cut off diplomatic relations with Morocco.
Turkey says it is ready to send 265 personnel and 1,000 tents to Morocco to support aid efforts following the deadly earthquake, according to AFAD, Turkey's Emergency Management Authority.