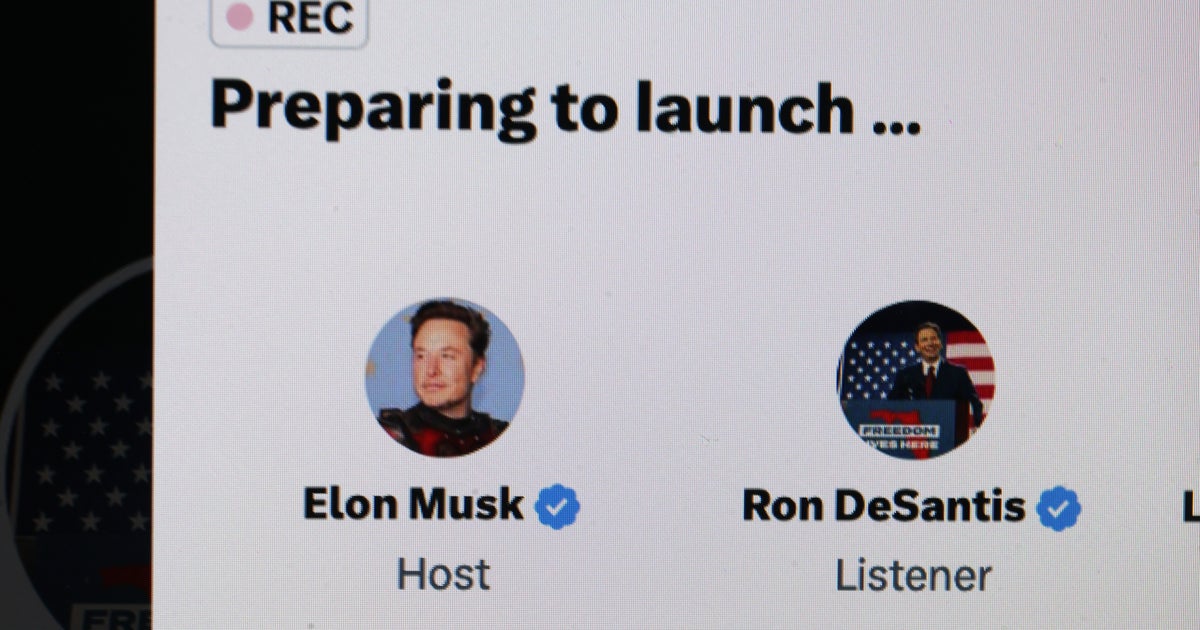 Florida Gov. Ron DeSantis' presidential announcement came in a very fitting style for a Republican who has won the hearts and minds of the conservative media and influencer classes: on their favorite platform, with their favorite billionaire.
DeSantis, who filed paperwork to run for president on Wednesday afternoon, ultimately made the announcement ― delayed for 26 minutes by technical difficulties ― on Wednesday night on Twitter alongside Elon Musk, who is increasingly known as much for interacting with far-right commentators spreading misinformation as he is for revolutionizing commercial space travel and electric cars.
The resulting disaster, mocked by his political opponents in both parties, served as a helpful reminder of the risk of DeSantis' strategy of going all in on an alignment with those commentators, several of whom ― including Musk friend and venture capitalist David Sacks and conservative education activist Christopher Rufo ― spoke during the event, but rarely about the issues at the center of most Americans' minds.
DeSantis' plan for winning the nomination over the party's front-runner, former President Donald Trump, involves tempting those same commentators with their favorite red meat issues: attacking transgender rights, the failures of the corporate media, the superiority of Bitcoin, owning the libs, relitigating how DeSantis' management of COVID was superior to that of other governors — Florida's 18th-highest per capita death rate in the country be damned — and cracking down on immigration.
From that perspective, DeSantis played the hits on Wednesday night. Much of the event was dedicated to celebrating his decision to bypass the "corporate media" and instead promote himself on a platform owned by the world's second-richest man. The governor attacked Joe Biden as "controlled by the woke mob" and said the president was suffering from the "woke mind virus." DeSantis said he was protecting children from "sex toys." The assembled right-wing commentariat loved all of it.
"We need a cool-headed, ruthless assassin to go in and take on our woke government," Sacks said at one point, praising DeSantis.
The problem? As Democrats found during the 2020 presidential contest, what thrills the online chattering classes does not necessarily translate into votes. (In modern political lingo, "online" has come to mean more in touch with the concerns of professional activists than the average voter. It's a flawed shorthand ― who isn't online these days? ― but we're rolling with it.)
Biden, 80, is famously offline. While his inner circle's purported disdain for Twitter has been occasionally overstated — Ron Klain, Biden's first chief of staff, has sent out nearly 70,000 messages on the platform — it has generally been unafraid to buck the desires of progressive activists who can shape debate on the platform.
The Republican Party, shaped by a decades-long conservative movement, is far more ideologically coherent than Democrats are, so it's less likely that chasing the whims of right-wing influencers will lead a candidate to fall flat in a GOP primary. A focus on culture war topics could, however, easily backfire in the general election.
DeSantis only needs to look to his own 2022 reelection campaign, where he smoked former Gov. Charlie Crist by 20 percentage points, to see how winning campaigns don't usually focus on bashing Disney.
A memo from Third Way, a centrist Democratic group, noted DeSantis' actual campaign advertisements focused on comparatively "normie" issues: keeping schools open during COVID, raising teacher pay, battling crime and combating inflation. GOP gubernatorial candidates in Michigan and Kansas who did run ads about transgender issues lost.
The danger for DeSantis, then, is that months of courting the online right could backfire if he heads into a general election against Biden, who is free to spend the next 18 months emphasizing his most popular stances on the most salient issues for a general electorate.
"It will be very hard to run the kind of general election campaign he ran in Florida after beating up on Disney and trans kids," said Lanae Erickson, a senior vice president at Third Way.
Another Democratic report, based on focus groups and polling with voters in small cities through the Midwest ― the places where Biden won back just enough white working-class voters to win the presidency in 2020 ― found the GOP's culture war message, focused on the "woke agenda," was less effective than a straight-forward economic one.
"Our strongest Democratic message on the economy beats the Republican culture war message easily," Democratic strategist Mike Lux wrote, summarizing the report in February. "The Republican economic message is a bigger threat to us. Our strongest Democratic message on the economy beats the Republican culture war message easily. The Republican economic message is a bigger threat to us."
DeSantis did present some messages on front-and-center issues. He attacked Federal Reserve Chair Jerome Powell's handling of inflation, which serves to attack both Trump and Biden. (Trump appointed Powell and Biden reappointed.) He also criticized Biden's handling of the southern U.S. border, a clear weak point for the president in public polling.
More broadly, the announcement ― as glitchy as it was ― has clear benefits for both DeSantis and Musk. Musk can flex his clout as a wannabe influencer and the leader of a massive — but declining in mainstream influence and very buggy — social media platform. DeSantis can enter the 2024 presidential race as the candidate best positioned to fight the libs online.
It was clear Twitter Spaces was a far-from-ideal launching pad even before the event repeatedly crashed. It's a rarely used subservice of a platform only 1 in 5 Americans use to begin with, it's audio-only and famously buggy. While DeSantis released a traditional campaign launch video at the same time, he's reportedly skipping the traditional hometown rally presidential candidates have launched with for generations.
But Twitter Spaces is used by right-wing influencers, and DeSantis has tried to woo a team of surrogates to sing his praises and fight his battles online. In January, DeSantis wined and dined a gaggle of conservative influencers at the governor's mansion in Tallahassee. Afterward, Dave Rubin, a TV host and YouTuber who had just moved from California to Florida, tweeted to his million Twitter followers: "I'm no longer an enemy of the state … Florida is the future."
DeSantis' Twitter launch boosts his online cred as well as spares him from things he famously doesn't like to do, like speaking with a live journalist (Trump's campaign swiped after news of the launch leaked that it saves DeSantis from having to do much interacting with anyone). Plus, he'll have an established audience of blue checks ready to watch and comment, courtesy of Musk.
The symbolism of DeSantis using Twitter as the vehicle for his launch isn't lost on anyone. The site used to be synonymous with Trump, whose own followers eventually started to find his tirades exhausting and reckless. The site booted him after he used it to help egg on the Jan. 6, 2021, riot at the Capitol.
Trump has since launched his own social media site, Truth Social, a near rip-off of Twitter where Trump's shares "truths" instead of tweets to a vastly smaller audience. Musk has invited Trump back to Twitter, but it's not clear when the invitation will be accepted, if ever.