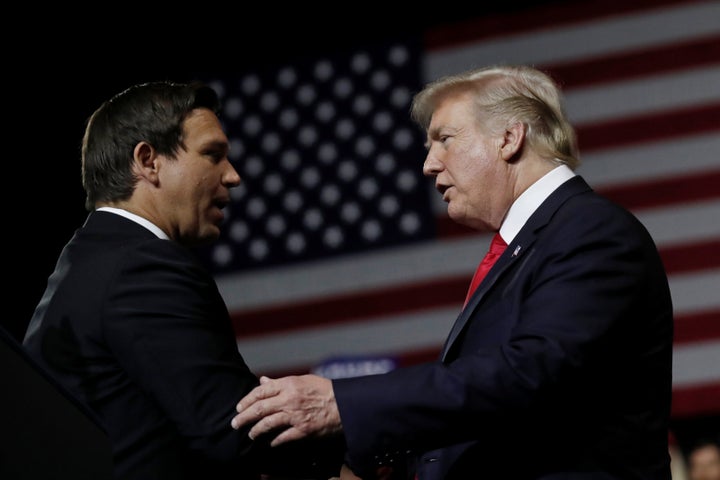 Florida Gov. Ron DeSantis (R) and Donald Trump, both declared candidates in the 2024 presidential election, are swatting back and forth at each other over how each handled the COVID-19 pandemic.
Though most critics of Trump's actions during the pandemic have accused him of undermining public health guidance, downplaying the severity of the disease and pushing a litany of unverified treatments, DeSantis claimed during a podcast appearance Thursday that Trump had actually delegated too much power to Dr. Anthony Fauci, then the director of the National Institute of Allergy and Infectious Diseases, throughout the pandemic.
"I think he did great for three years, but when he turned the country over to Fauci in March of 2020, that destroyed millions of people's lives," DeSantis said of Trump on "The Glenn Beck Program," a day after announcing his candidacy. "And in Florida, we were one of the few that stood up, cut against the grain, took incoming fire from media, bureaucracy, the left, even a lot of Republicans, had school open, preserved businesses."
In reality, Florida had the third-highest number of COVID-related deaths in 2021, according to data from the Centers for Disease Control and Prevention. In terms of deaths per capita, Florida ranked 18th among the states for that year. In general, blue states had the lower rates of deaths while red states had the highest, data shows.
Trump also repeatedly ignored and undermined Fauci's guidance on the pandemic and loudly criticized him when the doctor's comments on the health crisis veered from Trump's vision for reopening the economy.
In a campaign video Thursday, Trump took his own swipe at DeSantis, saying he was the one who poorly managed the COVID-19 response.
"When the Ron 'DeSanctimonious' facts come out, you will see that he is better than most Democrat governors but very average, at best, compared to Republican governors, who have done a fantastic job," Trump said in a campaign video.
"Even [former New York Gov. Andrew] Cuomo did better," Trump hurled at DeSantis, referencing COVID-19 deaths in each state. "He shut down everything, including the beaches."
From a public health perspective, neither Trump nor DeSantis did a good job of protecting people during the COVID-19 pandemic, and both put many people at risk for the sake of political gain, critics and infectious disease experts say.
DeSantis jabbed at Trump again during an appearance on "The Ben Shapiro Show" on Friday.
"He responded [to the pandemic] by elevating Anthony Fauci and really turning over the reins to Dr. Fauci, and I think to terrible consequences for the United States."
DeSantis asserted that he would have ousted Fauci had he been in Trump's position during the first years of the pandemic.
"If I'm president — somebody like Fauci is in the government, I will bring them in and I will tell them two things. You're fired," the Florida governor said, even though the president would not actually have the power to directly fire someone like Fauci, who was not a political appointee.