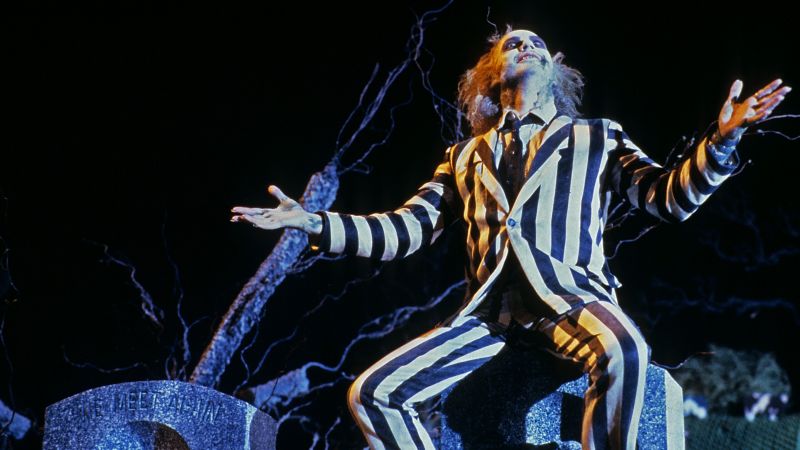 Putting to rest what may be one of the most rumor-generating movie possibilities in cinema history, the "ghost with the most" is finally getting his next big moment.
"Beetlejuice 2," the long-awaited sequel to Tim Burton's 1988 macabre masterpiece, is set to be released in September of 2024, Warner Bros. confirmed to CNN on Tuesday. (CNN and Warner Bros. are both part of the same parent company, Warner Bros. Discovery.)
The new film is said to feature the return of original stars Michael Keaton and Winona Ryder, as well as the addition of "Wednesday" and "Scream VI" star Jenna Ortega.
Starring Keaton, Ryder, Alec Baldwin and Geena Davis, "Beetlejuice" was a dark, funny and inventive original story that turned into a critical and bankable success, spawning cartoons as well as a recently-shuttered Broadway musical.
The first film's success was largely thanks to the cast, featuring Keaton as a fast-talking and highly inappropriate poltergeist who searches to take advantage of the "recently deceased" Maitlands (Baldwin and Davis) as well as their former abode's new tenants.
"Beetlejuice" boasts one of the best entrances of a character – Ryder's gothic Lydia Deetz, daughter of said tenants – in what was then her third-ever screen credit. The movie also put Catherine O'Hara, Emmy-winning star of "Schitt's Creek," firmly on the map in the delicious role of Lydia's stepmother Delia Deetz.
Speculation about a potential sequel has been swirling for years, with CNN last reporting in 2016 that Ryder thought "it would be great if it happened, if it was the right circumstances." Both Burton and Keaton also hinted a sequel was possible as early as 2013.
It is unclear whether the ongoing writers' strike will affect "Beetlejuice 2's" potential production timeline or release schedule. The film is currently set to premiere in theaters on Friday, September 6, 2024.