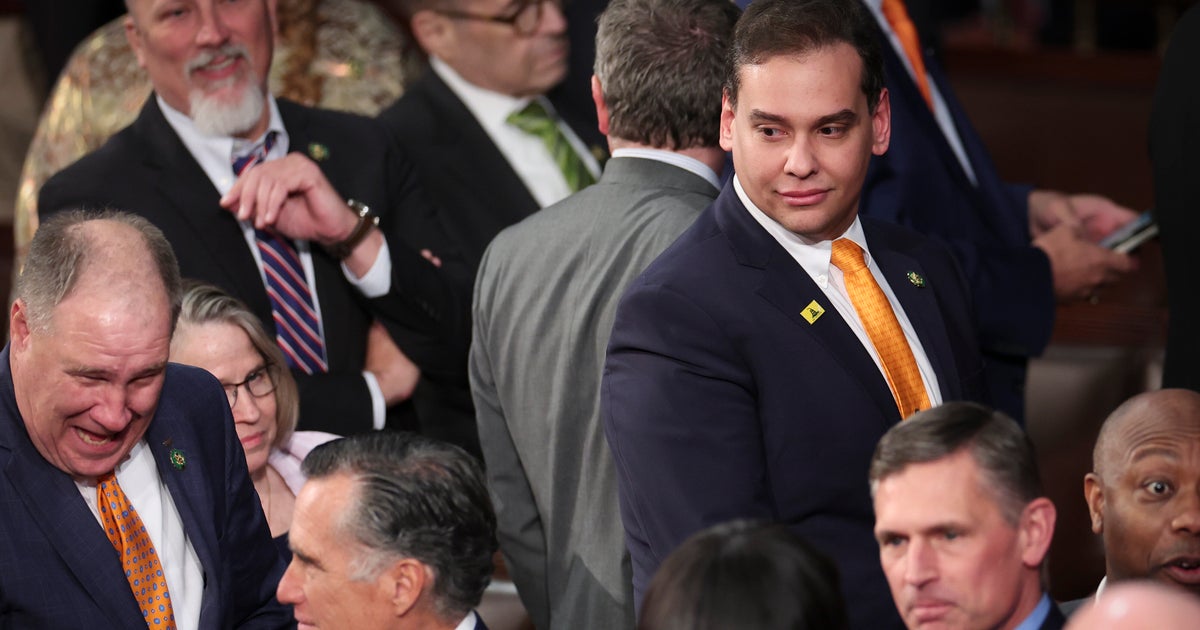 The office of Sen. Kyrsten Sinema (I-Ariz.) says she didn't offer words of encouragement to Rep. George Santos (R-N.Y.) at the State of the Union earlier this week, as the congressman has claimed.
In a Thursday interview with Newsmax, Santos claimed that Sinema treated him much better than Sen. Mitt Romney (R-Utah) had at President Joe Biden's annual speech to Congress on Tuesday. Romney told the truth-challenged congressman he didn't belong in Congress in a tense exchange ahead of the speech.
"Kyrsten Sinema, as she was walking by, she said something to the effect of 'Hang in there buddy,' or something like that," Santos told Newsmax. "I said, 'Thank you, Madam Senator.'
He added: "She was very polite [and] kind-hearted. She's a good person, unlike Mr. Romney who thinks he's above it all and who is on an almighty white horse trying to talk down to us on morality."
But a spokesperson for Sinema denied that characterization and called it a "lie."
"I can confirm that it did not happen," Hannah Hurley, the senator's communications director, told HuffPost in an email.
Videos of Santos' confrontation with Romney, which don't capture audio of the conversation, seem to show Santos briefly addressing Sinema. "I'm well, thank you, how are you?" Santos appeared to say to the Arizona senator as Romney berated the congressman for trying to get a handshake with Biden.
It's unclear whether Sinema was speaking to Santos or Rep. Thomas Massie (R-Ky.), who was standing beside him. She and Romney quickly moved on before Biden was set to give his address in the House chamber.
"He's a sick puppy. He shouldn't have been there," Romney told reporters after the speech. "Given the fact that he's under an ethics investigation, he should be sitting in the back row and being quiet instead of parading in front of the president. You certainly shouldn't be in the aisle trying to shake the hand of the President of the United States and dignitaries coming in. It's an embarrassment."
Santos' credibility is extremely suspect. He made up nearly every aspect of his personal biography, including his academic credentials, work history and ancestry. He even lied about his mom being in the World Trade Center during the Sept. 11 terror attacks.
Most of the revelations came to light after he was elected to Congress. He has stepped down from his House committee assignments but has refused to resign while under investigation by the House ethics panel.