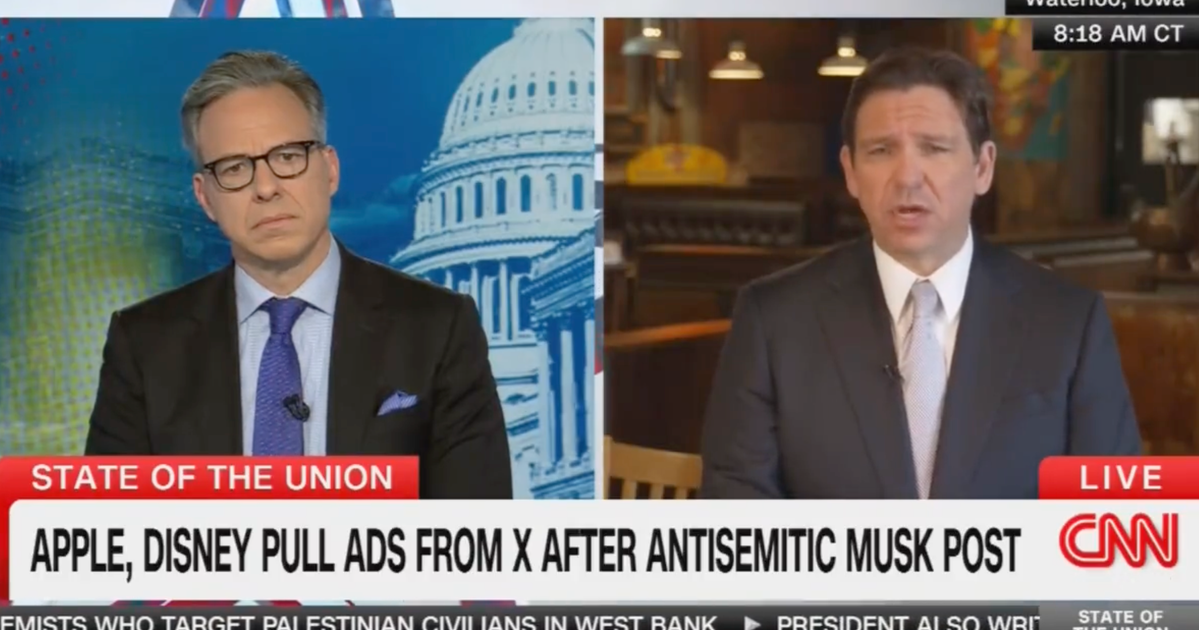 Florida Gov. Ron DeSantis, who announced his 2024 presidential campaign on what was formerly known as Twitter, is refusing to directly condemn Elon Musk for his recent decision to endorse an antisemitic post on his platform at a time when Jewish Americans are facing a rise in hate.
On Wednesday, an X user ― whose profile indicated he identifies as Jewish ― shared a video of an advertisement about combating antisemitism. The user said that anyone who anonymously posts "Hitler was right" should "say it to our faces."
Another user replied to the post, accusing Jewish people of "pushing the exact kind of dialectical hatred against whites that they claim to want people to stop using against them." The user also suggested that said supposed behavior by Jews justifies hatred against them by "hordes of minorities that support flooding their country," a conspiracy theory linking Jewish people to nonwhite immigration that the gunman in the 2018 Tree of Life synagogue shooting subscribed to.
"You have said the actual truth," Musk replied to the antisemitic user, sparking widespread anger over his agreement with the post. The White House condemned Musk in a statement, calling his post an "abhorrent promotion of Antisemitic and racist hate … which runs against our core values as Americans."
When asked about the companies' decisions, DeSantis claimed he was unaware of Musk's antisemitic comment.
"I did not see the comment. And so I know that Elon has had a target on his back ever since he purchased Twitter, because I think he's taking it in a direction that a lot of people who are used to controlling the narrative don't like," The Republican candidate told Jake Tapper on Sunday during CNN's "State of the Union."
"So I was a big supporter of him purchasing Twitter. I think that they're obviously still working some stuff out, but I did not see those comments."
Tapper then tried to read Musk's comment to DeSantis, who then claimed he has "no idea what the context is."
"I know Elon Musk. I have never seen him do anything. I think he's a guy that believes in America. I have never seen him indulge in any of that," the governor said. "So it's surprising, if that's true, but I have not seen it. So I don't want to sit there and pass judgment on the fly."
Rep. Jamie Raskin (D-Md.) told Tapper on Sunday that Musk's comments were "outrageous and dangerous," and expressed skepticism that DeSantis is unaware of the post.
"Well, the guy's running for president, and Elon Musk did that on Wednesday. It's Sunday, so this is four days later. And he has not had the chance to read what Elon Musk wrote," Raskin said of the Republican. "That is very hard for me to believe."
"In any event, you showed it to him, and he still refused to condemn it," he continued. "So, if you're serious about condemning and confronting antisemitism and racism and these bigotries, which are the gateway to destruction of liberal democracy, you have got to be explicit and open and full-throated about it, and you have got to denounce antisemitism and racism across the board."
Musk's comment comes amid a rise in antisemitism and Islamophobia in the U.S., as Israel continues its destruction of Gaza following Hamas' attack on Oct. 7. DeSantis has broadly denounced antisemitism, though he has sidestepped condemning specific people in his party.
Last month, DeSantis ordered state universities to shut down chapters of Students for Justice in Palestine, a national Palestinian advocacy organization run by students. The governor's administration claimed without evidence that the group is antisemitic and supports terrorists, which SJP has denied. On Thursday, the ACLU filed a federal lawsuit against DeSantis' administration over the ban, accusing him of violating students' free speech rights.