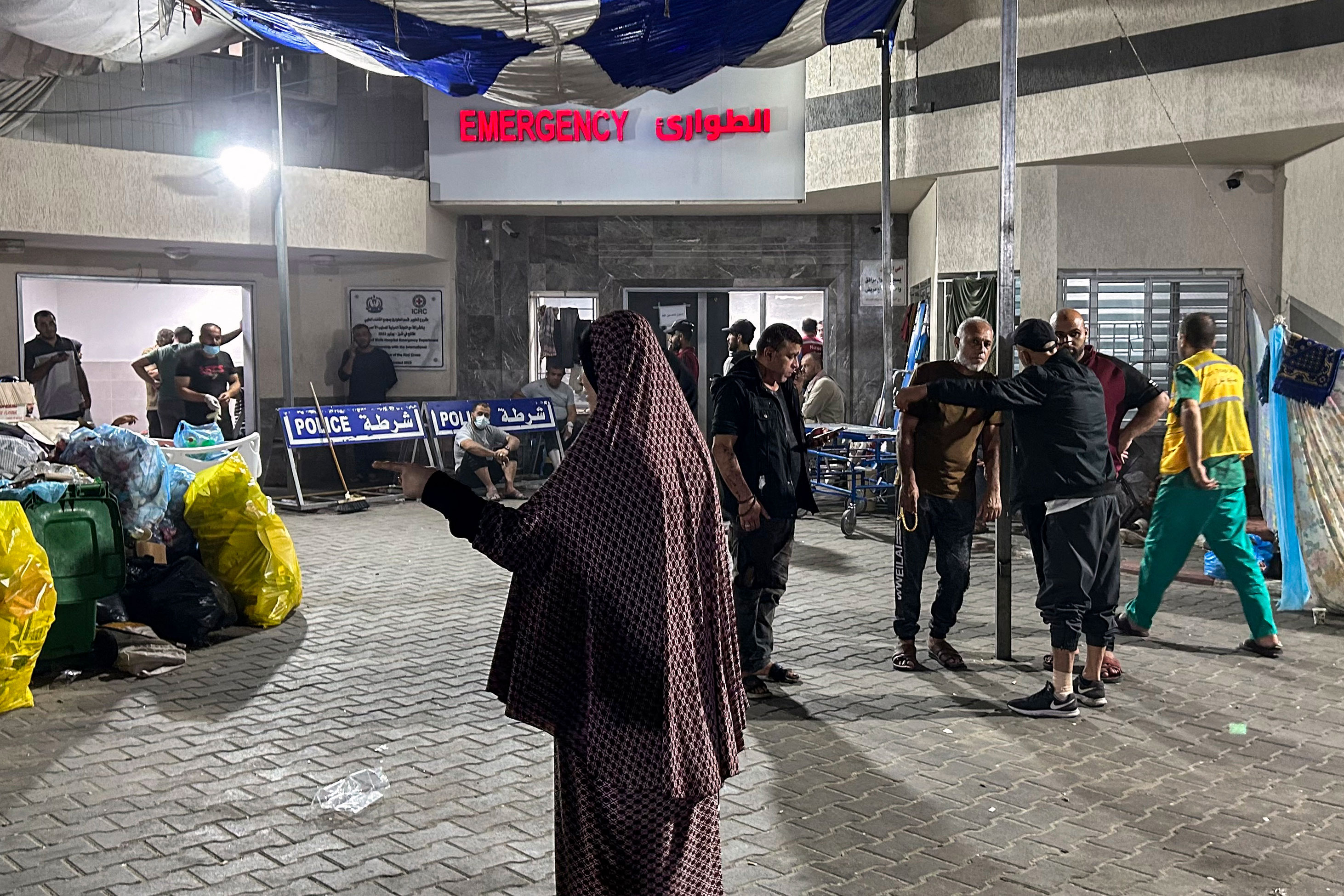 None of the operating rooms at Al-Shifa Hospital in Gaza are functioning due to lack of electricity, the medical center's director told Al-Araby TV on Sunday.
"The operating rooms are completely out of service, and now the wounded come to us and we cannot give them anything other than first aid," Dr. Muhammad Abu Salmiya said.
"Whoever needs surgery dies, and we cannot do anything for him."
The hospital director said staff were trying to keep premature babies at the hospital alive after oxygen ran out and they had to be moved from the neonatal unit's incubators.
"I was with them a while ago. They are now exposed, because we have taken them out of the incubators. We wrap them in foil and put hot water next to them so that we can warm them," Abu Salmiya said.  
The doctor said several children have died while in the intensive care unit and the nursery over the last day.
More background: Heavy fighting near Gaza's largest hospital has left it in a "catastrophic situation," with patients and staff trapped inside, ambulances unable to collect the wounded and life-support systems without electricity, health officials and aid agencies report.
The World Health Organization says Al-Shifa has been without power for three days.
"It's been three days without electricity, without water and with very poor internet, which has severely impacted our ability to provide essential care," WHO Director-General Tedros Adhanom Ghebreyesus wrote on the social media platform X.
"Regrettably, the hospital is not functioning as a hospital anymore," he said.
Dispute over fuel offer: The Israeli military said it put 300 liters of fuel at the entrance to the Al-Shifa Hospital complex on Sunday, but that Hamas had blocked the hospital from receiving it. 
Abu Salmiya, the hospital director, told Al-Araby TV that Israeli officials had indeed called him to offer the fuel — which he said would provide power to run the generators for only thirty minutes — but that staff had been too scared to go get it. 
The Israel Defense Forces released a video it said showed soldiers delivering the jerry cans to a curbside location near the hospital entrance. It also released an audio recording, purportedly of a hospital official accusing a Hamas leader at the health ministry of refusing to allow it to be collected.
Abu Salmiya said it was the presence of Israeli tanks that prevented collection.
"Of course, my paramedic team was completely afraid to go out," he said, adding, "We want every drop of fuel, but I told (the IDF) that it should be sent through the International Red Cross or through any international institution." 
Hamas dismissed the allegations and said the Israeli fuel delivery was a propaganda stunt.