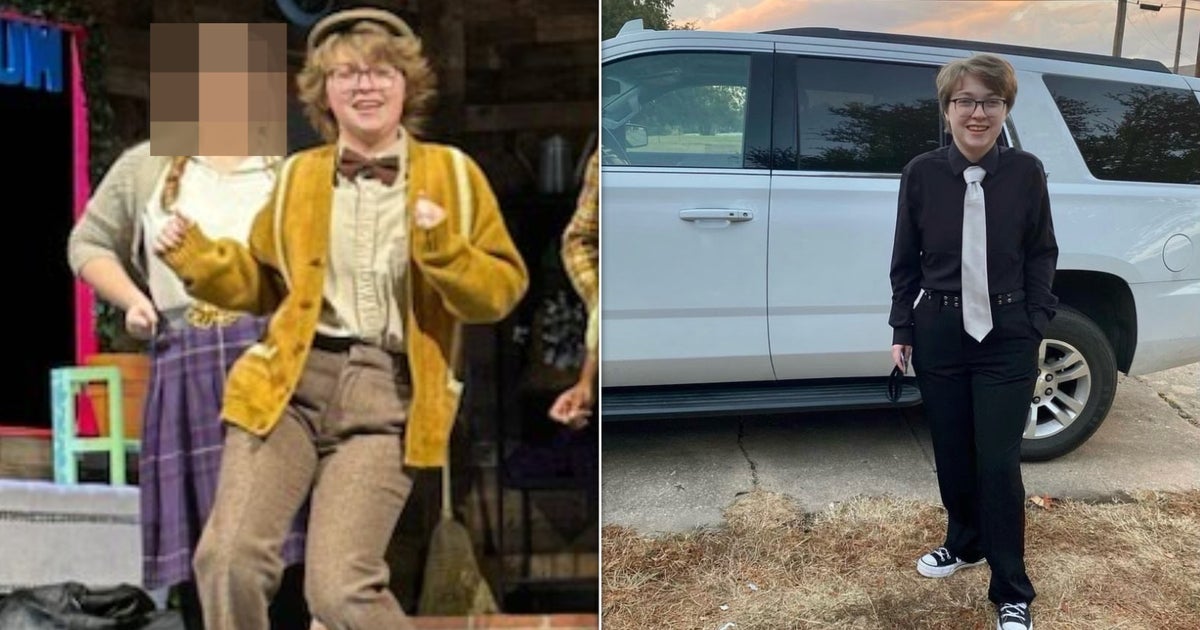 Max Hightower, a senior at Sherman High School in North Texas, always loved theater. He sang in his school's chorus and was in school plays but had never landed a speaking part.
Then, two weeks ago, he was cast as Ali Hakim, a leading role in the Rodgers and Hammerstein musical "Oklahoma," after another student was cut from the roster.
"It was just overwhelming," the 17-year-old told HuffPost. "I was so excited. I ran and told all my friends."
But that joy was short-lived. Max was called into the principal's office on Friday, where he says he was told about a "new policy" stating that students could only be cast in roles that aligned with the sex they were assigned at birth.
Max, a transgender boy, would no longer be able to play the male part of Hakim. Local outlet KXII first reported that Max had been removed from his role.
When Max left the principal's office, he saw a line of other students who had been cast in the musical and were waiting to get the same disappointing news.
"We just had this giant cry sesh outside of the choir room," Max said.
Sherman High students and parents who spoke to HuffPost said that about a dozen students ― transgender, nonbinary and cisgender alike ― were cut from the show because their sex assigned at birth did not match the sex or gender presentation of the roles in which they were cast. Three parents said their cisgender daughters who had been cast in male roles or wore masculine clothing for their roles were cut from the show due to the school's new rules.
Meghan Cone, the communications director for the Sherman Independent School District, told HuffPost that there isn't a blanket policy on how students will be cast for future performances and that she was "unable to address the number of students impacted."
"As it relates to this particular production, the sex of the role as identified in the script will be used when casting. Because the nature and subject matter of productions vary, the District is not inclined to apply this criteria to all future productions," Cone wrote in a statement.
Like most plays, "Oklahoma!" does not note that sex should factor in casting.
The school's performance of "Oklahoma!" has been postponed until early 2024 because the district learned about "mature adult themes, profane language, and sexual content" in the show, Cone said, adding that the district is working to produce a version that is "appropriate for the high school stage." The musical revolves around two fiery love triangles against the backdrop of Oklahoma's journey to statehood, but Sherman families said the school has put on the musical in the past without any issues.
"It's very clear to us and all the other parents and families that this isn't an issue about 'Oklahoma!' itself or the content of the show," Kayla Brooks, who said her daughter lost her part, told HuffPost. Her daughter had been cast as a male ensemble character in August.
"This is an issue about a trans kid who got cast as one of the lead roles," Brooks said.
"I am really disappointed that the school district didn't take the opportunity to educate the concerned person about gender-blind casting and the history of theater."

– parent Betty Price
CJ Price, a senior at Sherman High who was also removed from her part, said that she and some of her cisgender female cast mates were told they could no longer participate because they preferred to dress as cowboys instead of wearing dresses.
Students said they were told that they would be recast in new roles that align with the school's casting rules.
Cone said she did not know why some cisgender female students were cut for playing male roles or wearing typically masculine clothing but that the "sex of the role as identified in the script" would be used when recasting. "No recasting has occurred at this time," she said.
Max's dad, Phillip Hightower, said the school had been fairly supportive of his son's transition — Max had, for example, worn slacks and a black tie when performing in concerts — and that he was "so taken aback" when he received a separate call from the principal informing him of the school's decision to remove his son from the role.
Some parents told HuffPost that they suspect a community member complained to the school district after Max was cast as a lead, and they said they plan to raise the issue at the school board meeting next week.
"I am really disappointed that the school district didn't take the opportunity to educate the concerned person about gender-blind casting and the history of theater," said Betty Price, CJ's mom. "But instead of doing that, they had a knee-jerk reaction and decided to make a policy change that has now forever ruined the history of theater at Sherman High School."
Christina Shelton, the mother of an another transgender student, said she's waiting to find out if a production her child is involved with will be similarly affected. Shelton's child is in the school's University Interscholastic League theater program, a statewide organization that brings schools together in competition.
"Is this politically motivated? Is this religiously motivated? What are you supposed to tell your kids?" Shelton told HuffPost. "It's just not a friendly place for LGBTQ students."
Phillip Hightower said he has been closely following how far-right forces have taken over a school district in Grapevine, just an hour south of Sherman, over the last year — including accusing a top-rated queer teacher of "grooming" students.
"That is the atmosphere we're living in. I feel like the same thing could happen here," he said, noting that he thinks his district has adopted more extreme and explicitly Christian policies recently.
Texas' Republican-controlled legislature has introduced more than 140 anti-LGBTQ+ bills this year, according to Johnathan Gooch, the communications director at Equality Texas. Seven such bills have passed, he said, and have caused significant harm to trans and queer kids, including restricting access to gender-affirming care.
"I think it's important to state blatantly it is illegal to discriminate against anyone based on their sexual orientation or gender identity under federal civil rights law, specifically Title IX," Gooch told HuffPost.
Title IX is a civil rights law that bars sex-based discrimination, which includes protections for transgender students in any school or educational program that receives federal funding.
"It's a difficult time to be queer in Texas, and schools need to be safe havens for these kids. It's important that our schools affirm young trans kids, support them, encourage them in the arts and in their school work," Gooch said. "These policies are just piling on, creating toxic climates that only further harm young people in the state."