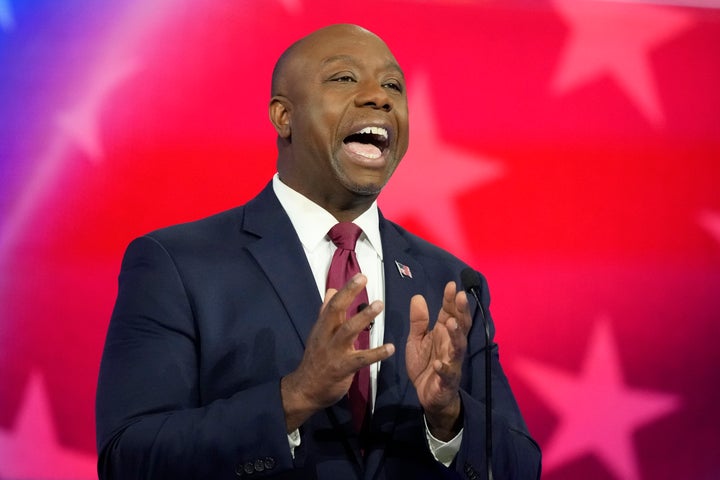 A day after Democrats and abortion rights advocates chalked up a string of electoral victories around the country, GOP presidential candidates on Wednesday night appeared to have learned nothing from their party's losses.
During the third Republican primary debate, moderator Kristen Welker of NBC News asked the five presidential hopefuls how they see their party's path forward on the issue of abortion, given that they keep losing elections over their attacks on women's reproductive rights. Most doubled down on their opposition to abortion, and then made nonsensical claims about Democrats advocating for no restrictions on abortion in any scenario.
The moderators did nothing to call them out for it, either.
"Let's just be clear," said Florida Gov. Ron DeSantis. "The Democrats have taken a position they will not identify the point at which there should be any protection, all the way up until birth. That is wrong and we cannot stand for that."
"I am 100% pro-life … I would certainly, as president of the United States, have a 15-week national limit," said Sen. Tim Scott (S.C.). "I would not allow California, Illinois or New York to have abortion up until the day of birth."
Scott went on to say he thinks "it's unethical and immoral to allow for abortions up until the day of birth," which, to be clear, is not something that anybody is calling for, anywhere.
"We have the opportunity to stop that reckless behavior," Scott vowed.
Former New Jersey Gov. Chris Christie briefly laid out why he thinks abortion rights should be decided on a state-by-state basis. But then he, too, waded into the made-up claim about Democrats wanting people to be able to have abortions while delivering babies at full term.
"In my home state of New Jersey, it goes up to nine months that you can get an abortion," Christie said. "I find that morally reprehensible. But that is what the people in my state voted for."
And they're still not true. While some Democrats have supported allowing abortion later in pregnancy to protect the life and health of the pregnant person, it is not true that Democrats support abortions of healthy pregnancies up until the moment of birth ― or that these abortions are happening at all.
The reality is that abortions later in pregnancy are extremely rare. Fewer than 1% of abortions happen at 21 weeks or later. After 26 weeks, very few abortions are carried out, and they are generally for pregnant people facing emergency health situations. A fetus is usually able to survive outside the womb at around 24 weeks at the earliest, which is considered the viability threshold.
Abortion has been a sticky issue for Republicans, and more so than ever in the year since the Supreme Court's decision in Dobbs v. Jackson Women's Health Organization overturned the national right to abortion. Since then, GOP-fueled abortion bans and attempts to restrict the procedure have proved deeply unpopular with voters. Democrats have been campaigning heavily on a pro-choice agenda, promising to protect reproductive rights — a stance that has been credited with propelling them to victory in crucial races.
Democrats racked up more electoral wins around the country on Tuesday night. In Ohio, voters approved a constitutional amendment ensuring access to abortion. In Virginia, Democrats took control of the state House and cemented their hold on the state Senate, delivering a huge setback to GOP Gov. Glenn Youngkin and his plans to push through a 15-week abortion ban. Meanwhile, voters in deep red Kentucky reelected a Democratic governor whose campaign centered on protecting abortion rights.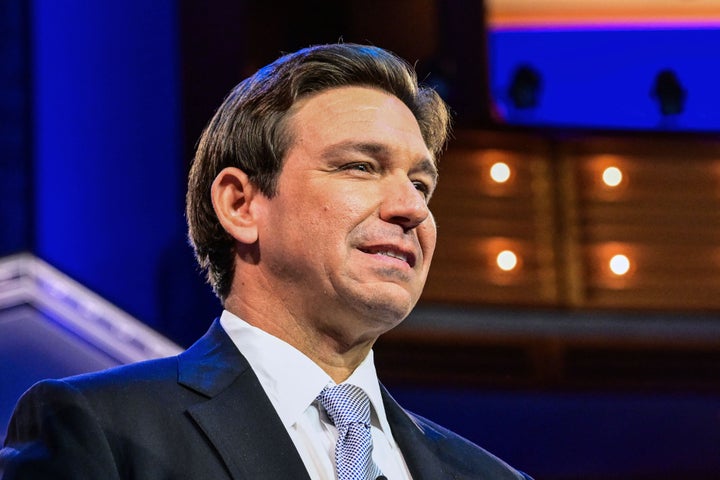 Vivek Ramaswamy said Wednesday that he wanted to talk about abortion — as a man.
"They say men have trouble speaking on this issue," Ramaswamy said, without saying who has actually said that. "I don't think we need to be that way."
He went on to talk about the accuracy of paternity tests, a story once told by Supreme Court Justice Clarence Thomas, and then called for greater "sexual responsibility for men" because ultimately, he said, abortions aren't about women's rights.
"It's not men's rights versus women's rights," Ramaswamy declared. "It's about human rights."
Former South Carolina Gov. Nikki Haley, the sole woman on the stage, was the only candidate who appeared to have learned something from her party's string of electoral losses.
In a noticeable change of tune from the first GOP debate, where she demanded that President Joe Biden reveal where he would draw the line on abortions, Haley said Wednesday that abortion is a personal issue for everyone. She said even though she's pro-life, now that Roe v. Wade has been overturned, it's time to stop attacking women and find consensus.
"Let's make sure we encourage adoptions. Let's make sure we make contraception accessible. Let's make sure none of these state laws put women in jail or give her the death penalty for getting an abortion," Haley said. "Let's focus on how to save as many babies as we can and support as many moms as we can and stop the judgment. We don't need to divide America over this issue anymore."
She drew some of the loudest applause of the night.