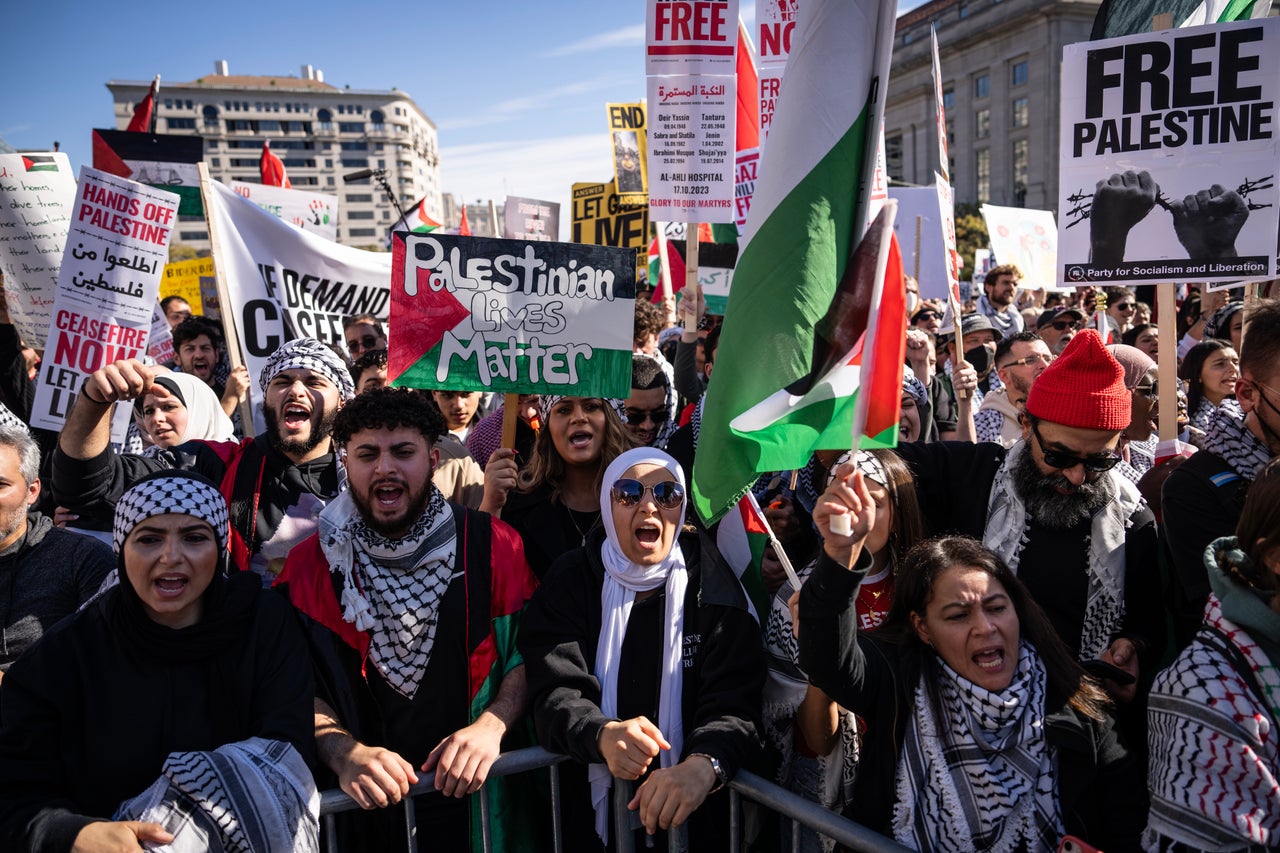 Thousands of people gathered in Washington, D.C., on Saturday to call for a cease-fire in the tiny Gaza Strip after nearly one month of relentless retaliatory bombing from Israel.
A massive crowd swathed in the colors of the Palestinian flag — red, green, black and white — gathered around Freedom Plaza near the White House waving protest signs, many with the messages "FREE PALESTINE" and "LET GAZA LIVE!"
A number of people in the crowd donned fringed kaffiyehs. Small parcels wrapped in white sheets smeared with red "blood" represented the increasing number of Palestinian children killed in the campaign.
While the protesters made demands of Israel, they also sought to send a withering message to President Joe Biden, whose administration has been supporting Israel since Hamas militants brutally slaughtered some 1,400 people there on Oct. 7, including children and older adults.
"END ALL U.S. AID TO ISRAEL," said others.
Around 2 million people, largely children and teens, live in the Gaza Strip, which Hamas controls. So far, Palestinian authorities say more than 9,000 people have died in the well-funded Israeli military campaign, with Israeli officials refusing to stop until Hamas returns all its hostages.
Organizers have said Saturday's event may be the largest ever held in the U.S. in support of Palestinians. Supporters stepped off buses from as far away as Chicago and Florida, joining a worldwide outpouring of criticism for the Israeli military response.
Macklemore even showed up.
"I know enough that this is a genocide," the musician told the crowd, prompting cheers.
Several speakers predicted Biden was at risk of losing crucial support in the 2024 presidential election. The executive director of the Council on American Islamic Relations, Nihad Awad, summarized the message: "No ceasefire, no votes," the Guardian reported.
"No votes in Michigan, no votes in Arizona, no votes in Georgia, no votes in Nevada, no votes in Wisconsin, no votes in Pennsylvania," Awad went on, listing swing states where Arab American voters threaten to pull their support for the Democratic nominee.
See more photos of the rally below.