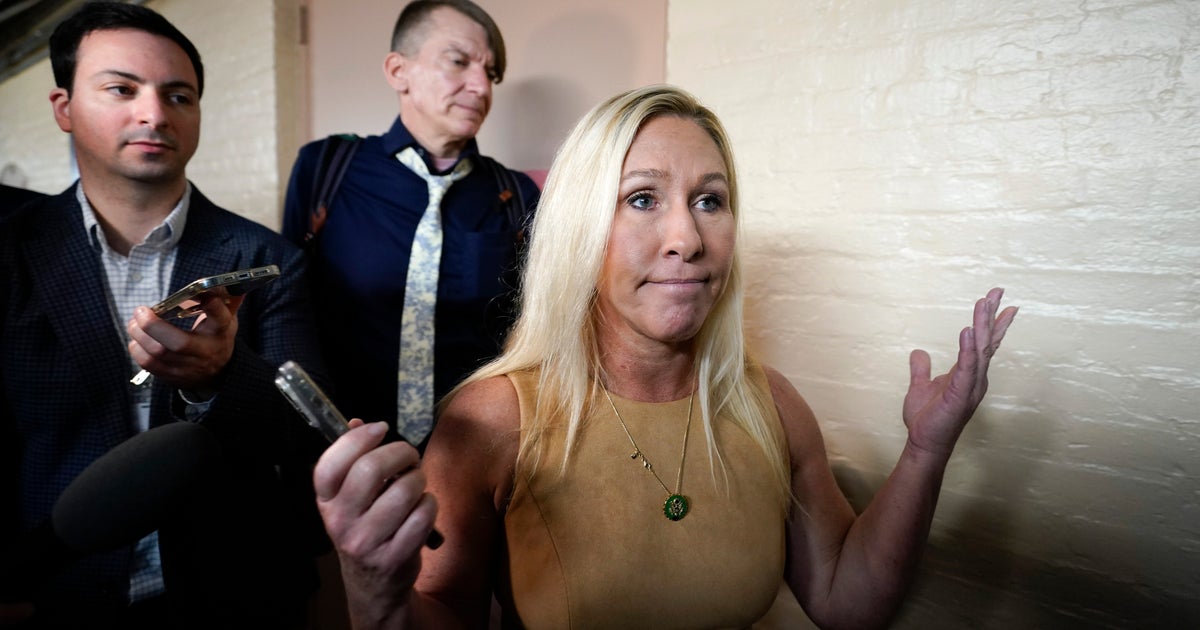 WASHINGTON ― Rep. Marjorie Taylor Greene (R-Ga.) is furious with her Republican colleagues for blocking her resolution that claimed a Democrat had incited an "insurrection" in a Capitol office building.
In a series of social media posts since Wednesday evening, Greene has blasted out the names of the 23 Republicans who joined all Democrats in opposing her censure resolution against Rep. Rashida Tlaib (D-Mich.), calling them "feckless" and claiming they'd voted "to destroy our country."
One of the no votes, Rep. Chip Roy (R-Texas), said the resolution "made legally and factually unverified claims, including the claim of leading an 'insurrection,'" prompting a nasty response from Greene.
"Oh shut up Colonel Sanders, you're not even from Texas, more like the DMV," Greene wrote, referring to Roy's goatee and upbringing in the Washington, D.C., area.
In another message, Greene complained Roy voted to kick her out of the Freedom Caucus, a far-right group of House Republicans, "but keep CNN wannabe Ken Buck and vaping groping Lauren Boebert."
In an effort to trivialize the Capitol riot on Jan. 6, 2021 ― which has been called an insurrection because it was part of an effort to overthrow the 2020 presidential election ― Greene's resolution falsely claimed Tlaib "led an insurrection at the United States Capitol Complex" during a protest in October.
Tlaib called for a cease-fire in the Israel-Hamas war during a rally outside the Capitol in October. Hundreds of people then entered a public House office building and got arrested for continuing their demonstration. Unlike the Trump supporters who stormed the Capitol in January 2021, the peace activists filed through metal detectors rather than rioting against police and smashing through a window.
Some Republicans said they disliked Tlaib's Israel statements but couldn't go along with crying "insurrection" over civil disobedience in a House office building ― even though they don't think Jan. 6 counted as an insurrection.
"They were protesting inside of a building. They broke the rules. That doesn't mean it was an insurrection," Rep. Barry Loudermilk (R-Ga.), who has led the Republican counter-investigation into the bipartisan Jan. 6 investigation that concluded last year, told HuffPost. "I think [the resolution] was poorly worded and I also don't think it was proper to censure someone who is expressing their First Amendment rights."
(Loudermilk voted in favor of Greene's resolution.)
In an interview, Greene complained that "conservatives would rather put on their powdered white wigs and write strongly worded letters and talk tough on their media hits than actually hold the Democrats accountable and force them to play by their own rules."
HuffPost asked if forcing Democrats to play by their own rules, such as by accusing a Democrat of inciting an insurrection just because Democrats have made that accusation against Republicans, meant she thought Republicans should say something she doesn't think is true.
"I'm wanting my party to actually do what they say instead of talking tough all the time and going back to their voters and saying they're going to hold people accountable, and yet they do nothing to hold anyone accountable," Greene said.
As for Tlaib, Greene said, "She's literally a terrorist in the House of Representatives." Which is not true.