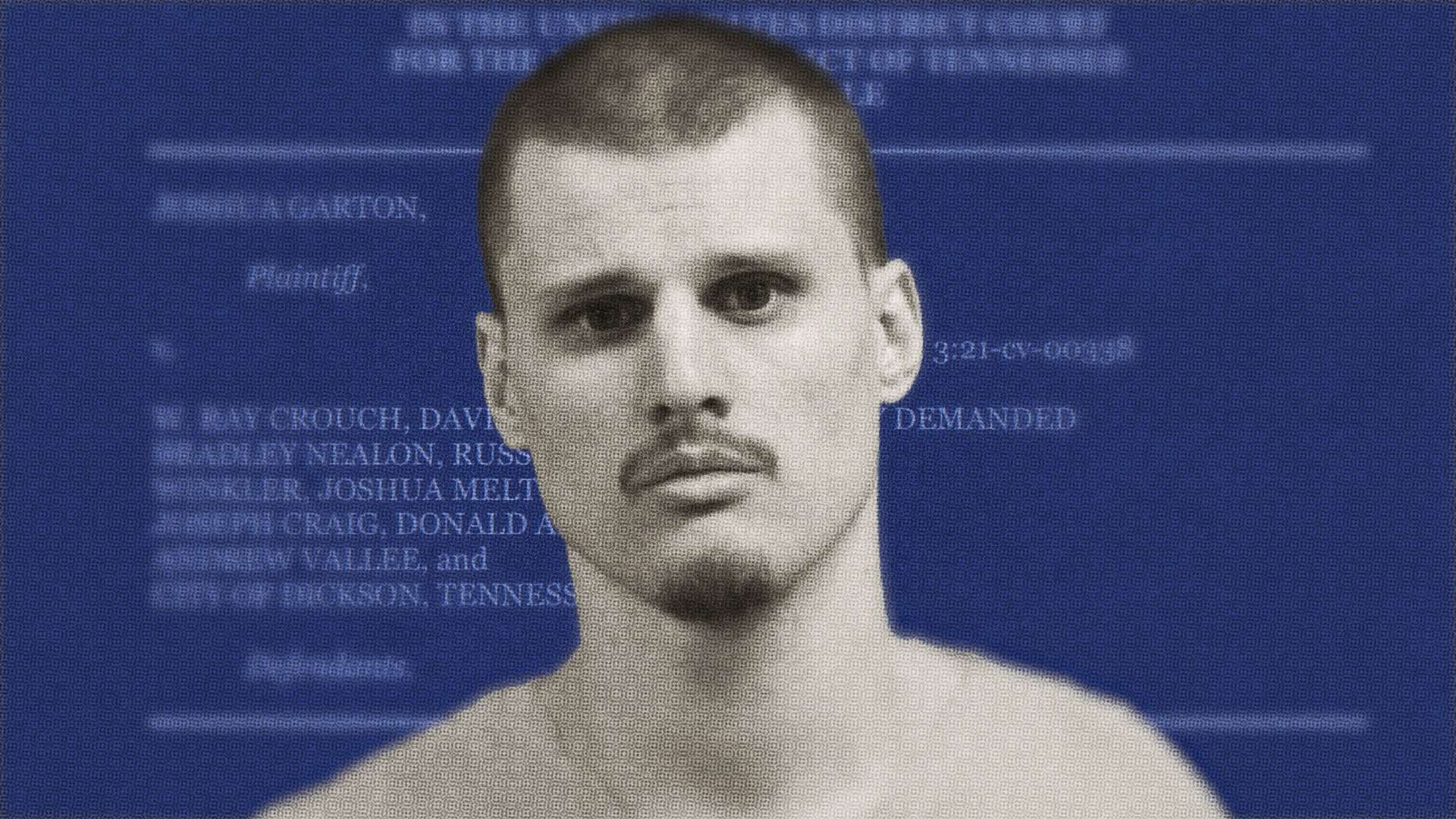 The state of Tennessee will pay $125,000 to settle a First Amendment lawsuit filed by a man who was arrested and jailed for nearly two weeks for posting a meme mocking a dead police officer.
Joshua Garton, 29, was arrested in January of 2021 and charged with harassment following a Tennessee Bureau of Investigation (TBI) probe into a pseudonymous Facebook post that appeared to show two men urinating on the tombstone of an officer who was shot and killed in 2018. A judge dismissed the charges a month later, and Garton filed a federal civil rights lawsuit alleging malicious prosecution, false arrest, and First Amendment retaliation.
In a settlement agreement filed earlier this month, two TBI agents and 23rd District Attorney General Ray Crouch did not admit any guilt, but they agreed to pay Garton to avoid further litigation costs.
"First Amendment retaliation is illegal, and law enforcement officials who arrest people for offending them will pay heavy consequences," Daniel Horwitz, Garton's lead attorney, said in a press release issued Monday. "Misbehaving government officials apologize with money, and Mr. Garton considers more than $10,000 per day that he was illegally incarcerated to be an acceptable apology."
The TBI, Tennessee's lead investigative law enforcement agency, launched an investigation into the offending Facebook post at the request of 23rd District Attorney Ray Crouch. Agents visited the officer's gravesite and quickly surmised that the picture Garton posted was fake. It was in fact a doctored photo of the cover of "Pissing on Your Grave," a single by The Rites, which originally depicted two men urinating on the tombstone of punk legend GG Allin.
Despite knowing that no one had physically desecrated the grave, the TBI continued its investigation, soliciting tips on Twitter about Garton's identity. When it finally nabbed Garton, TBI put out a press release, complete with mugshot, announcing his arrest for "manufacturing and disseminating a harassing photograph on social media."
As Reason wrote when Garton was first arrested, it was unclear how a dead person could be criminally harassed under Tennessee law, which requires that the subject be "frightened, intimidated or emotionally distressed."
Nevertheless, Garton was held on a $76,000 bond and spent nearly two weeks in jail. In February of 2021, a judge dismissed the case against Garton, finding no evidence of harassment. According to his lawsuit, Garton suffers from mental illness and became homeless as a result of being jailed.
The First Amendment firmly protects offensive and distasteful speech from government retaliation. For example, last year the U.S. Court of Appeals for the Sixth Circuit ruled that Ohio sheriff's deputies didn't have probable cause to arrest a man for hurling vulgarities at them and wearing a t-shirt that said "fuck the police." In 1987, the Supreme Court struck down a Houston ordinance prohibiting verbal abuse of police officers, declaring that "the freedom of individuals verbally to oppose or challenge police action without thereby risking arrest is one of the principal characteristics by which we distinguish a free nation from a police state."
Yet Garton's lawsuit uncovered Tennessee enforcement's cavalier attitude toward the First Amendment. "He has a right to post. That doesn't mean there are no consequences," Dickson Police Captain Donald Arnold wrote in one of several text messages included as exhibits in Garton's suit.
According to other records released in Garton's lawsuit, it also led to a flood of angry callers at all of the agencies involved. The director of the TBI, David Rausch, compared the callers to supporters of the January 6 riot at the U.S. Capitol Building.
"The trolls will do what trolls do," Rausch wrote in one text. "It appears they and the lawyers forget that there are surviving family members who have rights as well. My assessment is these are the same folks who called the insurrection at the Capitol free speech."
Garton's lawsuit also claims that law enforcement tracked calls criticizing them for Garton's arrest and in at least one instance decided to "try to pin down who [the caller was] so we can ask the local police and maybe have them go out there and ask him to stop."
Disappointment and reality seemed to set in once a judge dismissed the criminal charge against Garton.
"We are finished," one TBI agent wrote in another text. "The judge dismissed the case, said nobody was victimized."
"That is not good," Rausch texted.
The TBI and Crouch did not immediately respond to requests for comment.