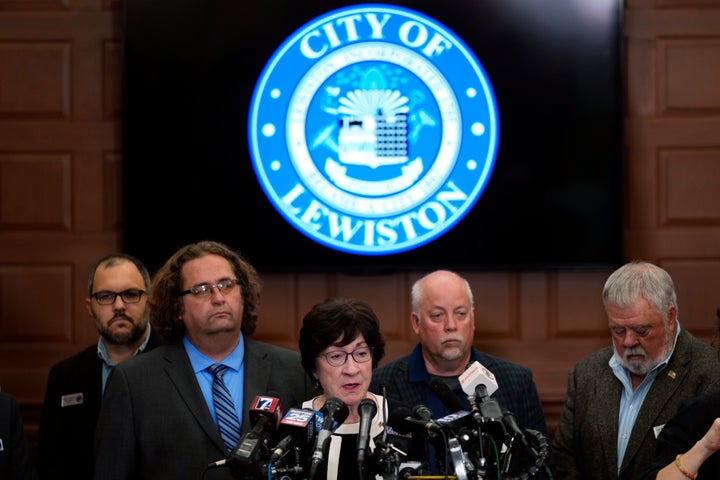 "I have opposed efforts to ban deadly weapons of war. The time has now come for me to take responsibility for this failure," Golden said at a news conference on Thursday. "For the good of community, I will work with any colleague to get this done."
Golden, a Marine Corps veteran, is a centrist Democrat whose district includes Lewiston. The city is reeling after a gunman opened fire at two locations on Wednesday night ― a bowling alley and a restaurant ― killing at least 18 people and wounding more than a dozen others. Authorities have issued an arrest warrant for Robert Card, 40, on eight counts of murder in connection with the massacre.
The gunman was photographed with what appeared to be an AR-15-style rifle, prompting renewed calls for gun reform amid a rash of mass shootings around the country. The House passed legislation last year to ban certain types of semiautomatic rifles, shotguns and pistols when Democrats had control of the chamber, but the proposal stalled in the Senate at the time.
Golden was one of just five House Democrats to vote against the ban. His comments Thursday, in which he asked for "forgiveness and support" from his constituents, reflect a remarkable shift at a horrifying time.
"I now call on the United States Congress to ban assault rifles like the one used by the sick perpetrator of this mass killing," he said.
The Democrat was joined at the Thursday news conference by Sen. Susan Collins (R-Maine). The Republican, also a centrist in her party, said she would not back a ban on assault weapons, noting that while Maine had one of the highest rates of gun ownership in the nation, it also has "a very low rate of violence."
"What makes this crime so heinous is that in a typical year Maine might have 22 murders, and last night we almost approached the number for the entire year," Collins told reporters.
Instead, she said she would push for a ban on "very high capacity magazines" for firearms. The senator was a key negotiator on a bipartisan gun safety bill last year in the wake of the mass shooting at an elementary school in Uvalde, Texas.
"There's always more that can be done," Collins said.