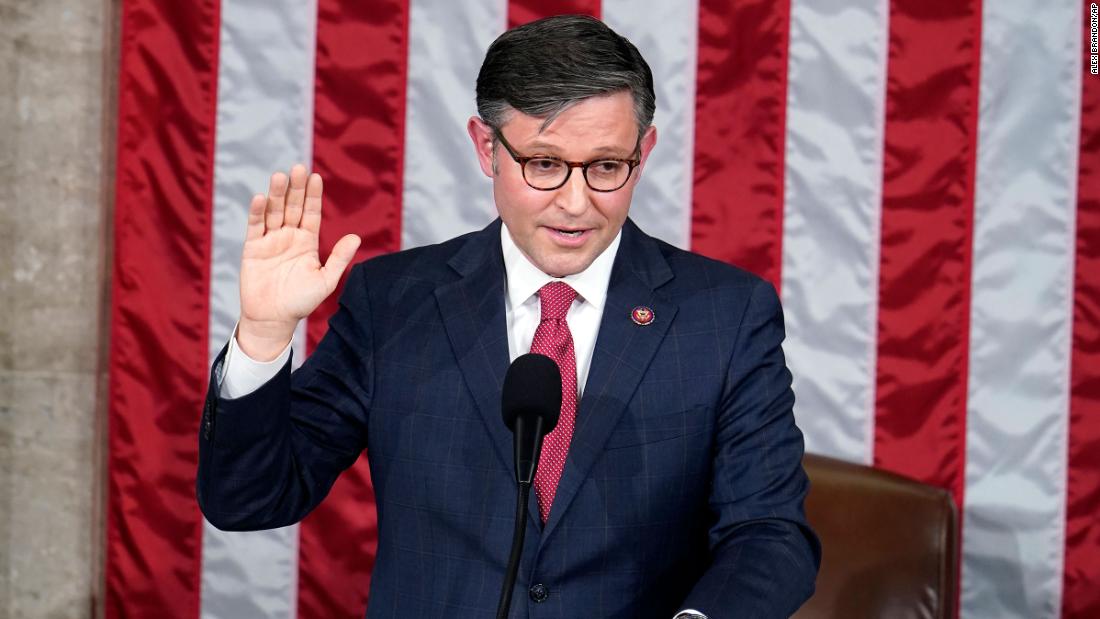 House conservatives are signaling they'll give the newly minted House Speaker Mike Johnson some runway and flexibility as the House barrels toward a November 17 spending deadline to fund the government.
This marks a clear departure from how those same members viewed former House Speaker Kevin McCarthy's decision earlier this month to put a short-term spending bill on the floor, which ultimately led to his ouster. 
"I have never been comfortable with CRs (continuing resolutions), but it … is going to be difficult for Mike and anyone who steps into that job, but I think he is going to do a great job," Rep. Eli Crane, a Republican, told CNN. 
Pressed on whether conservatives might give Johnson some leeway when it comes to keeping the government open, Crane said: "You know it is very possible that there will be Democrat and Republican votes working together. That being said, I think that just how he is going to lead, it is going to make it easier for everyone to follow his lead."
In a letter to colleagues earlier Wednesday, Johnson outlined his first priority will be trying to pass the remaining spending bills that have so far languished in the House one by one. But Johnson indicated that given the time constraints, if those bills can't pass quickly, he'd look to fund to government using what is known as a short-term spending bill or continuing resolution that would run either through January 15 or April 15, whichever the conference supports. 
Conservatives are largely still calling for spending cuts and may even demand them in a short-term spending bill. Asked if he would back a short-term spending bill through January, House Freedom Caucus Chairman Scott Perry told CNN only "if it cuts spending."
"We don't support a clean CR, I don't support a clean CR," he said. 
But the same members are warning they do believe Johnson starts in a more solid place with conservatives than McCarthy did. 
"There is a new level of trust with Speaker Johnson that did not exist previously," Rep. Bob Good told CNN. "That's why we have a new speaker." 
The reality for Johnson is that the same dynamics that befell McCarthy will exist for him.
The Senate and the White House are still controlled by Democrats and any spending bill passed will need Democratic support to become law and avert a shutdown. But what you hear from conservatives – at least in the minutes before and after Johnson won the speaker's election – is they are willing to give some room for Johnson to maneuver in his new role. 
Asked if he would bring a vote to oust Johnson if he put forth a short-term spending bill at current spending levels, Rep. Matt Gaetz said he's optimistic Johnson will be able to actually pass the individual spending bills. 
The challenge for House Republicans is they still have eight more spending bills to pass including two that have been stuck in committee because of disagreements within GOP ranks. In his letter to colleagues, Johnson set out an aggressive time table for passing the bills, but the issue will be finding a way to pass the legislation in just a narrow GOP majority.  
Conservatives are signaling that they feel more optimistic that Johnson will be able to unify the conference.
"The door to the speaker's office now is open to the members and to the constituents, not just the lobbyists," Rep. Matt Rosendale told reporters. 
The members who ousted McCarthy also told reporters that they have no regrets now about ousting McCarthy.