Zaher walks calmly across what used to be his village, now reduced to piles of rubble. Standing on top of a mound of sand, he locates his home – or rather, what little is left of it.
"We used to live here and now you can see what state it has reached," he said, his voice shaking. "Obviously our current situation is visible."
He reveals that the deadly earthquake which struck Afghanistan on October 7 had taken more than his family home away from him.
"Thirteen people in my family died," he said. "Boys, girls, young and old, including three daughters of mine, two sons, my two granddaughters and two grandsons as well as a grandchild who was visiting, and my niece and her daughter and son."
"You are witnessing our situation… we are left with nothing. These ruins used to be our lives, our carpets, food and everything. I now stand on stones and hard ground, where I also sleep."
"There are no words," he adds. "The situation speaks for itself."
One of Afghanistan's deadliest earthquakes

It has now been more than a week since Afghanistan was hit by a powerful 6.3 magnitude earthquake on October 7, which devastated its western Herat province and Herat city, its third largest.
It is one of the deadliest quakes to hit Afghanistan in years.
Global aid groups and rescue teams say that the country is now facing an escalating humanitarian crisis, following on top of war and a collapsed economy. Even more troubling, they add, will be the human recovery. Entire villages like Zaher's have been destroyed and reduced to debris, but there is inadequate funding to help and little global awareness.
"The situation in Afghanistan was already extremely dire," said Mawlawi Mutiul Haq Khales of the Afghan Red Crescent Society. "People were just starting to recover when another series of massive earthquakes hits us, all within less than a week. On top of that, winter is coming and there's an urgent need for shelter, food and healthcare."
"Early observations underscore the full extent of the damage, yet to be realized. (Our) efforts in this catastrophic situation cannot be overstated."
Taliban government officials estimate that more than 2,000 people across Herat province have been killed and more than 90% were women and children, according to UN agencies and officials on the ground.
US Charity Too Young To Wed, part of the humanitarian relief effort on the ground, says there is a clear reason for this staggering statistic.
It's because women and girls are forced to stay at home under Taliban rule, denied their basic rights, banned from education, work and being part of society.
"They have been systematically stripped of their rights over the last 2 years. So instead of being at school and at work on a Saturday, they were home, confined to their homes, imprisoned in their homes. It's a country where half the population is under house arrest," founder Stephanie Sinclair, told CNN.
International aid agencies have said their efforts had been hampered by the Taliban's takeover and described serious challenges in being able to respond to emergency calls. Teams on the ground have also highlighted difficulties in reaching survivors trapped in remote villages.
"We are powerless… displaced and homeless," said Zaher. "I have not received any help until now except for (a) water bottle. How can we survive sitting and sleeping on these stones and hard ground?"
"We need the help of the government and the international community – this is our only message, as you can see, we are left with nothing."
Those who survived are badly injured and shaken, officials say. Many are reeling from serious trauma.
One survivor, a 35-year-old woman named Fatima from the Zindeh Jan district in Herat province was rescued from beneath debris and is now recovering in hospital.
Her seven children were killed in the earthquake.
So traumatized was Fatima that she could not speak about her children without having a panic attack, according to doctors.
"I got trapped under debris twice – the first time I was rescued by family members. The second time was when I returned home to save my children and the house collapsed on me again," she said.
"I lost consciousness. I don't remember anything after that. I have experienced a great deal of pain and sorrow… we've lost everything in our life, nothing remains."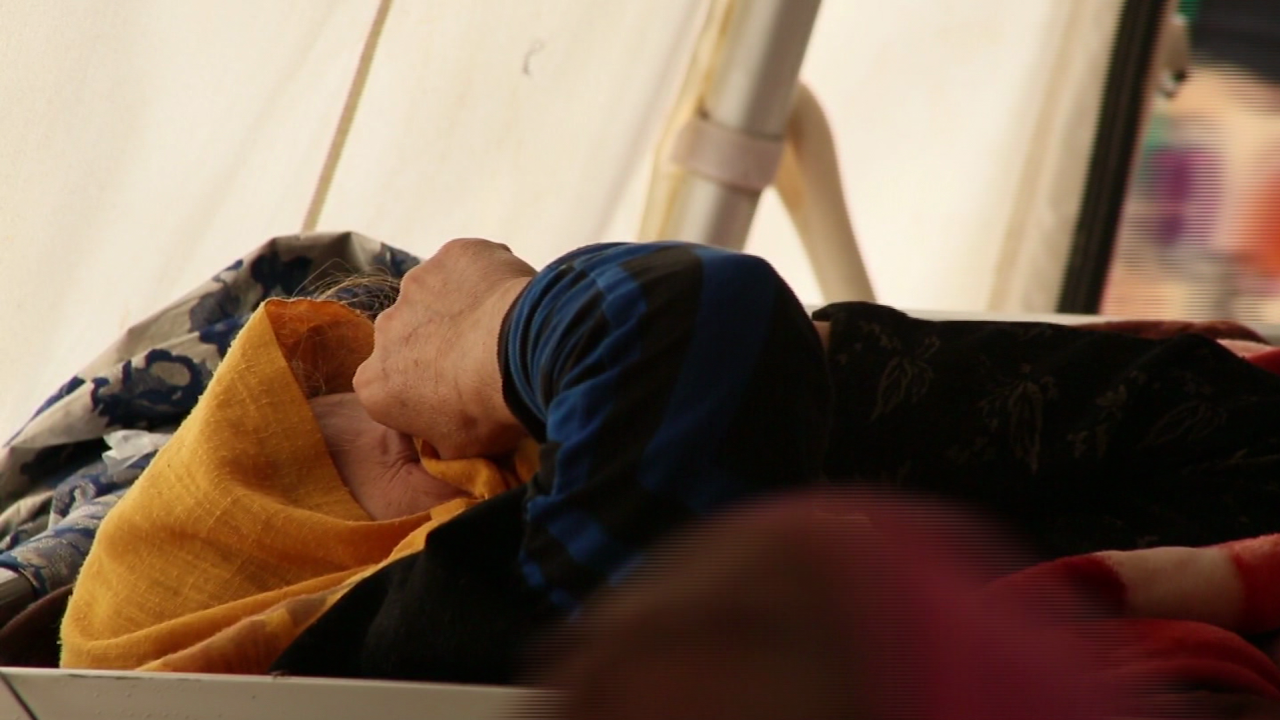 From the same district is a 32-year-old mother of three daughters named Rana.
Her 6-year-old girl died. Her surviving daughters, aged 8 and 10, suffered serious head injuries after a roof collapsed on them.
The family is now in desperate need of shelter and has nowhere to go.
"I was sitting at home when the earthquake struck… and I dragged my children out of the house," Rana said.
"(One of my) children has lost her eyesight. (Another) daughter is also injured in her leg," she added. "Please, let someone help with a piece of land or some place for us to stay."
Do not look away from Afghanistan, UN says

International aid agencies are reiterating calls for countries not to forget about the situation in Afghanistan.
"Afghanistan is home to one of the world's worst humanitarian and child rights crises. This is by far the worst earthquake it has endured in many years," Siddig Ibrahim, UNICEF Afghanistan's Chief of Field Office, told CNN in an interview on Friday.
"Things happening (elsewhere) in the world are not going to stop," Ibrahim added. The children of Afghanistan deserve equally as all children in the world."
As helicopters flew overhead in the skies, heading to other villages, Shah Bibi's children remained buried in the ground. "I was sewing at home and my children were sleeping," recalled the 32-year-old mother.
"The ground started to shake and I jumped into the air. It fell."
"Before I lost consciousness, I shouted so that someone could find my children and take them out."
"Eventually other villagers came but many were killed because it was too far away."
Two of Shah Bibi's daughters along with her two nephews were killed on October 7.
"We have nowhere to go. Our place of living was there," she said in between tears.
"I don't know what our future will be but we have lost everything in our lives."