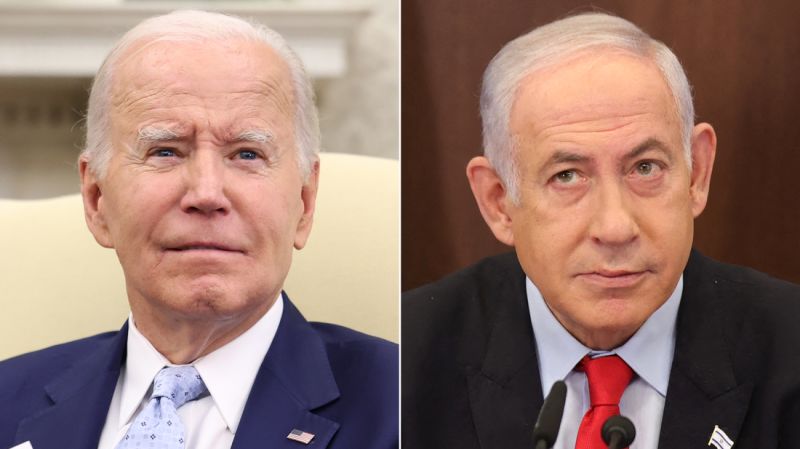 Israeli Prime Minister Benjamin Netanyahu has invited President Joe Biden to visit Israel soon, and both countries are discussing the possibility, a source familiar with the matter told CNN.
It wasn't clear how advanced the discussions were, or when a possible trip might occur.
The White House said Sunday it didn't have any new travel plans by the president to announce. "We have no new travel to announce," National Security Council spokeswoman Adrienne Watson said.
If it did materialize, a trip would amount to a dramatic show of support by Biden for Israel as the country responds to last weekend's devastating attacks by Hamas.
Israel has been signaling it is preparing for a ground invasion of Gaza even as a humanitarian crisis inside the coastal Palestinian enclave is growing. Biden has called for the protection of civilians, and the US has been working to alleviate shortages of food, water and gas.
A Biden visit would also amount to a message to other players in the region, including the Iran-backed Hezbollah, that they should not escalate the conflict further.
A trip would follow high-stakes shuttle diplomacy by Secretary of State Antony Blinken, who has been jetting between countries in the region for the past several days. The president would likely come bearing a similar message to that of his top diplomat, including the necessity of protecting civilian lives.
Biden spoke Saturday with both Netanyahu and the president of the Palestinian Authority, Mahmoud Abbas. It was Biden's fifth telephone call with Netanyahu since the attack last weekend.
The US announced Saturday it was sending a second aircraft carrier strike group to the eastern Mediterranean to "deter hostile actions against Israel or any efforts toward widening this war," according to Defense Secretary Lloyd Austin.
This story has been updated with additional information.