Imagine you're at the movies: The lights have dimmed, the previews are over, chatter dwindles to a hush. You take a sip of soda through a straw. You pop some artificially buttery popcorn into your mouth. You tear open a bag of Skittles and start to chew.
That last part feels wrong, probably, because at the movies, candy comes in a box. Movie theaters are not the only place to buy boxed candy — you can get boxes of chocolate or candy at some drug stores or online — but even then they're called theater box candy, a label that undeniably links the package with the movies.
So what's with the box? Experts say that the distinctive packaging is about logistics — both for the theater, and for you and your buddies at the movies.
Sharing is caring

Rectangular theater boxes "make it easy [for consumers] to share their candy with their friends," said Keith Domalewski, director of marketing at Just Born, which sells Mike and Ike and Hot Tamales.
A spokesperson for Mars Wrigley, maker of M&M's and Skittles, made a similar point, noting that candy sold in "boxes in movie theaters is easier to pour and share, compared to traditional packaging, and boxes offer the ability to re-close." That means less spilling in between seats.
Candy sellers are always thinking about how people are going to consume their products.
If you're going to polish off a bag of M&M's in one sitting or scarf down a chocolate bar on the bus, you don't need to worry about re-sealing and are likely happy with a small, tearable package. If you're looking for a sweet, portion-controlled snack, you might buy a bag of fun sizes.
At the movies, you're probably going to be passing snacks along to friends, noted Chris Gindlesperger, senior vice president of public affairs and communications at the National Confectioners Association, a trade organization. "It's a moment to share."
Display is key

In a convenience or grocery store, you might find candy hanging from a peg, Gindlesperger noted.
Those bags are designed to be displayed in that way. The principle is the same for movie theater candy.
"Theater boxes take their name from being available in movie theaters or other retail establishments that might have shelving," he said.
You can browse at a grocery store, or grab a bag of candy off a peg as you move through the line. At a concession stand, you can't do much but peek over your neighbor's shoulder to scope out the offerings until you get to the counter.
"To be able to see the product and the brands and make a selection as a shopper, [the boxes] need to stand up," Gindlesperger said.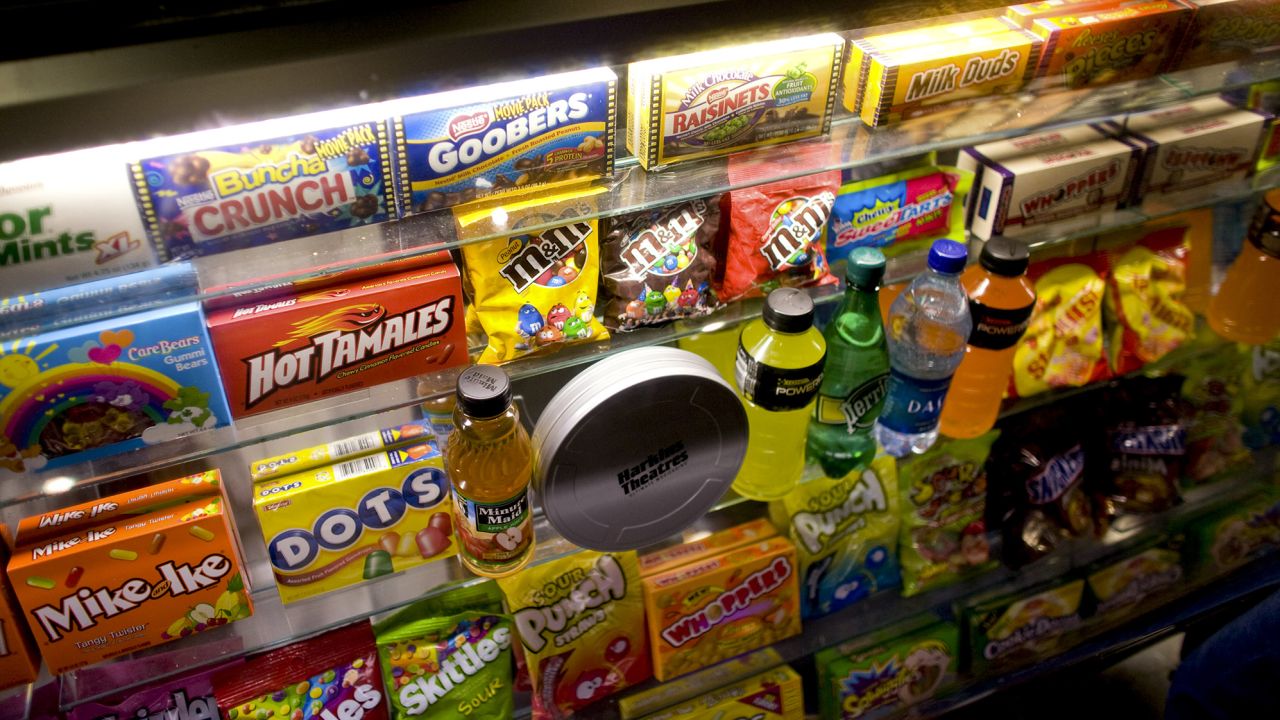 That's important for the candy makers, who want their products to stand out.
"Theater boxes merchandise neatly behind the glass counter or on a grab-and-go shelf, and the large front panel makes it easy for consumers to find their favorite candy brands quickly," said Domalewski.
And now that people associate boxed candy with the movies, they hold a fondness for the packaging. "There is strong consumer nostalgia with the 'theater box' format and movie watching — and some people will even purchase them for home screen time," said the spokesperson for Mars Wrigley.
More is more

In general, consumers have been opting for smaller pack sizes, sometimes paying a premium to get help with portion control.
But going to "a movie theater is still a treat," said Marcia Mogelonsky, senior director of insight at Mintel Food and Drink. "It's not the place to practice portion control."
Even if you're going to the movies alone, you're still expected to shell out for a large box of candy, which can be upwards of 3 ounces, nearly double a bag of M&M's or a candy bar. And nobody would blink an eye if you finish it on your own.
"You can say that the whole concept is that big packages can be shared with friends when you go to the movies," Mogelonsky said. "But how many people just sit there and eat the whole Twizzler package themselves?"