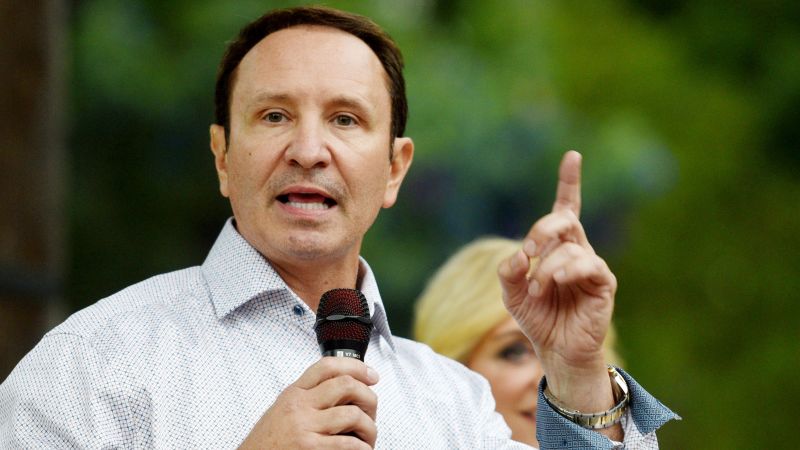 Republicans' efforts to win control of the Louisiana governor's office face a first test Saturday in a "jungle primary" that is likely to narrow the field to a head-to-head runoff next month.
Louisiana – much like Kentucky, another deep-red state, where Gov. Andy Beshear is seeking a second term this year – has in recent elections been willing to vote in a Democratic governor.
But Bayou State Gov. John Bel Edwards, a Democrat with some socially conservative positions who was elected in 2015 amid dissatisfaction with outgoing GOP Gov. Bobby Jindal and reelected in 2019, is barred by term limits from running again. With Edwards out, the Louisiana race represents the GOP's best chance of flipping a gubernatorial seat this year after a disappointing 2022 midterms that saw the party lose a net of two governorships.
Under Louisiana's jungle primary system, all contenders run on the same ballot. If one candidate wins 50% of the vote Saturday, that person will be elected governor. But the more likely outcome is that no one reaches that threshold, and the top two contenders, regardless of party, would advance to a November 18 runoff.
The Republican favorite is state Attorney General Jeff Landry, a hard-line conservative who has frequently tussled with Edwards in court. The state Republican establishment has largely coalesced around Landry in the race after several other high-profile potential candidates opted against running. Former President Donald Trump endorsed Landry in May, saying in a video that the attorney general has been "fantastic" and wants to "stop crime."
Landry will have competition for Republican votes Saturday from state Senate Majority Leader Sharon Hewitt, state Treasurer John Schroder and Stephen Waguespack, the former president of the Louisiana Association of Business and Industry and a onetime Jindal chief of staff. Independent attorney Hunter Lundy is also in the race, as are several lesser-known contenders.
Democrats, meanwhile, have consolidated around former state Transportation Secretary Shawn Wilson, who is widely viewed as the favorite for the second spot in the runoff. Wilson is hoping to become the state's first Black elected governor.
Despite Edwards' two victories, Louisiana remains largely dominated by Republicans. The GOP has won the last four presidential races in the state by between 17 and 20 points, and the last Democratic presidential nominee to carry Louisiana's electoral votes was Bill Clinton in 1996.
Landry, 52, first won political office in 2010, when he was elected to the US House as part of that year's tea party wave. He lost his south Louisiana seat in a primary two years later, after the state lost a district in reapportionment and Landry was drawn into the same seat as the more senior Rep. Charles Boustany.
He won the attorney general's office in 2015, ousting two-term incumbent Buddy Caldwell, who had left the Democratic Party and become a Republican just four years earlier.
As attorney general, Landry has clashed with Edwards over several issues, including a court battle that followed the governor's efforts to require state contracts to protect LGBT employees from discrimination. He joined Texas Attorney General Ken Paxton's ultimately unsuccessful lawsuit seeking to overturn the 2020 presidential election by throwing out Electoral College votes in several swing states.
Landry has swamped the field in fundraising, and had $4.5 million in the bank on September 24, the end of the last campaign finance reporting period.