Brisbane, Australia
CNN
 — 
With a two-letter word, Australians struck down the first attempt at constitutional change in 24 years, a move experts say will inflict lasting damage on First Nations people and suspend any hopes of modernizing the nation's founding document.
Preliminary results from the Australian Electoral Commission (AEC) suggested that most of the country's 17.6 million registered voters wrote No on their ballots, and CNN affiliates 9 News, Sky News and SBS all projected no path forward for the Yes campaign.
The proposal, to recognize Indigenous people in the constitution and create an Indigenous body to advise government on policies that affect them, needed a majority nationally and in four of six states to pass.
Prime Minister Anthony Albanese had championed the referendum and in a national address on Saturday night said his government remained committed to improving the lives of Aboriginal people and Torres Strait Islanders.
"This moment of disagreement does not define us. And it will not divide us. We are not yes voters or no voters. We are all Australians," he said.
"It is as Australians together that we must take our country beyond this debate without forgetting why we had it in the first place. Because too often in the life of our nation, and in the political conversation, the disadvantage confronting Aboriginal and Torres Strait Islander people has been relegated to the margins."
"This referendum and my government has put it right at the center."
Supporters of the Yes vote had hailed it as an opportunity to work with First Nations people to solve problems in their most remote communities – higher rates of suicide, domestic violence, children in out-of-home care and incarceration.
However, resistance swelled as conservative political parties lined up to denounce the proposal as lacking detail and an unnecessary duplication of existing advisory bodies.
On Saturday, leading No campaigner Warren Mundine said the referendum should never have been called.
"This is a referendum we should never have had because it was built on a lie that Aboriginal people do not have a voice," he told the Australian Broadcasting Corporation.
During months of campaigning, the No vote gained momentum with slogans that appealed to voter apathy – "If you don't know, vote No" – and a host of other statements designed to instil fear, according to experts, including that it would divide Australia by race and be legally risky, despite expert advice to the contrary.
Rejection of high-profile campaign

No shortage of high-profile voices lent their support to the Yes campaign.
Constitutional experts, Australians of the Year, eminent retired judges, companies large and small, universities, sporting legends, netballers, footballers, reality stars and Hollywood actors flagged their endorsement. There was even an unlikely intervention by US rapper MC Hammer.
Aussie music legend John Farnham gifted a song considered to be the unofficial Australian anthem to a Yes advertisement with a stirring message of national unity. But opinion polls continued to slide to No.
Objections came thick and fast from the leaders of opposition political parties, who picked at loose threads of the proposal. "Where's the detail?" they asked, knowing that would be decided and legislated by parliament.
Some members of the Indigenous community said they didn't want to be part of a settler document, demanding more than a body that gives the government non-binding advice. Other Australians were completely disengaged.
Yes campaigner Marilyn Trad told CNN that volunteers making calls to prospective voters had to break the news to some – this week – that there was indeed a referendum.
Kevin Argus, a marketing expert from Royal Melbourne Institute of Technology (RMIT), told CNN the Yes campaign was a "case study in how not to message change on matters of social importance."
"From a public relations perspective, what is proposed is quite simple – an advisory group to government. Not unlike what the business council, mining groups, banking groups and others expect and gain when legislation is being drafted that affects the people they represent," he said.
Argus said only the No campaign had used simple messaging, maximized the reach of personal profiles, and acted decisively to combat challenges to their arguments with clear and repeatable slogans.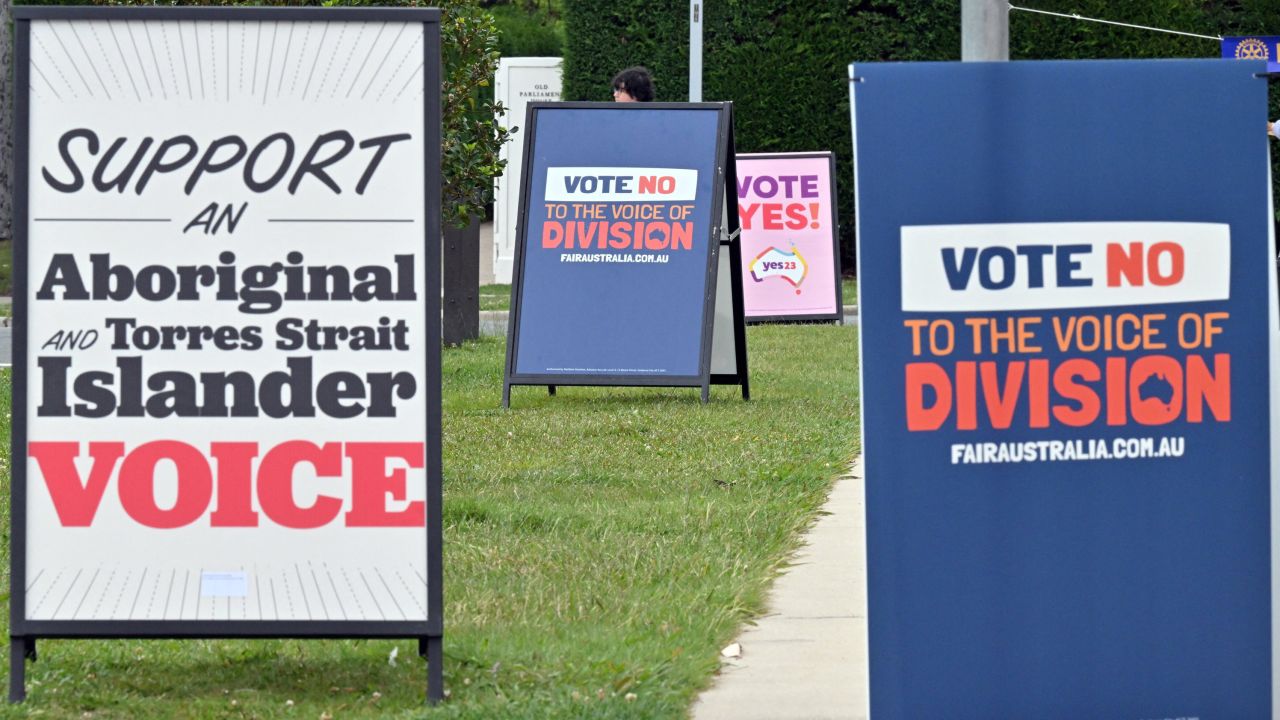 What does the result mean?

The result means no constitutional change, but the referendum will have lasting consequences for the entire nation, according to experts.
For First Nations people, it will be seen as a rejection of reconciliation by Australia's non-Indigenous majority and tacit approval of a status quo that is widely considered to have failed them for two centuries.
Before the vote, Senator Pat Dodson, the government's special envoy for reconciliation, said win or lose, the country had a "huge healing process to go through."
"We've got to contemplate the impact of a No vote on the future generations, the young people," he told the National Press Club this week. "We already know that the Aboriginal youth of this country have high suicide rates. Why? They're not bad people. They're good people. Why don't they see any future?"
Maree Teesson, director of the Matilda Center for Research in Mental Health and Substance Use at the University of Sydney, told CNN the Voice to Parliament had offered self-determination to Indigenous communities, an ability to have a say over what happens in their lives.
"Self-determination is such a critical part of their social and emotional well-being," she said.
Teesson said a No vote doesn't just maintain the status quo, it "undermines the self-determination of Aboriginal and Torres Strait Islander people."
"I do hope that we don't lose the possibility of the hope that this gave our nation and that we somehow work to find another way to achieve that," she said.
Some experts say more broadly the No outcome could deter future leaders from holding referendums, as it could indicate that the bar for constitutional change – written into the document in 1901 – is too high.
The last time Australians voted down a referendum was in 1999 when they were asked to cut ties with the British monarchy and become a republic – and little has changed on that front since then.
"The drafters of the constitution said this is the rulebook and we're only going to change it if the Australian people say they want to change it – we're not going to leave it up to politicians," said Paula Gerber, professor of Law at Monash University.
"So that power, to change, to modernize, to update the constitution has been put in the hands of the Australian people. And if they are going to say every time, "If you don't know, vote No," then what politician is going to spend the time and money on a referendum that can be so easily defeated?"