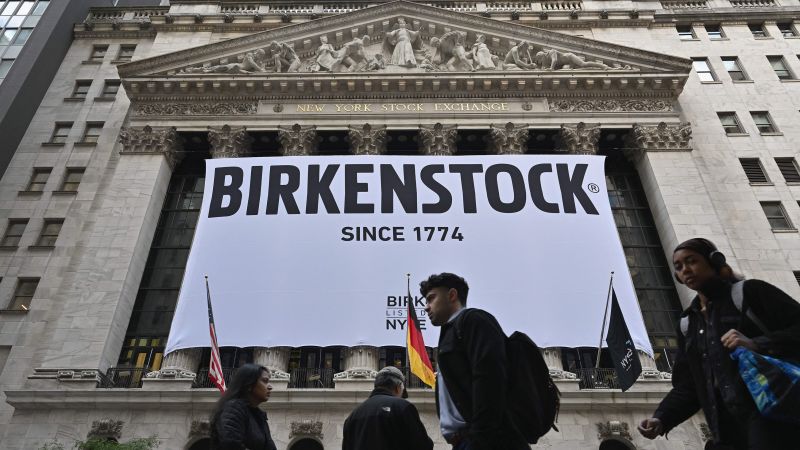 Editor's Note: A version of this story appeared in CNN Business' Nightcap newsletter. To get it in your inbox, sign up for free, here.
When a company goes public it's kind of like their bar mitzvah. They've reached adulthood and are ready to take responsibility for their actions.
But a lot of companies that celebrated their "bar mitzvahs" lately are learning that adulting kind of sucks.
Setting the scene
The initial public offering market was booming in 2021.
In just the first nine months of 2021, 785 companies went public in the US, compared to 664 for all of 1996 — the dawn of the internet stock mania, Paul La Monica reported. Some of those IPOs included Bumble, Oatly, Robinhood and Allbirds.
Rivian, the electric vehicle maker, got in on the fun too in November of that year, in what was then the biggest IPO since Meta's. Shares closed nearly 30% higher on Rivian's first day of trading.
But it wasn't just the IPO market that was booming. It was the entire stock market.
This came as the economy started to spring back to action after pandemic restrictions were lifted and people were basically in "treat yo' self" mode on steroids.
The Federal Reserve played a role in it too, by keeping interest rates at near-zero levels. Investors' money wasn't tied to making loan payments as much, so they could invest more in the stock market.
Then in March 2022 Fed Chair Jerome Powell et al. woke up from their transitory inflation slumber and realized they couldn't just will inflation out of existence and were like, "So, uh, yeah, I think we gotta do something." That something was raising interest rates.
And with that, among other factors, the stock market's little Ferris Bueller's Day Off shindig started to unravel, as did many companies' IPO hopes and dreams.
All in all, the US IPO market fell 94.8% to $8 billion in 2022, a 32-year low.
Fast forward to 2023
Even though the Fed continued to raise interest rates, the stock market started to get out of its slump, and suddenly the IPO market came out of hibernation.
The headliners of the IPO festival that's taken off this year include UK-based chip designer Arm, Instacart and Birkenstock, which made its debut earlier this week.
Arm and Instacart at least got a taste of the good life before things turned south. On their first days of trading, shares of both stocks closed well above their IPO prices. They've since lost all those initial gains, and their shares are well below their IPO prices.
Poor Birkenstock closed down 13% on its IPO day Wednesday. And Thursday it closed down almost 7%.
Like I said, adulting sucks. It especially sucks when a lot of turmoil is happening that's outside of your control and you're left to fend for yourself. Stocks across the board have gotten crushed because of the spike in US Treasury yields (more on that here).
But the other side of this is companies may just be setting their IPO prices too high. As Nightcap wrote earlier this week, companies going public get to say how much they think they're worth by setting an IPO price. But then once trading begins investors get to judge if that's what they think it is worth.
Sometimes companies even purposefully set their IPO prices low so investors get super excited and rush to buy shares, boosting the prices up. Clearly that wasn't the case with Birkenstock.