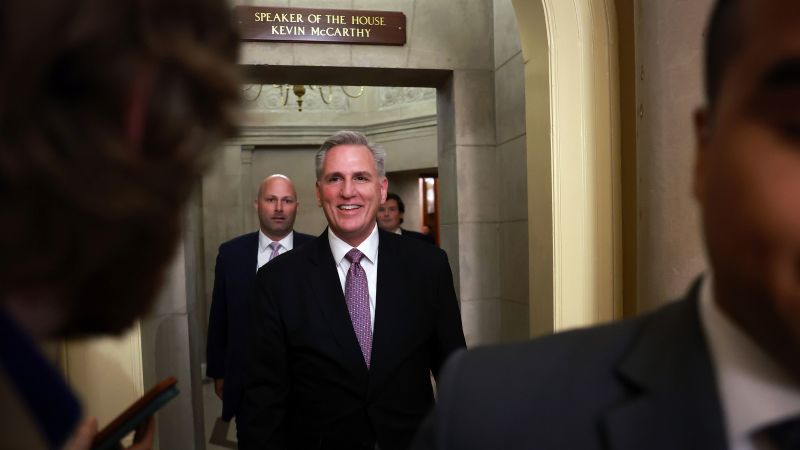 While Steve Scalise scrambles to secure the House speakership, the man who previously held the job has taken a back seat.
Former House Speaker Kevin McCarthy has actively chosen not to play a prominent role in his conference's battle to secure the next speaker, though he said he's backing Scalise now that the Louisiana Republican won the nomination.
McCarthy has only made drop in appearances to the behind-the-scenes meetings where members have been airing out their grievances, and did not attend Thursday's key meeting. Prior to members voting for the speaker candidate behind closed doors on Wednesday, McCarthy was introduced as Speaker Emerita and read the GOP conference a Mother Teresa poem, sources told CNN.
The California Republican is still holding court in the speaker's office, including having dinners with close allies and hosting former Trump administration officials, sources told CNN. Visitors entering the speaker suite pass a Kevin McCarthy speaker sign still hanging overhead. Scalise is still operating out of his Majority Leader office.
McCarthy has pledged to support Scalise, but he is not going out of his way to convince holdouts. And while he has told his supporters to not nominate him for speaker, he is not doing anything to tell them to stop voting for him, either – and many still see him as their leader.
Pressed earlier this week on McCarthy saying he doesn't want to be nominated, GOP Rep. Carlos Gimenez, who voted for him on Wednesday, told CNN: "He said he doesn't want people nominating him, that doesn't mean he doesn't want people voting for him."
McCarthy and Scalise have maintained a cordial working relationship over the years, but their camps have viewed each other suspiciously as the two men have long been seen as potential rivals.
Scalise considered challenging McCarthy for leader in 2018. And McCarthy opted to tap trusted allies Reps. Patrick McHenry and Garret Graves – not the top deputies on his leadership team – to help with McCarthy's January speakership battle, the debt ceiling crisis, and the government funding deadline.
McCarthy told reporters on Thursday it would be a "big hill" for Scalise to secure the floor votes to win the gavel.
"It's possible, it's a big hill though. He had told a lot of people he was going to be at 150, he wasn't there, though," McCarthy said Thursday morning.
Some of Scalise's allies viewed those comments as an effort to undermine Scalise's speakership bid, given his actual tally of supporters in the election – 113 – was well below the number McCarthy revealed.
As he continues to take a back seat on the behind-the-scenes negotiations, McCarthy has tried to project himself as a leader by kicking off the week with a media blitz in the wake of the attack on Israel in a room that is typically reserved for leadership and big press conferences. McCarthy had spoken from that same podium days earlier after he was ousted from the speakership.