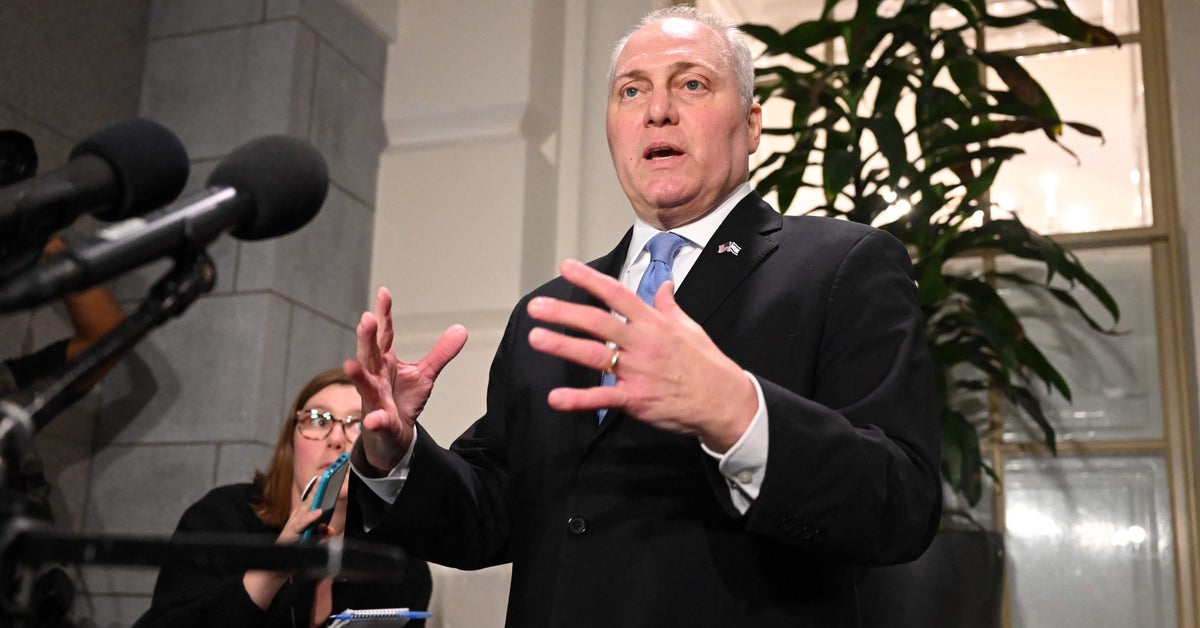 WASHINGTON ― A series of meetings this week has failed to move House Republicans any closer to replacing Rep. Kevin McCarthy (R-Calif.) as speaker of the House.
"We are a broken conference," Rep. Troy Nehls (R-Texas) told reporters after walking out of another meeting in the Capitol basement on Thursday.
Hours later, Rep. Steve Scalise (R-La.), the man Republicans nominated as their candidate for speaker just a day earlier, withdrew himself from consideration for the job, citing opposition from certain members of the Republican conference.
"There's some folks that really need to look in the mirror over the next couple of days and decide, 'Are we going to get it back on track,' or are they going to try to pursue their own agenda," Scalise told reporters.
Republicans have been leaderless since a small faction ousted McCarthy following his decision to move legislation with Democratic votes last month that avoided a government shutdown.
On Wednesday, a slim majority of Republicans voted for Scalise to become McCarthy's replacement. Scalise prevailed by a vote of 113 to 99 over Rep. Jim Jordan (R-Ohio), but Scalise would have needed 217 votes to become speaker and apparently got nowhere close to that amount of support from the 221 Republicans currently serving in the House.
Meanwhile, without a speaker, the House can't even perform the routine task of passing a symbolic resolution supporting Israel, much less pass legislation providing material support to Israel or Ukraine.
"The world's on fire. Our adversaries are watching what we do and quite frankly they like it," Rep. Mike McCaul (R-Texas), chairman of the House Foreign Affairs Committee, said.
He expects his pro-Israel resolution to be the first thing to be voted on once the House reopens, but he said the clock is ticking to send Israel more weaponry to defend itself against Hamas. "We're talking weeks. You can't drag this out any longer."
The chaos among Republicans also could collide with another government funding deadline next month. Moderates warned when McCarthy was thrown out of the speaker's office that the disarray would threaten another government shutdown, and as each day passes with no progress, the prospect of a funding lapse seems more likely.
The Republicans who publicly opposed Scalise have offered a variety of reasons, some seemingly dubious. Rep. George Santos (R-N.Y.) complained that Scalise has never called him; Rep. Marjorie Taylor Greene (R-Ga.) pointed to his ongoing treatment for blood cancer.
"There's vagaries. There's 'he's been here too long,' there's 'my constituents want Jim Jordan,'" Rep. Dan Mueser (R-Pa.) said, noting that Jordan has indicated he backs Scalise.
Rep. Anna Paulina Luna (R-Fla.) walked out of the conference room earlier on Thursday saying she would be "going with who Trump endorses," and she said she believed he had just put out a statement — an apparent reference to former president Donald Trump talking about Scalise's illness on Fox News. Luna then said on social media she would "no longer be voting for Scalise."
Luna's turnabout was particularly notable ― a complete 360-degree turn in two days. Originally she was a Jordan supporter, then Wednesday afternoon said she was satisfied with commitments Scalise had made and would vote for him before flipping again to not vote for Scalise.
Before he dropped out, Scalise painted the Thursday's first meeting in a positive light, as another step toward eventually his election to speaker and the reopening of the House floor for business.
"We're going to be talking some more as a smaller group but a cross-section representing every swath of our conference," he said.
Scalise said he fielded every question he was asked during the two and half hour meeting. But he said he was trying to avoid the appearance of cutting side deals to garner specific votes, something McCarthy did in order to lock up his last few votes to be speaker in January.
"I'm not cutting any deals. I want to meet in front of all of our members," he said.
Several Scalise skeptics were on their way back to their offices when they were summoned to another face-to-face with their would-be speaker. They turned around in a basement tunnel and trudged back toward the Capitol, but not enough of them were willing to change their minds.
Rep. Mike Kelly (R-Pa.) likened his colleagues to a football team that lines up but never snaps the ball because nobody listened to the quarterback's play call in the huddle.
"This is the worst team I've ever been on," Kelly said.