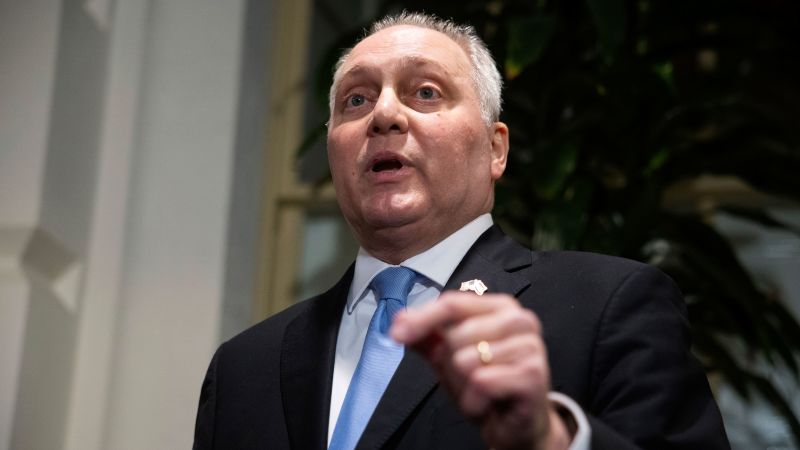 House Majority Leader Steve Scalise announced he was dropping out of the speaker's race Thursday after House Republicans failed to coalesce behind him in the aftermath of Kevin McCarthy's historic ouster.
"I just shared with my colleagues that I'm withdrawing my name as a candidate for the speaker designee," the Louisiana Republican told reporters.
The swift downfall of Scalise's speakership nomination came just a day after the GOP conference voted for him over Rep. Jim Jordan, 113-99. The withdrawal was as shocking as it was predictable, after a band of Republicans almost immediately blocked his path and said there was no way they would vote for Scalise as speaker. The move deepens the House GOP leadership crisis, with still no indication there is any viable candidate who could secure the 217 votes needed to win the gavel.
Republicans will now have to scramble to find a path forward as the House remains in a speakerless paralysis. The chaos has prompted some Republicans to call for expanding the powers of the interim speaker.
Many GOP lawmakers quickly urged the conference to support Jordan for speaker. But Republicans, divided and angry over their leadership fiasco, are not unified behind the Ohio Republican.
Several Republicans said they expected opposition to grow for a variety of reasons. One said Jordan will "never" become speaker.
Rep. Ann Wagner of Missouri told CNN Jordan is a non-starter for her. Rep. Austin Scott of Georgia stood up in the GOP conference meeting and said he would not support Jordan, a source familiar told CNN.
And Rep. Don Bacon of Nebraska said he's worried about "rewarding bad behavior" after Jordan supporters helped tank Scalise's bid.
"I think there's enough people that would see what has happened and transpired over the last 40 hours to not support him that we're going to have the same problem with Jordan that we had with Scalise," said Rep. Mike Garcia of California, who said he is backing Jordan. "I think it's a math problem, frankly."
Jordan or any other candidate needs to win a majority of the entire House to be elected speaker, which is 217 votes, due to two vacancies. That means a GOP speaker nominee can only afford to lose four GOP Republican votes if there are no absences. Democrats are expected to uniformly back House Minority Leader Hakeem Jeffries.
House Republicans will hold another closed-door meeting Friday morning to regroup and discuss their path forward.
Jordan declined to say if he would launch a bid for the speakership Thursday evening. "Any type of announcement about what may or may not happen is best done tomorrow," he told reporters following the conference meeting.
Opposition to Scalise grew before his withdrawal

Scalise scrambled earlier Thursday to try to salvage his bid, seeking to address his critics' concerns directly in a two-hour-plus conference meeting behind closed doors. He then invited his detractors to meet with him in his office, in an attempt to win over the holdouts.
But Scalise went the wrong direction, as the list of opponents in the GOP conference nearly doubled to around two dozen.
"If you look at where our conference is there's still work to be done. Our conference still has to come together and is not there," Scalise said as he announced his withdrawal. "There are still some people that have their own agendas, and I was very clear we have to have everybody put their agendas on the side and focus on what this country needs. This country is counting on us to come back together. This House of Representatives needs a speaker and we need to open up the House again, but clearly not everybody is there, and there's still schisms that have to get resolved."
Scalise, who announced he was withdrawing at a second members-only GOP conference meeting Thursday evening, did not endorse a candidate. He will remain House majority leader, the No. 2 Republican in the House.
McCarthy, who earlier Thursday publicly acknowledged Scalise's difficult task, said after the withdrawal that the GOP conference has to solve its problem – after he was removed by eight Republicans in last week's vote.
"I just think the conference as a whole has to figure out their problem, solve it and select their leader," McCarthy said.
As the reality of the deadlock set in Thursday during the earlier conference meeting, the anger inside the conference kept rising.
"This is petty, and I'm getting freaking tired of it," said Rep. Nicole Malliotakis, a New York Republican. "We're all in there sharing our feelings, but the reality is we still need to get to 217."
Late Wednesday, members of the conference had already began to weigh how they would handle the potential collapse of Scalise's bid, with several GOP sources saying they believed they'd have to consider a new candidate who has yet to run for the speakership.
Many Republicans felt there may not be a candidate at this point who can receive the votes of nearly the entire fractured GOP conference.
"There is no Paul Ryan in this facility. These are the two most viable candidates," Rep. Thomas Massie, a Kentucky Republican opposed to Scalise, said of Scalise and Jordan.
A leaderless House amid world turmoil

While there was some belief on Capitol Hill that the brutal assault on Israel over the weekend might prompt Republicans to quickly select a leader – House lawmakers were given a classified briefing on Israel on Wednesday before the conference vote for speaker – the deep divisions in the conference that led to McCarthy's removal last week have now left the quest for a new speaker at a standstill.
Before Scalise withdrew, Republicans were already considering whether they should try to expand the powers of interim Speaker Patrick McHenry of North Carolina, so the House can pass legislation, like a resolution for Israel, multiple lawmakers told CNN.
"That is an option that we could pursue," GOP Rep. Steve Womack of Arkansas told reporters.
A group of more centrist Republicans are circulating a letter asserting that McHenry should have more temporary power, sources told CNN – a sign of desperation as the GOP scrambles to coalesce around a speaker.
Separately, some House Democrats have started having preliminary conversations with some Republicans about who, aside from Scalise, would be interested in working with them, one source familiar with the conversations told CNN ahead of the withdrawal.
One of the Republicans Democrats would be interested in is House Rules Chairman Tom Cole of Oklahoma, the source added. But no deal with Republicans would come for free, and Democrats have said they would need major concessions for any talks to become real.
No clear alternative

Scalise had hoped to turn his opponents one by one. But even the support Scalise won over proved fickle. On Wednesday, Rep. Anna Paulina Luna said after meeting with Scalise that she felt "comfortable" enough to support his speaker nomination, after he spoke to her about the Oversight Committee's impeachment investigation into President Joe Biden.
But leaving Thursday's afternoon meeting, Luna said she was no longer supporting Scalise. "As of right now we need someone who can unite the party and right now, there is no candidate that has 217," the Florida Republican said.
While many of the Scalise holdouts say they're backing Jordan, a number of Republicans don't think that Jordan could be a viable alternative given that he lost to Scalise in the nominating contest, and some Republicans were irritated when he didn't immediately close ranks behind Scalise
"If Scalise were not to make it, the next person got less votes," Rep. Mario Diaz-Balart of Florida said of Jordan. "And by the way, I think, more controversial. So that would not be a good thing for this place."
Before Scalise withdrew, Republican Rep. Erin Houchin of Indiana said she didn't know if "it will be Jordan or Scalise or even someone else at this point."
"I think we're in uncharted territory," she said, "and it's gonna be very hard to predict."
This story and headline have been updated to include additional developments.
CNN's Annie Grayer, Lauren Fox, Kristin Wilson, Morgan Rimmer, Sam Fossum and Clare Foran contributed to this report.