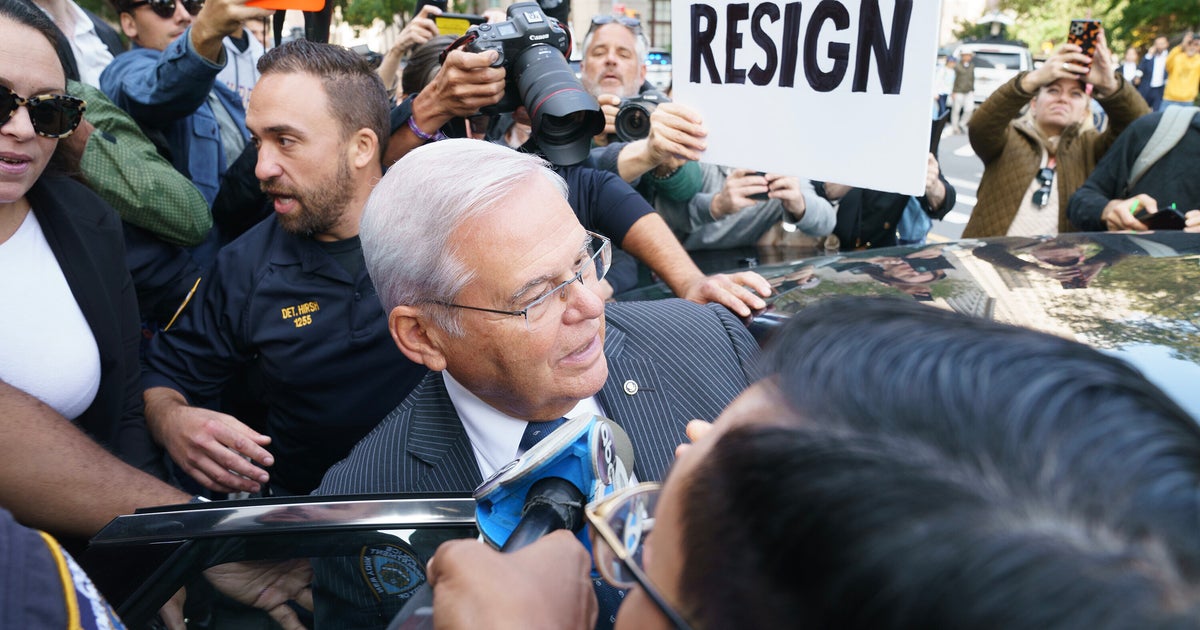 The Department of Justice charged Sen. Bob Menendez (D-N.J.) with illegally acting as a foreign agent for Egypt in a superseding indictment released Thursday.
Menendez and his wife, Nadine Menendez, already faced charges of accepting bribes from an Egyptian American businessman and his associates in exchange for using his official position as both the senior senator from New Jersey and the top Democrat on the Senate foreign relations committee to help them and the Egyptian government.
The superseding indictment alleges that the Menendezes and businessman Wael Hana engaged in a conspiracy from 2018 to 2022 to have a public official, Bob Menendez, illegally act as a foreign agent. The original indictment detailed how Nadine Menendez and Hana allegedly set up meetings between the senator and Egyptian military and government officials who wanted his help in releasing U.S. military aid that had been placed on hold following accusations of human rights abuses.
The Foreign Agents Registration Act requires those acting as agents of foreign countries to register as such with the Department of Justice, and to file regular and extensive disclosures, including all contacts with and contributions to public officials and the media. The act also bans public officials, including lawmakers in Congress like Menendez, from acting as an agent of a foreign country.
The superseding indictment attempts to make clear that Menendez understands FARA and what it bars and requires, as he had pressured the Department of Justice to investigate a former member of Congress for failing to register as a foreign agent.
"Between at least approximately 2020 and 2022, ROBERT MENENDEZ, the defendant, made multiple requests for the U.S. Department of Justice to commence an investigation against another person for allegedly failing to register under FARA," the indictment states.
These requests included two letters, one in 2020 to the DOJ's National Security Division and another in 2022 to Attorney General Merrick Garland, pushing for the DOJ to investigate the former member of Congress. While the indictment does not mention the ex-lawmaker, Menendez posted both letters on the Senate foreign relations committee website to call for a Justice Department investigation into former Rep. David Rivera (R-Fla.) after he accepted work with a Venezuelan state-owned oil and gas company.
The superseding indictment does not charge Hana or Nadine Menendez with failing to register as a foreign agent, but it does note that they "have never registered as foreign agents or lobbyists."
New details in the superseding indictment allege that Bob Menendez, his wife and Hana met with an Egyptian official at the senator's Washington, D.C., office in May 2019 to discuss a holdup in the transfer of Apache helicopters to Egypt.
After meeting with the Egyptian official, Bob Menendez "conducted a web search for the name of that American citizen and visited a website that contained an article about the citizen's claim," according to the indictment.
The Egyptian official later texted Hana to tell him that Menendez would "sit very comfortably" if he helped resolve the conflict over the helicopter sale, the indictment said. Hana allegedly replied: "Orders, consider it done." The official then reportedly forwarded a statement from the wounded American's lawyer to Hana, and Hana allegedly shared it with Nadine Menendez, who allegedly passed it on to her husband. Nadine Menendez then allegedly deleted her messages to both her husband and Hana.
In a statement released by his office Thursday afternoon, Menendez defended himself against the new charges and denied the allegations therein.
"The government's latest charge flies in the face of my long record of standing up for human rights and democracy in Egypt and in challenging leaders of that country, including President El-Sisi on these issues," Menendez said in the statement. "I have been, throughout my life, loyal to only one country — the United States of America, the land my family chose to live in democracy and freedom."
"Piling new charge upon new charge does not make the allegations true," he continued. "The facts haven't changed, only a new charge. It is an attempt to wear someone down and I will not succumb to this tactic. I again ask people who know me and my record to give me the chance to present my defense and show my innocence."
Hana's lawyer, Larry Lustburg, also denied that his client was engaged in a plot to turn the senator into an agent of Egypt.
"The new allegation that Wael Hana was part of a plot concocted over dinner to enlist Senator Menendez as an agent of the Egyptian Government is as absurd as it is false," Lustburg said in a statement provided to HuffPost. "As with the other charges in this indictment, Mr. Hana will vigorously defend against this baseless allegation."
Bob Menendez was indicted on bribery charges in 2015 over accusations that he tried to help a doctor squash a Medicare fraud investigation in exchange for gifts and campaign contributions funneled through a super PAC. His trial ended in a hung jury in 2017. He was subsequently admonished by the Senate ethics committee in 2018.
On Sept. 27 of this year, the senator pleaded not guilty to the spate of bribery charges laid out in that month's indictment. He resigned his position as chair of the Senate foreign relations committee afterward. Despite the charges, he has stated his intention to run for reelection in 2024. But he has drawn a primary challenge from Rep. Andy Kim (D-N.J.).