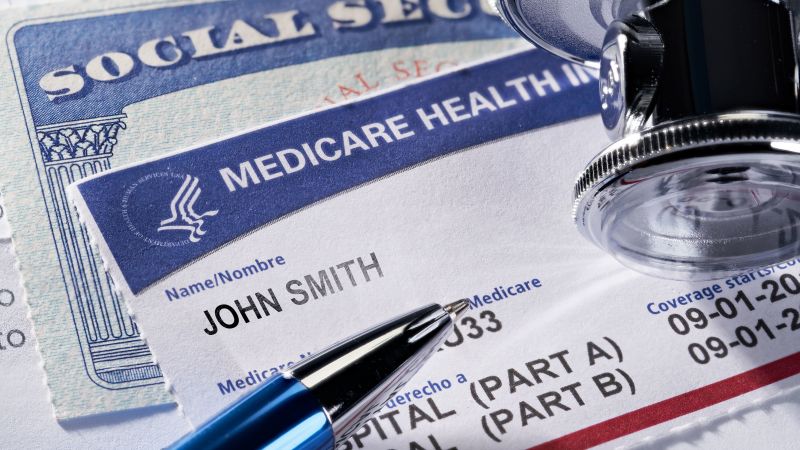 Medicare enrollees will shell out about $10 more next year for their monthly Part B premiums, the Centers for Medicare and Medicaid Services announced Thursday.
The standard monthly premium for Medicare Part B will be $174.70 for 2024, up from $164.90 this year. Premiums vary depending on a beneficiary's income.
The jump is due mainly to projected increases in health care spending, CMS said. Also a factor are the payments that the agency has proposed making to hospitals that typically serve larger shares of disadvantaged patients. The Supreme Court ruled last year that the US Department of Health and Human Services failed to follow the proper procedures in varying reimbursement rates in the 340B drug program aimed at those hospitals.
Also, the annual Part B deductible will rise to $240 in 2024, an increase of $14.
Medicare Part B covers physician services, outpatient hospital services, certain home health services, durable medical equipment and certain other medical and health services not covered by Medicare Part A.
Cutting into Social Security

The premium increase means that retirees will see a monthly bump of less than $50, on average, in their Social Security benefits next year.
Social Security recipients' annual cost-of-living adjustment will be 3.2% for 2024, a much smaller increase than the inflation-fueled boosts of the past two years, the Social Security Administration announced Thursday.
Retirees' monthly payments will rise by $59 to an estimated average of $1,907, starting in January, but that's before Medicare premiums are automatically deducted.
Medicare premiums have bounced around in recent years.
The standard monthly premium spiked 14.5% to $170.10 in 2022, driven in large part because of a projected jump in spending due to a costly new drug for Alzheimer's disease named Aduhelm. However, the manufacturer then cut the price, and CMS limited coverage of the drug.
That led to the standard monthly premiums decreasing by $5.20 to $164.90 for this year. It was the first year-over-year drop in more than a decade.