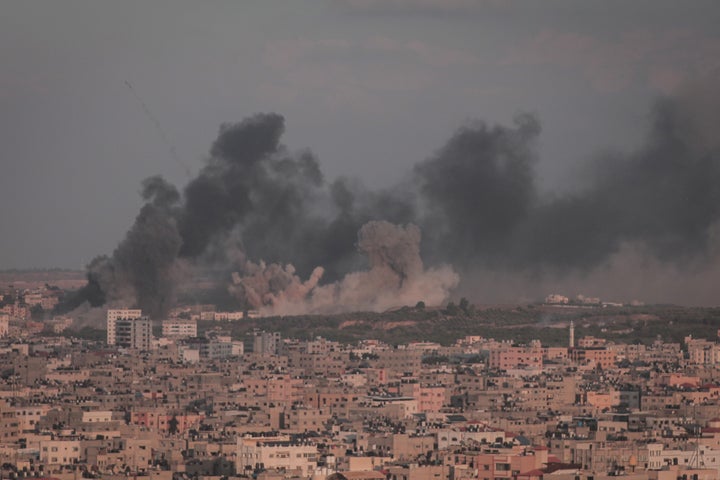 This week's crisis in Israel-Palestine Gazan civilians before striking particular neighborhoods and suggested that some should consider leaving the Palestinian territory altogether.
Fear of assaults on certain areas has fueled massive displacement, with the U.N. estimating that 187,518 Gazans have left their homes to seek shelter elsewhere in the strip — more than 137,000 of them at U.N. schools, which are becoming overcrowded and face concerns about their water supply.
Meanwhile, fleeing Gaza is almost impossible. The region's southern neighbor Egypt is reluctant to open the Rafah crossing into its territory — which both the U.S. State Department and the Israeli military have highlighted as an option — amid Israeli airstrikes and Egypt's fear of a huge refugee influx, and Israel has blocked all other routes into and out of Gaza.
The total disruption of life in the strip has already limited residents' access to vital supplies.
The U.N. Relief and Works Agency, which focuses on Palestinian refugees and is a major player in Gaza's fragile economy, has been unable to provide this week's food rations to nearly 500,000 people — one-fifth of the region's population — the agency said in a Tuesday statement. One-third of Gaza's health centers are closed, and only 13.5% of its health care staff is at work, the UNRWA statement continued.
Gaza typically relies on the Israeli power grid but is currently dependent on its own small local power plant, which only runs for four hours a day, and private fuel supplies, which have limited diesel reserves, the Israeli human rights group B'Tselem and the charity Oxfam said in Tuesday press releases. Electricity shortages will make it harder to purify drinking water, charge cellphones and access the internet. Airstrikes have so far disrupted access to water and sanitation for 400,000 Gazans and shut down Gaza's wastewater treatment plant, leading to raw sewage being emitted into the Mediterranean Sea, according to Oxfam.
"It's a very difficult situation — not knowing if you're going to live the next day, the next hour or the next minute."

– Nadia Hararah, Palestinian American marketing manager with family in Gaza
Abood Okal, a 36-year-old Palestinian-American, arrived in Gaza two weeks ago to visit family members there whom he hadn't seen for six years. He was happy to introduce his 1-year-old to his uncle, aunt and cousins. But now, Okal is sheltering in place, unable to see his parents — American citizens who are just 10 minutes away. A bomb has blown out the windows and doors of their home.
"It's a difficult humanitarian situation that's unthinkable," Okal told HuffPost. "Thousands of people are on the streets with no shelter, no power, and very soon will run out of water."
Okal and his wife have been trying to distract their son from the bombs, clapping and telling him the booming noises are from fireworks. But as the strikes keep pouring down, it's becoming increasingly difficult to hide the truth: "We're running out of tricks up our sleeves to keep him unaware," Okal said.
Gazans will also have to contend with the challenge of living in tightly packed communities where street fighting is likely to be extremely dangerous.
Additionally, regular Gaza residents have little say over the battle strategy of Hamas, which has tightened its control over the strip, declining to hold elections and rarely tolerating local dissent. Hamas has suggested it might kill Israeli hostages in retribution for Israeli airstrikes — a tactic that could lead to an even bloodier escalation — and its sophisticated military bulwarks throughout the strip will likely ensure any direct clash with Israeli forces is prolonged.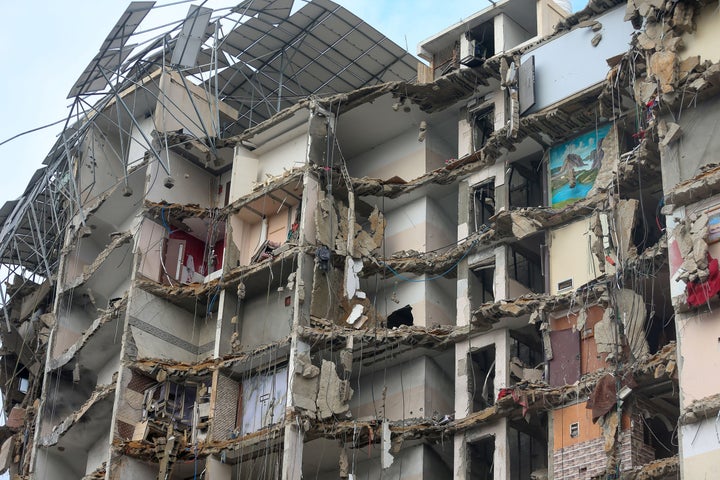 The death toll has already spiraled in just four days. In Virginia, Palestinian American Hani Almadhoun learned Monday morning from a Telegram chat that an Israeli airstrike killed 14 members of his family, including five children and elderly relatives.
"Death comes very fast," Almadhoun told HuffPost. "We don't get any solidarity."
He hasn't been able to reach his family in Gaza for the last four days. Almadhoun, who was just in the region two months ago, fears what is to come.
"We are afraid to look at media," Almadhoun said. "It's going to be another trauma."
Slim Hopes
Few observers believe Israel can be persuaded to refrain from a major operation in Gaza.
The country's foreign partners are encouraging caution to some degree. On Tuesday, President Joe Biden said he asked Israeli Prime Minister Benjamin Netanyahu to abide by international standards. "Terrorists purposely target civilians and kill them. We uphold the laws of war," Biden said. "It matters. There's a difference."
The foreign ministers of the 27 nations in the European Union said they would like to see humanitarian corridors out of Gaza and urged Israel not to fully cut off supplies to the strip.
Yet demands for a broader halt in hostilities — like a ceasefire — remained marginal. And humanitarian aid for Gazans was not mentioned in a joint statement that Biden and the U.S.'s closest allies released Monday, drawing ire from some aid workers.
In 2014, when Israel launched a ground invasion of Gaza, it ultimately killed 2,251 Palestinians — including 551 children — and injured more than 11,000, per U.N. estimates.
Nadia Hararah, a Palestinian American marketing manager in Seattle, is unable to process her grief. Five of her cousins were killed on Saturday, and she's worried about other relatives in the region.
"It's a very difficult situation — not knowing if you're going to live the next day, the next hour or the next minute," she said.
She feels helpless and frustrated, unpacking a trauma she said is never-ending.
"I wish more Americans knew about how long and how deep the suffering has been at the hands of the Israeli occupation forces," Hararah said. "They don't recognize that this isn't out of thin air. That me and my family have been suffering — differently, but suffering for a long time."