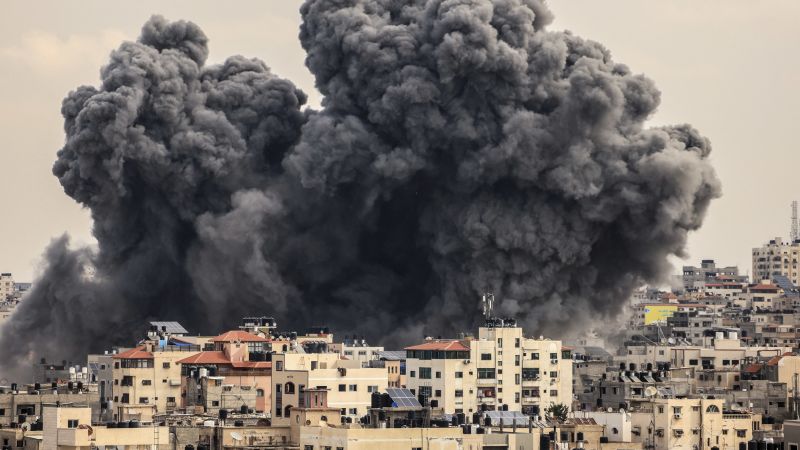 Editor's Note: A version of this article first appeared in the "Reliable Sources" newsletter. Sign up for the daily digest chronicling the evolving media landscape here.
Esther Solomon, the editor-in-chief of Haaretz, Israel's oldest daily newspaper, was trying to observe the Jewish Sabbath on Saturday in Tel Aviv when her daughter, a member of the Israeli Air Force, brought some alarming news to her attention: Israel was under serious attack from Hamas.
Solomon quickly realized that the assault was far more grave than the usual round of rocket fire, which Israelis have grown accustomed to. She sprung to action, swiftly mobilizing her 400-some strong newsroom to begin reporting out the rapidly developing — and horrifying — story.
"The news seeped out, and then it flooded out," Solomon told CNN by phone on Monday, recalling the initial moments after the assault had begun.
Solomon said that while the wave of attacks caught everyone by surprise, shattering the celebration of the Simchat Torah holiday, the newsroom had in recent months built an infrastructure to seamlessly communicate for coverage of the pro-democracy protests that have gripped the country. The well-rehearsed processes allowed editors and reporters to gather in WhatsApp groups and publish critical reporting at a breakneck speed.
The Haaretz newsroom also has an unfortunate wealth of experience reporting from conflict zones. "It's not like we have to understand what it's like," Solomon said. "We live in it all the time."
And yet, this staggering conflict that has now claimed the lives of more than 900 Israelis and 600 Palestinians, has presented unique challenges to the newspaper, which has filed hundreds of stories in the last 72 hours, informing audiences with 'round-the-clock dispatches.
Most glaring is the challenge of keeping reporters safe as they report in an especially dangerous environment. Solomon said that her reporters deployed in the field are donning the usual protective helmets and body armor to help protect from the bombardment of missile strikes and militant gunfire battering Israel. But she noted that the unpredictable nature of the situation means that safety simply cannot be guaranteed.
"One Haaretz journalist showed up the other day in an area that the militants were, but not one of the hot beds, and he had to run out of his car and lie on the ground and they shot up his car along with two others," Solomon said. "So you can take precautions, but what can you do? This is an extraordinarily dangerous time. Sometimes, it's not intentional, you are in the line of fire."
The Tel Aviv-based newsroom is also grappling with the unfolding war in deeply personal terms. Solomon said that she doesn't know "a single person who doesn't have some connection to somebody who is a hostage in Gaza now." And, she said, it is difficult for even the most seasoned journalists to process some of the horrors that they have been forced to bear witness to.
"Even as someone who has seen the photos we don't publish on previous terror attacks, it has been almost unbearable," Solomon said of a stream of images coming in from the field showing the atrocities Hamas has committed on civilians, adding that "there isn't a way you can unsee those images."
"Those images are just so searing and so difficult to digest and so difficult to understand," Solomon continued. "You can use the whole lexicon of adjectives to try to describe them and you won't even get there."
Another key challenge has been the inability to report directly from Gaza, given that Israeli journalists have been forbidden from traveling into the Palestinian territory since Hamas rose to power in 2006.
"There is a problem in terms of how to source credible information from Gaza, which is obviously extremely important because there will be, and already is, significant loss of life and suffering," Solomon said. "And that is part of the picture we need to offer to readers."
In the past, Haaretz has worked with freelance reporters in Gaza, who file stories under pseudonyms. But Solomon said she doesn't believe the odds of doing so at the moment are very good. And that is a significant problem, she said, because "there is no complete coverage of a war unless you have access to credible information on the Palestinian side as well."
Many of the challenges that Haaretz has encountered over the last few days are certain to also impact journalists from the US and across the world, as news organizations send personnel to the troubled region to report on the consequential story. To these visiting journalists, Solomon offered some advice.
"Try as much as possible to platform the voices, the people who really live here and have lived through what has happened … And understand the very, very raw emotions that they are going to be going through," she said. "This is an experience of horror that is raw still."