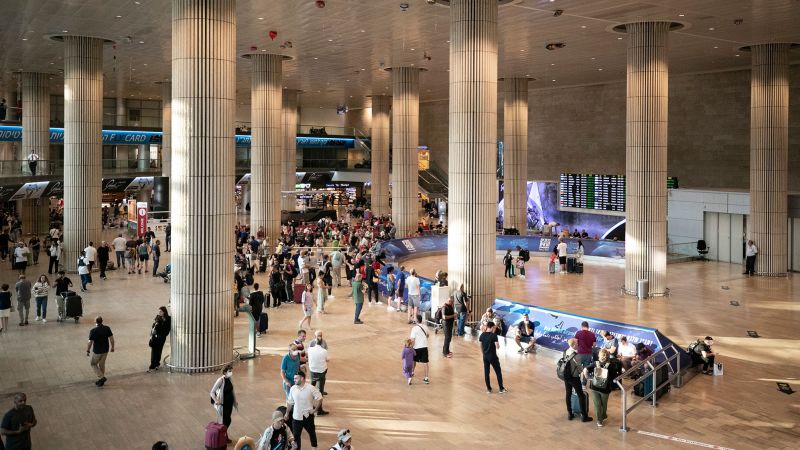 Multiple airlines have canceled flights in and out of Tel Aviv, home to Israel's largest international airport, after Israel formally declared war on Hamas.
In a statement to CNN, American Airlines said it was suspending flights until Friday as it closely monitors the situation on the ground.
The cancellations follow on the heels of a "do not fly" order from the president of the Allied Pilots Association, the union representing 15,000 American Airlines pilots.
In a note on Sunday, Ed Sicher said that because Israel has declared that it is now at war, "it is not prudent or appropriate to knowingly put our flight crews and passengers in harm's way by maintaining flights into a war zone."
He cautioned pilots to refuse any assignment into Israel and added that the Federal Aviation Administration has issued a notice to air personnel urging "extreme caution."
Delta Air Lines is also canceling all flights to and from Tel Aviv for the rest of the month, but said in a statement that it will "work with the U.S. government as needed to assist with the repatriation of U.S. citizens who want to return home."
The US Embassy in Israel said in a security update Monday that it is continuing "to closely monitor the dynamic security situation" in the region. Although Ben Gurion International Airport is open, "some flights have been reduced or suspended. US carriers have temporarily suspended flights to Israel," according to the embassy.
Several international airlines have also suspended travel across the country. Hong Kong carrier Cathay Pacific canceled its Tuesday flight to and from Tel Aviv. Air Canada says it has suspended all flights for now, as it keeps an eye on the dynamic security conditions. Ireland's Ryanair said Monday it was canceling flights in and out of Tel Aviv until October 11, citing operational restrictions. Air India and Lufthansa announced that they were canceling flights until October 14, and Norwegian Air said it is canceling flights until October 15.
Korean Air canceled one of its three regularly scheduled weekly flights into Tel Aviv on Monday, and is scheduled to hold another meeting Monday to discuss future flights between the two countries. However, the airline said it is planning on flying a 218-seat plane from Tel Aviv and to Incheon on Tuesday in order to bring Korean nationals back home.
Located less than 40 miles from Gaza, Israel's Ben Gurion International Airport is right outside Tel Aviv, where CNN crews have heard near-constant booms of rocket fire on Monday. CNN reporters in Jerusalem have also described eerily quiet places normally teeming with tourists. The conflict, which is now in its third day and has resulted in over a thousand deaths, is escalating as Israel's Defense Minister Yoav Gallant ordered a "complete siege" of Gaza on Monday.
This article has been updated with additional information
CNN's Ivana Kottasová, Greg Wallace, Pete Muntean, Lucas Lilieholm, Menveena Suri, Gayle Harrington, Artemis Moshtaghian, Hadas Gold, Eyad Kourdi, Jonny Hallam, Ibrahim Dahman and Helen Regan contributed to this report.