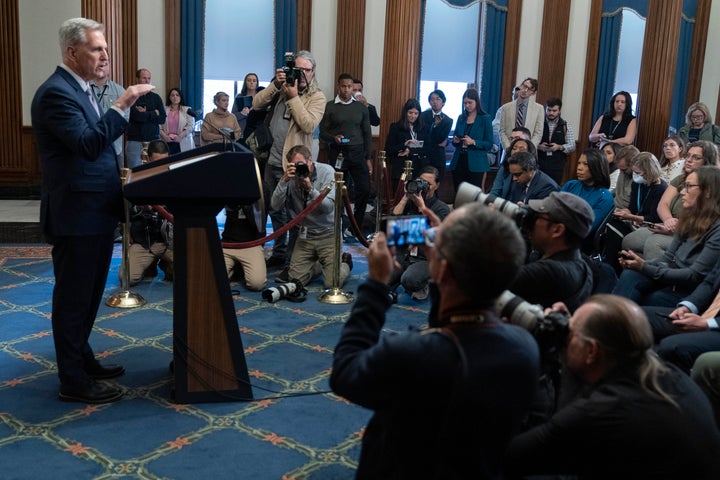 Rep. Kevin McCarthy (R-Calif.), until recently the speaker of the House, told reporters Monday what the United States needs to do to help Israel after the militant group Hamas killed hundreds of people there in a surprise attack over the weekend.
But McCarthy's target audience for his remarks may have been less the American public and more his colleagues in the House Republican conference.
When McCarthy, now just one among the 433 representatives currently in office after his historic ouster as speaker last week, appeared in the same room where he'd often met with reporters as speaker, it seemed like one of his aims was to send a message to his fellow House Republicans: I'm still around, if you're having second thoughts.
McCarthy, who last week had brushed off the idea of being drafted to return to the speaker's chair, saying "This job was never about me," signaled a different stance Tuesday.
"The conference can decide," McCarthy said when asked if he would accept being nominated for the post, which would make him because eight members of his party, led by Rep. Matt Gaetz (R-Fla.) and angry at his support for a stopgap funding bill to avoid a government shutdown, voted with Democrats to provide the winning margin. The experience has left a bad taste in the mouths of many House Republicans, who accuse Democrats of hurting the institution of the House and the GOP dissidents of embarrassing the party.
Rep. John Duarte (R-Calif.) said the attack on Israel changes the dynamic and highlights the need for McCarthy's return. Rep. Mike Lawler (R-N.Y.), another GOP moderate, told reporters: "A lot of people believe Kevin McCarthy is the right person to lead us."
McCarthy certainly had his talking points down on who to blame for his ouster. It's not himself, even though the most obvious reason he got ejected is because of the many, many concessions he made to his far-right flank to become speaker in the first place.
Rather, McCarthy has specifically been going after two Republicans as the real culprits: Gaetz and Rep. Nancy Mace (R-S.C.).
Asked in Monday's press conference if he could imagine being speaker again, McCarthy scoffed at the idea of the Republicans who pushed him out trying to navigate a congressional response to war breaking out between Israel and Hamas militants.
"Could you imagine if we were sitting here and we listened further to a Gaetz and Mace, that we were in a shutdown?" he said. "That, as we asked our 30,000 men and women in the military in the Middle East to defend us, without being paid?"
He also name-checked them in a Monday interview with conservative radio host Hugh Hewitt.
"The Democrats made the same political decision that Matt Gaetz and Mace did. This is a Gaetz-Mace-Hakeem-Pelosi decision," McCarthy told Hewitt, referring to House Minority Leader Hakeem Jeffries (D-N.Y.) and former Speaker Nancy Pelosi (D-Calif.).
"They think, 'Take Kevin off the playing field,' so they could try to win a majority instead of wondering what the rest of the world's going to look at, and wondering whether their government should stay funded," McCarthy said.
"Time to move on."

– Rep. Matt Gaetz (R-Fla.)
Hewitt noted that McCarthy helped Mace get elected in the first place, and asked why she'd turned on him. McCarthy said he didn't know, but then took a shot at Mace, saying she simply loves the limelight.
If McCarthy did become speaker again, it's not clear whether or how he might retaliate against the eight Republicans who voted to throw him out. But in his press conference, he intimated vaguely that there could be "consequences" for their behavior.
"It's not just electing somebody that's new ― it's whether you want to be a conservative who will govern," McCarthy said. "That's the question the conference has to realize. For the idea you allow eight people to continue to do that with no consequences, no one's going to be successful."
In his remarks, McCarthy said the U.S. needs to rescue American hostages in the Hamas-Israel conflict, resupply Israel's air defense weaponry, confront Iran, examine why U.S. intelligence failed to discover the attack, and renew efforts to secure the U.S., especially the southern border.
It's unclear if McCarthy's remarks will affect House Republicans' deliberations on who should be speaker. The conference began a meeting Monday night to discuss the issue, with an eye toward voting later in the week. But Gaetz signaled he would still oppose a McCarthy return.
"Math is real," Gaetz posted on social media, referring to the numbers of the vote to remove McCarthy. "Time to move on."