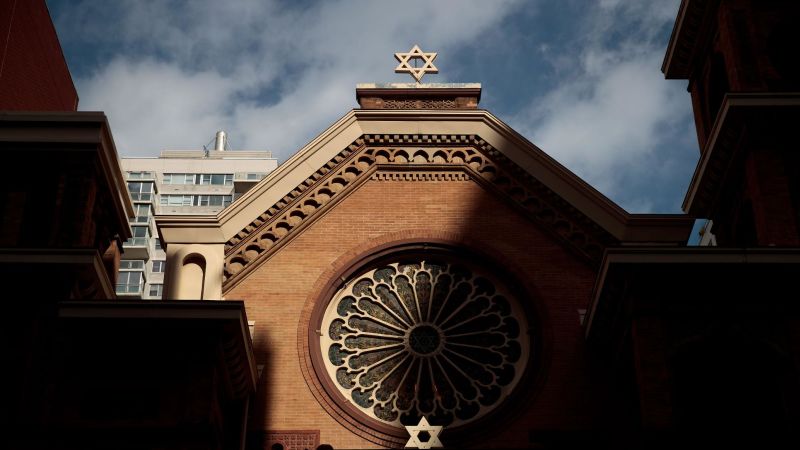 Cities across the US are ramping up security around houses of worship after the devastating attacks on Israel by Gaza militants that started Saturday.
While many authorities say there have been no credible threats, the FBI and the Department of Homeland Security issued "public safety concern" bulletins to state and local law enforcement agencies over the weekend, a law enforcement official said.
So far, the agencies said there was no "current specific intelligence indicating a threat to the United States," the official said.
But a rabbi in Salt Lake City said he was forced to stop services Sunday and evacuate the synagogue after the congregation received a bomb threat.
Video posted on the Facebook page of Congregation Kol Ami shows Rabbi Sam Spector interrupting a cantor and asking everyone to "calmly please exit the building" and go to a nearby park. He then asks someone if 911 has been called.
"About halfway through our service, our staff received an email saying that there was a bomb in our building and that bombs had been placed in other Jewish centers around Utah and that it'd go off in a few hours and that we all deserved to die," Spector told CNN affiliate KSL.
Salt Lake City police said officers searched three local Jewish institutions but did not find anything suspicious, the affiliate reported.
"Officers will continue to have increased patrols. The SLCPD will continue to work with other law enforcement agencies regarding the origin and credibility of the threats received," police said, according to KSL.
Spector, who leads the largest Jewish congregation in Utah, said many worshipers were scared and upset even before the bomb threat.
Many congregants have direct connections to Israel, and some were still unable to find relatives in the conflict zone, the rabbi told CNN. They exchanged hugs and shed tears before they were forced to evacuate the synagogue.
"People are really having a difficult time," Spector said.
The FBI's Salt Lake City office "is aware of several bomb threats to synagogues in Utah," the agency said, according to KSL.
"While we have no information to indicate a credible or specific threat, we are working with our local and state law enforcement partners as needed," the FBI said. "We urge the public to remain vigilant, and report any and all suspicious activity and/or individuals to law enforcement immediately."
The heightened vigilance in the US comes after Gaza militants launched a surprise attack on Israel Saturday morning, firing thousands of rockets and entering Israel by land, sea and air.
Israel then launched airstrikes on Gaza while its forces clashed on the ground with Hamas fighters.
More than 900 people were killed and thousands more were injured in Israel, officials said. And in Gaza, more than 680 Palestinians were killed, the Palestinian health ministry said.
The city with the largest Jewish population in the world outside of Israel – New York City – has not faced any specific or credible threats against the Jewish community in the aftermath of the attack in Israel, Mayor Eric Adams said Saturday.
But he has "directed the NYPD to deploy additional resources to Jewish communities and houses of worship citywide to ensure that our communities have the resources they need to make sure everyone feels safe," Adams said Monday.
Some of the enhanced protections will be covert: "There is also the intel and invisible action that we're going to put in place," the mayor said.
New York Gov. Kathy Hochul said she's working with Israel's acting consul general in New York and the US Embassy in Jerusalem to help bring back New Yorkers currently in Israel.
As a precaution, the governor also "directed the New York State Police to work with local law enforcement to ensure Jewish community spaces are safe," Hochul said.
New Orleans police are boosting security around the Jewish community and its institutions, interim Superintendent Anne Kirkpatrick said in a statement.
The city's Jewish community has about 12,000 members, according to the Jewish Federation of Greater New Orleans.
"The New Orleans Police Department is aware of the situation in the Middle East and out of an abundance of caution, I have deployed Directed Patrols to ensure the safety of our Jewish institutions and communities," the police chief said in a statement.
"NOPD District Captains will continue to work closely with Synagogue and community leaders in the interest of keeping our communities safe," Kirkpatrick said.
New Jersey's attorney general also announced increased law enforcement patrols across the state and asked residents to be extra vigilant.
"While there is no credible threat to safety, law enforcement will be increasing patrols in sensitive areas – particularly houses of worship for both the Jewish and Islamic faiths – and taking other steps out of an abundance of caution," Attorney General Matthew J. Platkin said in a statement Saturday.
The Chicago Police Department says it is paying close attention to synagogues and mosques in light of the war in Israel and Gaza, according to a department statement.
Houston Mayor Sylvester Turner announced enhanced security at synagogues and "other potential venues."
The Metropolitan Police Department in Washington, DC, will have "increased visibility" near places of worship, though "there are currently no credible threats in the District," spokesperson Sean Hickman said Saturday.
Across the country, the Los Angeles Police Department said it will conduct extra patrols in Jewish and Muslim communities.
"The Los Angeles region has the second-largest Jewish population outside of Israel and many families are anxiously awaiting developments as they unfold," Los Angeles Mayor Karen Bass said in a statement Saturday. "My thoughts are with those families."
The horrors unfolding in the Middle East are resonating across the US, said Jonathan Greenblatt, CEO and national director of the Anti-Defamation League.
"The police presence in front of preschools is what it looks like now. Squad cars in front of synagogues," Greenblatt told CNN News Central on Monday. "That's what's happening because after sparks in the Middle East, they light fires here America and in Europe."
Greenblatt said he has spoken with people across the US over the past few days, and "many are looking for missing family members, for kidnapped relatives, or those who are dead."
"And yet they're also scared because … anti-Semitic incidents were already at a high point," he said.
President Joe Biden spoke to Israeli Prime Minister Benjamin Netanyahu Saturday and said Washington "unequivocally condemns this appalling assault against Israel by Hamas terrorists from Gaza."
"I made clear to Prime Minister Netanyahu that we stand ready to offer all appropriate means of support to the government and people of Israel," the president said.
CNN's Devon M. Sayers, Philip Wang, Samantha Beech, Holmes Lybrand, Kristina Sgueglia, Keith Allen, Artemis Moshtaghian and Jack Hannah contributed to this report.