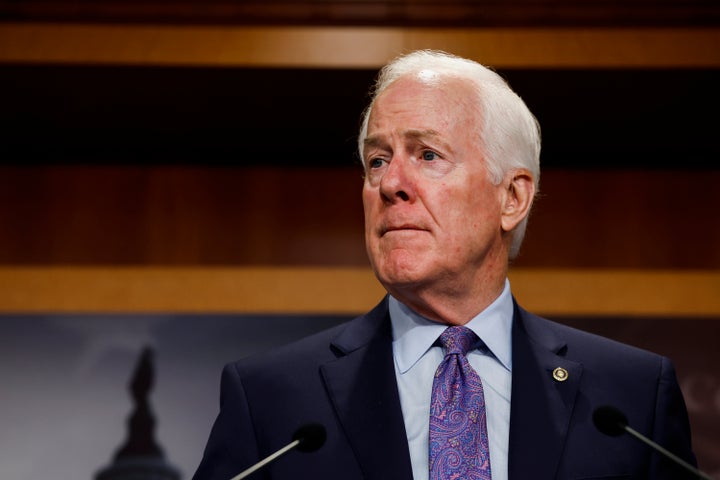 Senate Republicans were appalled after their counterparts in the House voted on Tuesday to oust House Speaker Kevin McCarthy (R-Calif.) ― a first in American history ― paralyzing the lower chamber and again increasing the odds of a government shutdown next month.
With no House speaker, no clear successor and a small band of insurgent Republicans who appear ready to shut the government down at any cost, the question of how Congress avoids a costly budget standoff is now even harder to answer.
"It's a pathway to chaos. it's like a shutdown," Sen. Mitt Romney (R-Utah) told HuffPost, adding that the power vacuum in the House will make it more difficult to pass legislation.
Sen. John Cornyn (R-Texas) called McCarthy's ouster "disgraceful."
"We saw a similar thing happen to [former GOP House Speaker John] Boehner, [Paul] Ryan, and now McCarthy. I'm sure the next speaker is going to be subjected to the same terrorist attacks," Cornyn added.
A handful of Republicans and nearly all Democrats backed a resolution offered by Rep. Matt Gaetz (R-Fla.) earlier on Tuesday to declare the speaker's office vacant. The vote was 216 to 210, making McCarthy the first speaker in history to be removed from office in such a way. His tenure lasted just nine months.
Gaetz and his allies accused McCarthy of being untrustworthy and too willing to fold to Democrats. McCarthy, meanwhile, said Gaetz held a "personal" vendetta against him and accused him of sabotaging conservative policies.
House Republicans are expected to vote to elect a new speaker next week, if they can find someone to do the job. Rep. Patrick McHenry (R-N.C.) has been appointed by McCarthy to serve temporarily as speaker pro tempore.
Sen. Kevin Cramer (R-N.D.) said McCarthy's ouster served no purpose, linking it to grievances that have knocked out the past three Republican speakers of the House stretching back to 2015.
"It's chaos for the sake of a couple of people who honestly are built to be in the minority. Matt Gaetz and a few others, they're built to be in the minority," Cramer said. "The minority is a very easy place to raise havoc, to get people to support you because you don't have any real governing responsibility."
Sen. Mike Rounds (R-S.D.) said that a faction of House Republicans aren't willing to accept reality on spending when they control only one house of Congress and Democrats control the Senate and the White House.
"They simply haven't figured out a mature way to recognize that you're not going to get everything done immediately, it takes time," he said. "And the perfect should not be the limitation to getting something good done. Unfortunately, a lot of the folks over there want to be perfect, or not at all."
Asked what their constituents might be thinking when they view Republican dysfunction in Congress, Sen. Shelley Moore Capito (R-W.Va.), a member of GOP leadership, said: "'Like, are you guys nuts?' That's what they're thinking."
Cramer joked that anyone willing to become House speaker right now would only do it "because they hate themselves."
"They're miserable. They believe in self-flagellation," he deadpanned. "The only reason you do it is you think you can make a difference, that you can bridge the great divides. Kudos to whoever thinks that and wants to try it."