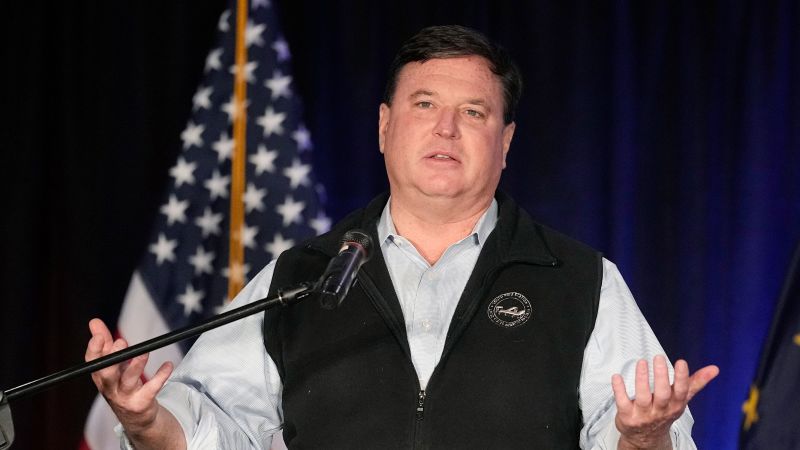 Indiana's Republican attorney general is facing three professional ethics charges stemming from public statements he made last year about a state doctor he sought to punish for providing abortion services to a 10-year-old Ohio rape victim.
In a 56-page complaint filed Monday with Indiana's Supreme Court Disciplinary Commission, Attorney General Todd Rokita was accused of violating three separate state professional conduct rules for a series of public comments he made about Dr. Caitlin Bernard.
Two of the counts relate to an interview with Fox News host Jesse Watters in which Rokita referred to Bernard as an "abortion activist acting as a doctor with a history of failure to report."
Rokita is also accused of "intentionally making public statements and/or directing others to issue public statements from July 2022 – September 2022 about the investigation of Dr. Caitlin Bernard, prior to a referral to the Medical Licensing Board, in contravention of the duty of confidentiality required under" Indiana law and professional conduct rules.
CNN has reached out to Rokita's office for comment on the disciplinary charges.
Rokita moved to dismiss the disciplinary charges against him in a filing later Monday, writing that his "statements reflect his commitment to fulfill official duties regardless of political sensitivity and to keep the public informed."
Rokita conceded that the comments at issue from the Fox interview "could reasonably be considered to have violated" professional conduct rules, wbut that "should a hearing be necessary, Respondent demands strict proof thereof," adding that he denies any allegations stemming from his comments about his office's probe into Bernard.
Bernard's attorney, Kathleen DeLaney, said in a statement that her legal team "had no involvement in the recent charges filed and therefore cannot comment on them."
Indiana's Supreme Court will appoint a hearing officer to oversee the matter, much like a trial court judge would, according to the disciplinary commission's website. That officer will make a report on the case and provide it to the Supreme Court, which will make the final call on whether to reprimand Rokita.
Should the Indiana Supreme Court find that Rokita violated state ethics rules, it could order disciplinary sanctions ranging from a private or public reprimand to permanent disbarment.
Bernard was reprimanded and fined by Indiana's medical licensing board after it determined that her disclosure of the 2022 abortion violated federal and state patient privacy laws. The reprimand came after Rokita had filed a complaint against Bernard last November, citing her decision to discuss the episode with a reporter.
The procedure was done just days after the Supreme Court overturned the constitutional right to an abortion, a ruling that paved the way for Ohio to ban almost all abortions after six weeks of gestation. The girl was six weeks and three days into her pregnancy, Bernard previously told CNN.
Bernard and her medical partner had sued Rokita, alleging his office used illegitimate consumer complaints to pursue his probe into her, but they later dropped their suit.