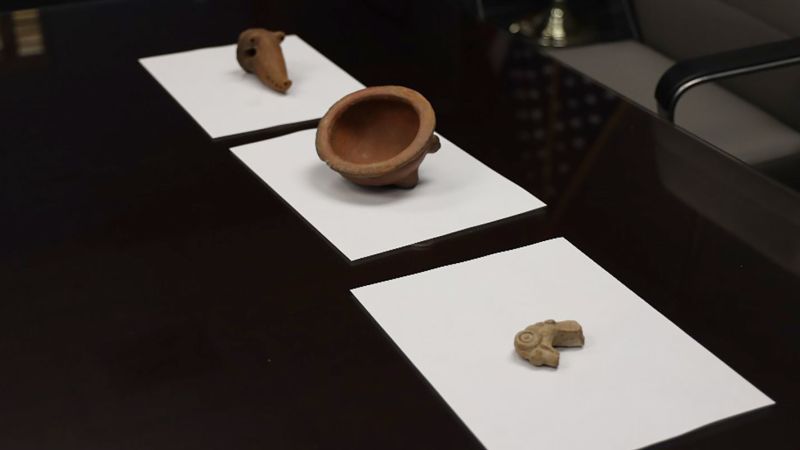 Three pieces of Costa Rican history have been returned to the country almost six years after an international traveler brought them to the United States, according to US Customs and Border Protection.
Customs officers seized the ancient artifacts in December 2017 from a central Florida resident who arrived with them at the Orlando International Airport without proper documentation, according to a news release.
After a secondary inspection, CBP's agricultural specialists suspected the traveler, who flew in from San Jose, Costa Rica, was carrying protected artifacts without proof of being legally allowed to remove them from the country, authorities said.
CBP notified Costa Rica, and the country filed a petition for the objects' return that stated they were stolen and "owned by the people of Costa Rica pursuant to its cultural patrimony laws," the release stated. CBP granted Costa Rica's petition.
The objects were believed to have been "used for funerary or domestic contexts in the period established between 300 B.C. and 880 A.D," CBP said.
Specialists from the National Museum of Costa Rica described one of the artifacts as a tripod pot that is missing its three supports and "decorated in some areas with red clay, combined with the natural color of the paste and decorations modeled in zoomorphic shapes."
Experts described the second object as a hollow support called a raffle that has a "zoomorphic motif," or mammal head.
"The third is a fragment of decoration that was supported by a vase with high supports," the specialists said.
On Thursday, the Honorable Ludmila Patricia Ugalde Simionova, who serves as Consul General of Costa Rica in Miami, received the artifacts, according to CBP.
Simionova said looting and illicit trades of antique items have endangered the country's precious artifacts.
"Our cultural heritage holds immeasurable value, serving as a testament to our rich history and identity," Simionova said in a statement. "Through joint initiatives and bilateral agreements, we have been able to recover and repatriate many stolen cultural treasures."
The US and Costa Rican governments signed the Memorandum of Understanding on the Imposition of Restrictions on the Importation of Archaeological Material in January 2021 to protect specific artifact categories, according to the CBP. The memorandum means if customs officers find artifacts in those categories, the US will return them to Costa Rica.