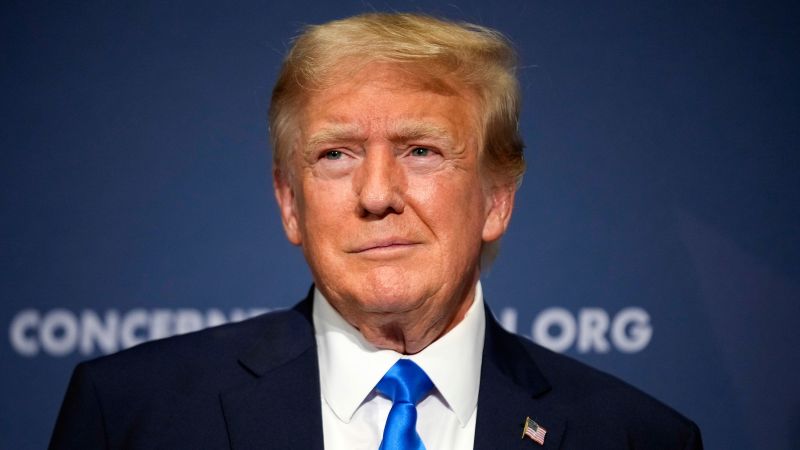 Former President Donald Trump, in an interview with NBC's Kristen Welker that aired Sunday on "Meet the Press" continued to make false claims around a variety of subjects including the 2020 election and the January 6 insurrection.
During his first sit-down interview with a broadcast news network since he departed the White House, Trump repeated many of his regular false claims.
Below is a look at some of those claims:
The Strategic Petroleum Reserve

Trump criticized President Joe Biden for releasing a large quantity of crude oil from the national Strategic Petroleum Reserve to try to keep prices down in the wake of Russia's invasion of Ukraine – and Trump claimed that this is a reserve "I had a lot to do with filling up for the first time ever." Trump added later in the interview, "He wanted to have low gas prices for an election. And now, we have nothing left."
Facts First: Trump made two false claims here. First, contrary to his repeated assertions, it's not true that he filled up the Strategic Petroleum Reserve; the reserve actually contained fewer barrels of crude oil when he left office in early 2021 than when he took office in 2017. Second, while the amount of crude in the reserve is at a 40-year low, it's not even close to true that "we have nothing left" at present; the reserve remains the world's largest even at its current level, with about 350.6 million barrels of crude as of the week ending September 8.
The fact that the amount of oil in the reserve fell during the Trump presidency is not all because of him. The law requires some mandatory sales from the reserve for budget reasons, and when Trump issued a 2020 directive to buy tens of millions more barrels and fill the reserve to its maximum capacity, Democrats in Congress blocked the required funding. Nonetheless, he didn't fill up the reserve as he claims.
The size of the national debt

Trump said, "We have to save our country. We have $35 trillion in debt."
Facts First: The national debt is very large, but Trump exaggerated its size. It is right around $33 trillion (it was $32.99 trillion as of Thursday, the latest day for which we have official data), not "$35 trillion."
We didn't publish a fact check when he claimed at a campaign rally on September 8 that it was $34 trillion, but this is now an exaggeration of an exaggeration – and $2 trillion is certainly a significant difference.
The price of bacon

While discussing inflation, Trump said, "Things are not going, right now, very well for the consumer. Bacon is up five times."
Facts First: Trump's claim that the price of bacon has quintupled over the last few years – which CNN previously debunked when he made it earlier this month – is grossly inaccurate. The average price of bacon is higher than it was when he left office, but it is nowhere near "up five times." The average price of sliced bacon was $6.502 per pound in August 2023, compared with $5.831 in January 2021, according to federal data – an increase of about 11.5%, not even close to the 400% increase Trump keeps claiming.
Military equipment left to the Taliban

Criticizing the way Biden handled the US military withdrawal from Afghanistan in 2021, Trump repeated a claim about how much military equipment was left to the Taliban when the Afghan government and armed forces collapsed.
"We gave $85 billion worth of equipment to the Taliban," Trump said.
Facts First: Trump's $85 billion figure is false. While a significant quantity of military equipment that had been provided by the US to Afghan forces was indeed abandoned to the Taliban upon the US withdrawal, the Defense Department has estimated that this equipment had been worth about $7.1 billion – a chunk of the roughly $18.6 billion worth of equipment provided to Afghan forces between 2005 and 2021. And some of the equipment left behind was rendered inoperable before US forces withdrew.
As other fact-checkers have previously explained, the "$85 billion" is a rounded-up figure (it's closer to $83 billion) for the total amount of money Congress appropriated during the war to a fund supporting the Afghan security forces. A minority of this funding was for equipment.
Trump and the Nord Stream 2 pipeline

Trump said of Russian President Vladimir Putin: "Look, I had a very good relationship with him. And yet nobody was tougher on Russia than me. I stopped Nord Stream 2. You never heard of Nord Stream 2 – that was the pipeline – until I got involved. I said, 'Nord Stream 2.' People that were sophisticated, military people, and political people never heard of Nord Stream 2. I had it ended. The pipeline was dead."
Facts First: It's not true that the Nord Stream 2 gas pipeline from Russia to Germany was "dead" during Trump's presidency or that he "had it ended." While he did approve sanctions on companies working on the project, that move came nearly three years into his presidency, when the pipeline was already estimated to be 90% complete – and the state-owned Russian gas company behind the project said shortly after the sanctions that it would complete the pipeline itself. The company announced in December 2020 that construction was resuming. And with days left in Trump's term in January 2021, Germany announced that it had renewed permission for construction in its waters.
Second, while we don't know what any particular "military people" and "political people" might have said to Trump, it's not true that, in general, "you never heard of Nord Stream 2" before he began discussing it as president. Nord Stream 2 was a regular subject of media, government and diplomatic discussion before Trump took office. In fact, Biden publicly criticized it as vice president in 2016. Trump may well have generated increased US awareness of the project, but he certainly wasn't the one to bring it to the federal government's attention.
The pipeline never began operations; Germany ended up halting the project as Russia was about to invade Ukraine early last year. The pipeline was damaged later in the year in what has been described as an act of sabotage.
Trump blames Pelosi for January 6

Trump looked to place blame on then-House Speaker Nancy Pelosi for the violence on January 6, 2021 – when his own supporters stormed the US Capitol, claiming she "was in charge of security. She turned down 10,000 soldiers. If she didn't turn down the soldiers, you wouldn't have had January 6."
Facts First: This is false. The speaker of the House is not in charge of Capitol security. That's the responsibility of the Capitol Police Board, which oversees the US Capitol Police and approves requests for National Guard assistance.
Trump's former acting defense secretary, Chris Miller, also told lawmakers that he was never given a formal order by Trump to have 10,000 troops ready to be sent to the Capitol on January 6. "There was no direct, there was no order from the president," Miller said.
Former White House chief of staff Mark Meadows sent an email saying the National Guard would be present to "protect pro Trump people" in the lead up to the US Capitol insurrection, according to the report released by the January 6 committee.
Trump's indictments

Trump referred to the two federal indictments against him as "Biden indictments," claiming Biden directed the Justice Department to charge the former president in the cases brought by special counsel Jack Smith in Washington, DC.
Facts First: This claim is not supported by any evidence. There is no sign that Biden has been involved in the decision to criminally investigate or prosecute Trump; ordinary citizens on a Florida grand jury voted to indict Trump in June, and the prosecution is led by a special counsel, Jack Smith. Smith was appointed in November 2022 by Attorney General Merrick Garland, a Biden appointee, but that is not proof that Biden was involved in the prosecution effort.
Biden said in June that he had not spoken to Garland on the subject and was "not going to speak with him."
The 2020 election

Trump repeatedly argued that the 2020 election was "rigged" against him, and he claimed that "there's no questions about it."
Facts First: This claim is false. The election was not rigged, and there is no evidence of any fraud large enough to have changed the outcome. Officials from the Trump administration's Department of Homeland Security, along with state election officials, said in a statement after the 2020 election: "The November 3rd election was the most secure in American history."
This story will updated with additional fact checks.