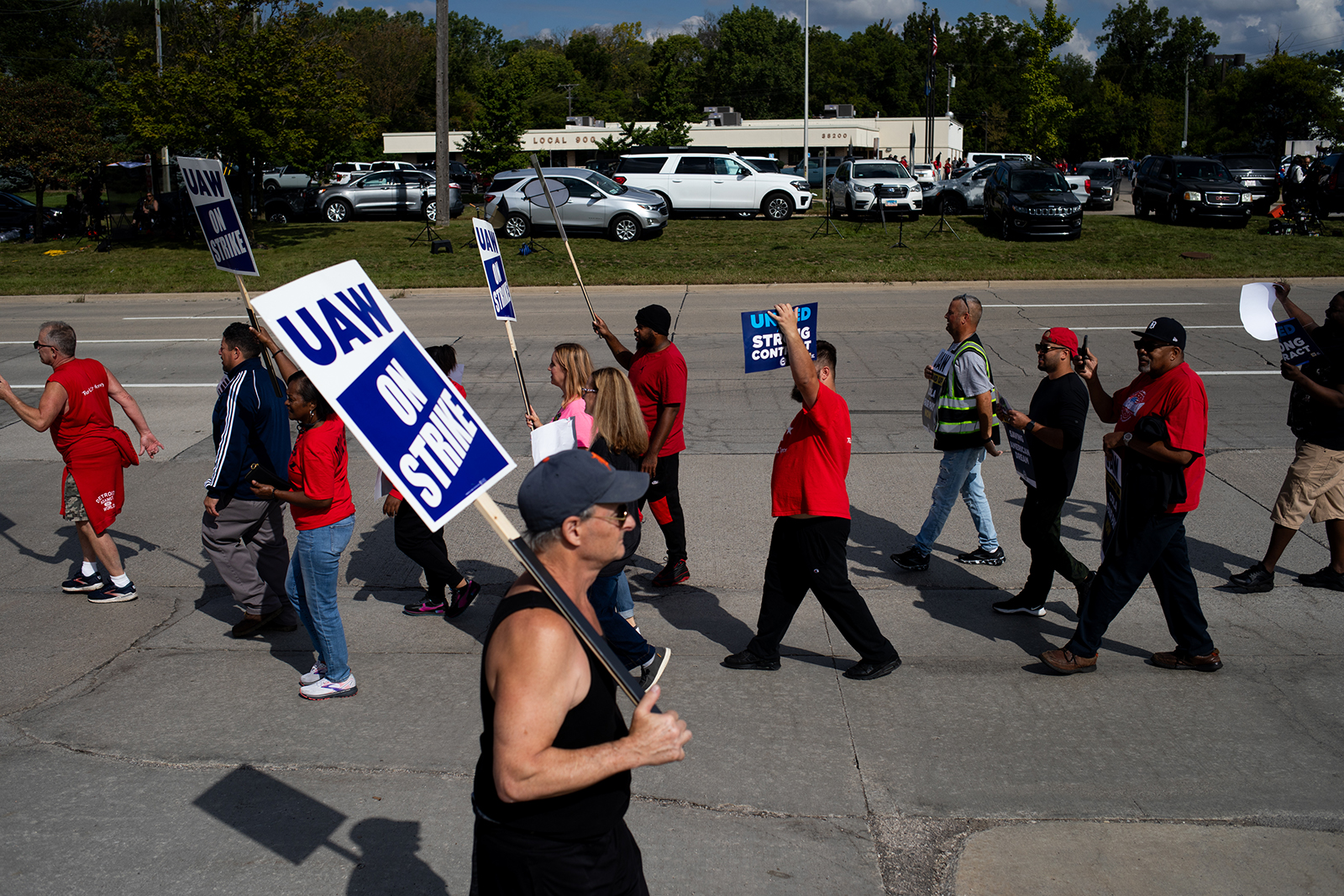 The United Auto Workers union strike against General Motors, Ford and Stellantis is unprecedented, as the union has never struck all three companies at the same time. And where it goes from here is uncertain.
The negotiations are expected to resume Saturday, according to a statement from UAW President Shawn Fain. He said the union did not participate in talks Friday in order to hold a rally in downtown Detroit, which will include Sen. Bernie Sanders. He disputed a statement from President Joe Biden that talks "broke down."
"Today we're rallying with our members. Tomorrow, we expect to be at the bargaining table," he said.
All three companies had already made statements calling for the union to return to the table.
Acting Labor Secretary Julie Su and Gene Sperling, a top adviser to Biden who has been monitoring talks for the administration, were heading to Detroit Friday in hopes that they can help the two sides reach a deal, said Biden in brief remarks Friday morning. He took a very pro-union position in those comments, saying: "Auto companies have seen record profits, including in the last few years, because of the extraordinary skill and sacrifices of UAW workers. But those record profits have not been shared fairly, in my view, with those workers."
He said the automakers should "go further" in their offers for the union.
The strike is unusual in that the union is not having all 145,000 members at the three companies walk out simultaneously and bring all operations to a halt, the way it typically does. Instead, it has selected one large assembly plant for each company, in Toledo, Ohio; Warren, Michigan; and Wentzville, Missouri, at which to stage the strike. Those plants employ 12,700 UAW members, or less than 10% of members.
The union insists it is ready to expand the strike to other plants unless the companies improve their offers in subsequent negotiations, whenever those talks might resume.
"We're ready for the strike to last as long as it takes," Fain told CNN on a picket line in Warren, Michigan, early Friday morning just after the strike began. Asked if more plants would be going out on strike, he responded, "If they [the automakers] don't take care of our members, they will."