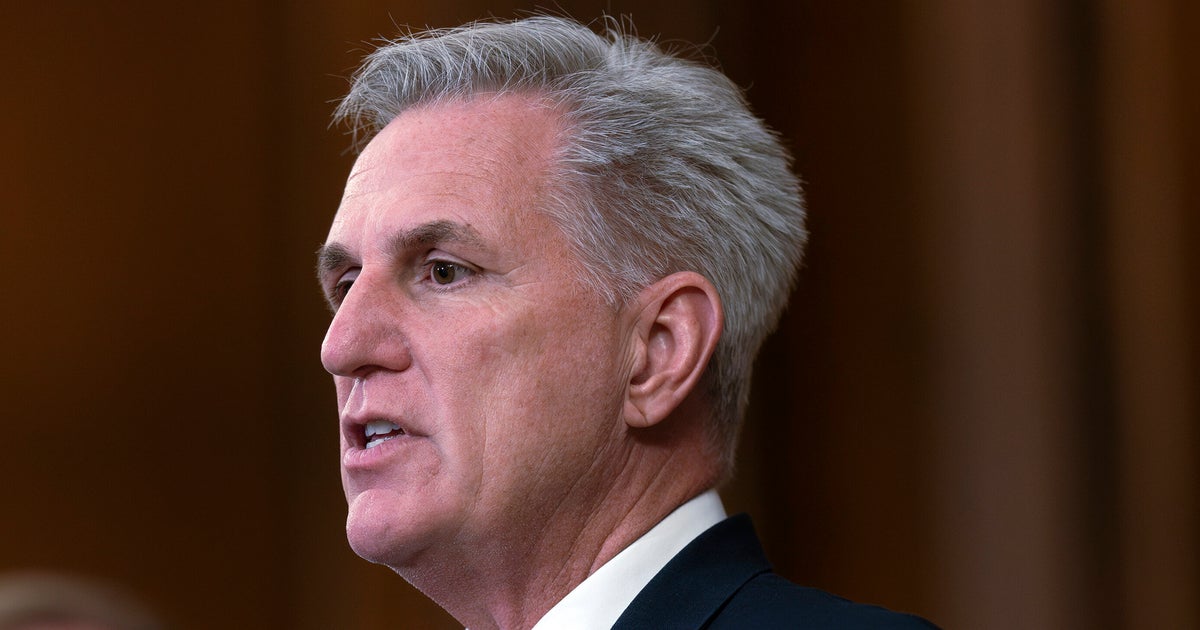 WASHINGTON ― House Speaker Kevin McCarthy said Tuesday that he is directing House committees to launch an impeachment inquiry into President Joe Biden.
"House Republicans have uncovered serious and credible allegations into President Biden's conduct," the California Republican said. "Taken together, these allegations paint a picture of a culture of corruption."
Republicans have delved into bank records reflecting millions of dollars that foreign nationals paid the president's son, Hunter Biden, including during the years when Joe Biden was heavily involved in foreign policy as vice president. The records haven't shown any payments to the president himself, however.
McCarthy said earlier this month that the House wouldn't open an impeachment inquiry without holding a vote, but on Tuesday, he apparently abandoned that promise, announcing that he had ordered the start of an inquiry. The move gives far-right Republicans the impeachment proceedings they've demanded while avoiding a vote that would have likely failed, given opposition to impeachment from moderates.
"I am directing our House committee to open a formal impeachment inquiry into President Joe Biden," McCarthy said, adding that the impeachment effort would be led by committee chairmen Reps. James Comer (R-Ky.), Jim Jordan (R-Ohio) and Jason Smith (R-Mo.), the leaders of the Oversight, Judiciary and Ways and Means committees.
The White House criticized McCarthy in a statement.
"House Republicans have been investigating the President for 9 months, and they've turned up no evidence of wrongdoing. His own Republican members have said so," White House spokesman Ian Sams said, referring to statements by Rep. Ken Buck (R-Colo.) and others. "He vowed to hold a vote to open impeachment, now he flip flopped because he doesn't have support. This is extreme politics at its worst."
McCarthy claimed witness testimony showed that Biden had been involved in his son's business deals and that he may have received a bribe.
"Even a trusted FBI informant has alleged a bribe to the Biden family," McCarthy said.
Both claims are exaggerations. The trusted FBI informant said a Ukrainian oligarch alleged the bribe but also that he might have been making it up. And a former business partner testified that Hunter Biden put his father on the phone in the presence of other business associates but that he didn't actually discuss their work.
McCarthy did not allege any corrupt official action on Joe Biden's part but said an impeachment inquiry would be a "logical next step," allowing Republicans to gather more evidence. In the past, federal courts have been more deferential to House requests to enforce subpoenas when the House has been conducting an impeachment inquiry. McCarthy previously suggested Republicans would seek Joe Biden's personal bank account information as part of their investigation.
Hunter Biden joined Ukrainian gas company Burisma's board in 2014, concerning State Department officials who said the job created the appearance of a conflict of interest, given Joe Biden's role in foreign policy.
Former President Donald Trump in 2019 urged Ukraine to announce an investigation of the Bidens, withholding military aid in an effort to force the country to do so. Democrats impeached Trump that same year for "abuse of power."
During the proceedings, various State Department representatives said Joe Biden hadn't done anything untoward in Ukraine. But on Tuesday, House Republicans asked Secretary of State Anthony Blinken for documents related to Ukraine policy during Biden's time as vice president.
Hunter Biden, meanwhile, faces federal criminal charges for his failure to pay taxes in 2017 and 2018, when he was still on Burisma's board, and also for illegally owning a firearm when he was addicted to crack cocaine.
Despite the real threat of a public trial and prison sentence, Republicans have claimed the Justice Department has coddled the younger Biden. McCarthy said Tuesday that "the president's family has been offered special treatment by Biden's own administration."
Still, conservative House members complain that McCarthy isn't moving fast enough, and they're threatening to force a no-confidence vote in the speaker. Rep. Matt Gaetz (R-Fla.) took to the House floor on Tuesday to criticize his colleagues for not issuing a subpoena to Hunter Biden.
As for the impeachment inquiry, Gaetz called it "a baby step following weeks of pressure from House conservatives to do more."