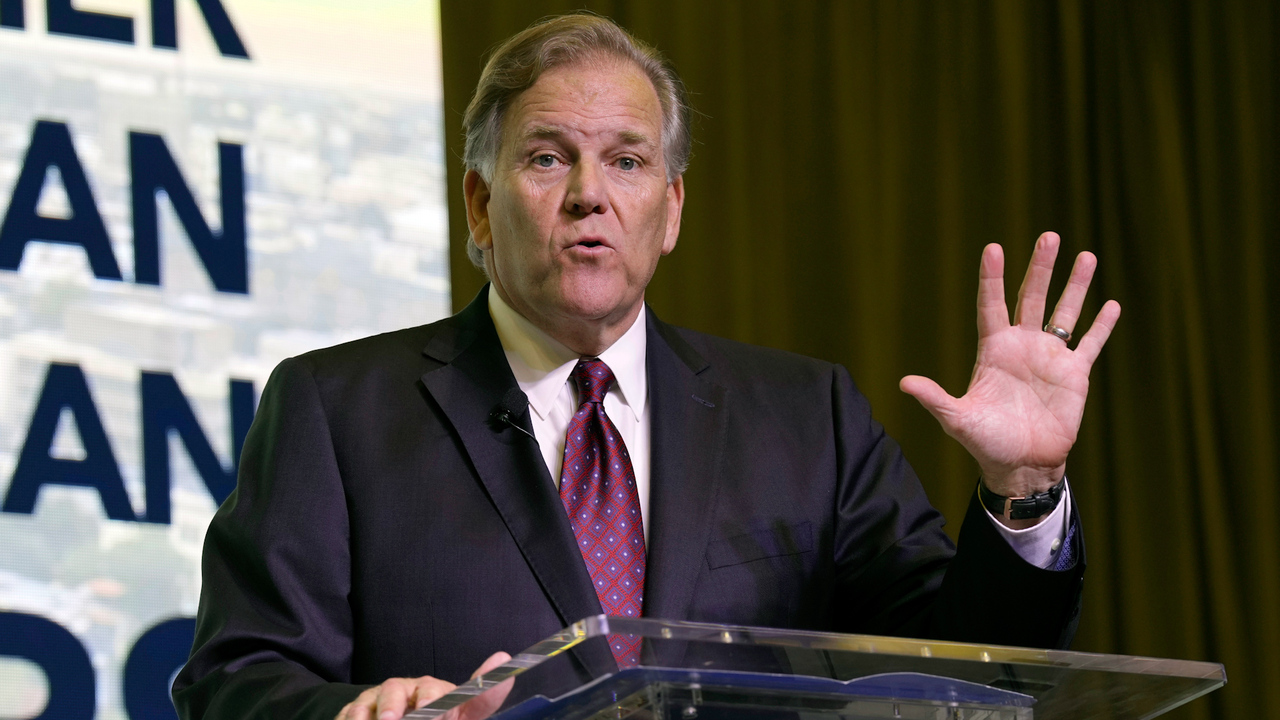 Former Rep. Mike Rogers, a GOP moderate who once chaired the House Intelligence Committee, launched a bid Wednesday for Michigan's open Senate seat.
Rogers, who served in Congress for 14 years, was recruited by the National Republican Senatorial Committee. His decision to enter the race gives GOP leaders a credible candidate in a state where they had been struggling to secure a strong recruit.
Michigan's Senate race could determine who controls the narrowly divided chamber in 2025, though Republicans haven't won a Senate seat in the state since 1994. Democrats' dominance in the state legislature and governor's mansion have further reduced the GOP's footprint in the state.
The incumbent, Democratic Sen. Debbie Stabenow, announced she would retire earlier this year. Many top Democrats quickly coalesced around Rep. Elissa Slotkin (D-Mich.) but actor Hill Harper is also running. Republicans need to flip just two seats to win back control of the Senate if they don't win the White House.
In his announcement, Rogers took aim at President Joe Biden and his video included footage of progressive Rep. Rashida Tlaib (D-Mich.), Slotkin and Sen. Bernie Sanders (I-Vt.). He accused politicians of "fighting over banning gas stoves while China is stealing our intellectual property and our jobs."
"I thought I put politics behind me but, like you, I know something's broken," he said. "America under Biden and his cronies is going in the wrong direction."
NRSC Chairman Steve Daines embraced Rogers' decision to enter the race and hinted at his electability.
"Mike Rogers has devoted his life to serving the people of Michigan and holding communist China accountable," Daines said. "Mike is the type of candidate who can perform well with suburban Michiganders and be a strong part of the eventual ticket in Michigan. I am pleased to see Mike stepping up to run for the U.S. Senate."
But Rogers will not have the Republican field to himself. After months of slow-moving recruitment, GOP leaders are now staring down the possibility of a messy primary.
Former Rep. Peter Meijer (R-Mich.), who lost a House primary in 2022 after voting to impeach then-President Donald Trump, opened an exploratory committee for a Senate run last week. Businessman Sandy Pensler, who lost a 2018 Senate primary to John James, and John Tuttle, the vice chair of the New York Stock Exchange, are also considering runs. Former Detroit Police Chief James Craig has said he is close to a decision on whether to enter the race and will make an announcement in the coming weeks.
Michigan's GOP has taken a hard turn to the right in recent months as the party has suffered devastating state-level losses. But several of the possible GOP Senate contenders have a history of criticizing Trump, including Rogers.
The former congressman has said as recently as November 2022 that it is time for his party to move past Trump and that the former president's tactics are "clearly disruptive." Trump won Michigan in 2016 but lost it in 2020. Any Republican Senate nominee will need to court the president's supporters to prevail.
Some national Republicans worry that Meijer has no clear path to the nomination following his impeachment vote. Daines has endorsed Trump and keeps in frequent contact with him to discuss Senate races.
Rogers was previously considering a run for president but began seriously thinking about a Senate campaign as the GOP field was slow to take shape. Republican recruiters, some of whom have been urging Rogers to run for a decade, welcomed his interest.
Rogers also served in the US Army, as a special agent for the FBI and in Michigan's state Senate. He led the Intel Committee in the years after the 9/11 attacks. He hails from Livingston County in the southeastern region of the state.
He first won his House seat in 2000, replacing Stabenow, in what became one of the closest races in the country. A staunch ally of then-Speaker John Boehner while in Congress, he retired in 2015 and went to work in talk radio and cybersecurity.