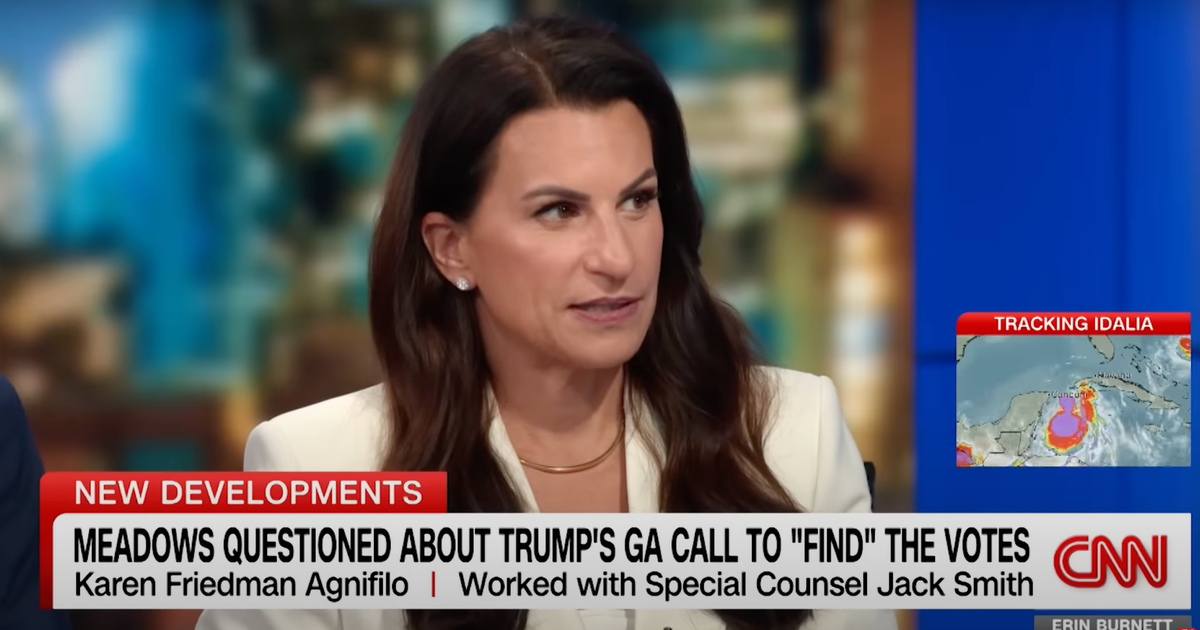 A former prosecutor says Mark Meadows made an "incredibly risky" gambit when he took the witness stand in Atlanta on Monday in a bid to move his Georgia election interference case from state to federal court.
"Most criminal defendants would not testify under oath about the actual facts of the case in an evidentiary hearing that has nothing to do, really, with your actual trial," CNN legal analyst Karen Friedman Agnifilo said during a panel discussion Monday.
"He hasn't seen the evidence yet. He hasn't sat through the whole trial. If he were going to testify at his trial, it would be after he saw the government's entire case. He doesn't ever have to testify, but he put all his cards on the table," she said.
Friedman Agnifilo, the former chief assistant district attorney of the Manhattan District Attorney's Office, said Meadows' approach was "like a Hail Mary."
"He's putting all eggs in this basket trying to get the case removed to federal court," she added.
Meadows, Donald Trump's former White House chief of staff, was charged along with the former president and 17 others earlier this month in a vast racketeering case brought by Fulton County District Attorney Fani Willis.
The indictment alleges that Trump, Meadows and others were part of a wide-ranging conspiracy to help the former president illegally cling to power after losing the 2020 election.
Meadows faces two felony charges: racketeering and solicitation of a violation of oath by a public officer.
His attorneys argue that he acted in his capacity as a federal official and did nothing criminal. They have also filed a motion in federal court to have the case dismissed, which would be heard if the case is successfully removed from state court to the federal level.
Meadows testified for hours on Monday in a federal courtroom in Atlanta, addressing specific meetings and phone calls described in the indictment and insisting they were part of his duties as a federal official.
U.S. District Judge Steve Jones has not yet issued a decision.
Several other defendants in the Georgia indictment are seeking to make the same jump to federal court, including former Justice Department official Jeffrey Clark, and fake electors David Shafer, a former state GOP chair; Shawn Still, a Georgia state senator; and Cathleen Latham, a local GOP official.