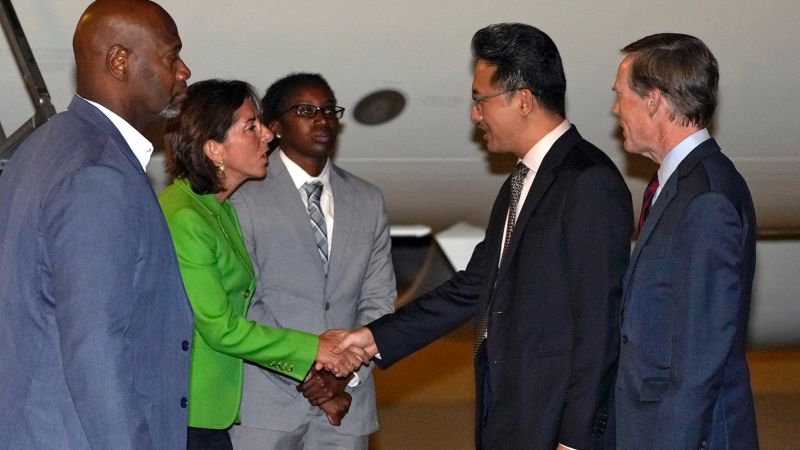 US Commerce Secretary Gina Raimondo said stable relations between Washington and Beijing are "profoundly important" as she kicked off a Monday meeting with her counterpart, Chinese Commerce Minister Wang Wentao.
Raimondo's trip to Beijing and Shanghai, which ends on Wednesday, follows recent visits from three other Biden administration officials, including Secretary of State Antony Blinken, Treasury Secretary Janet Yellen and Climate Envoy John Kerry.
"The economic relationship between the United States and China is one of the most significant in the world. We share over $700 billion of trade," Raimondo said in the Chinese capital.
"It is profoundly important that we have a stable economic relationship, which is to the benefit of both of our countries. And in fact what the world expects of us. It's a complicated relationship …. We will of course disagree on certain issues, but I believe that we can make progress if we are direct, open and practical," she added.
Wang said Beijing was ready to work with Washington, adding that bilateral economic relations were important not just to the two countries, but to the rest of the world.
Both officials expressed optimism, with Raimondo noting that their teams had worked together over the summer to set up "new information exchanges and working groups" that would pave the way for more engagement between both sides.
Raimondo added that she would not compromise or negotiate on any matters related to national security. But the vast majority of US-China trade was not related to national security, she said.
Wang agreed, saying he saw most trade between the two economies as "benign."
— This is a developing story and will be updated.
— CNN's Jadyn Sham contributed reporting.