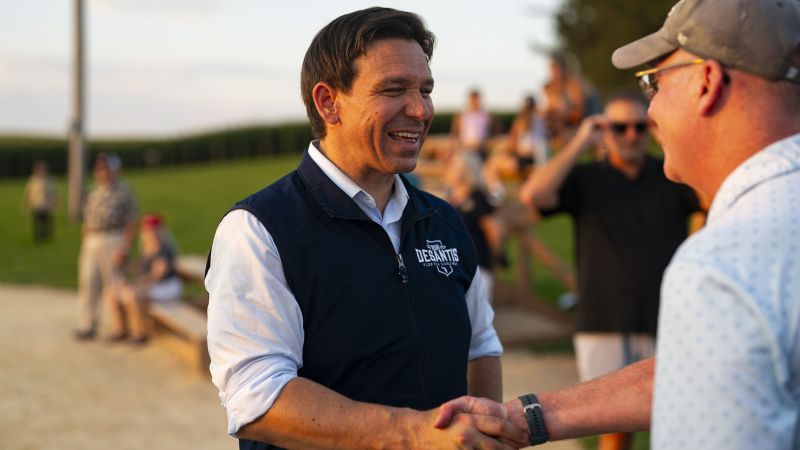 With a tropical storm intensifying in the Gulf of Mexico and Florida's largest city reeling from a racially motivated attack that left three Black people dead, Gov. Ron DeSantis left the campaign trail Sunday and returned to his state to navigate the crises.
DeSantis spoke Sunday afternoon from the state's emergency operations center in Tallahassee to brace Florida's gulf coast for Tropical Storm Idalia, which could make landfall as a hurricane as early as Wednesday.
Before speaking on the storm, DeSantis read a statement addressing the attack at a Dollar General store in Jacksonville. The White gunman, who DeSantis called "a deranged scumbag," used racial slurs, left behind a racist screed and drew swastikas on his firearm, authorities said.
"Perpetrating violence of this kind is unacceptable," DeSantis said. "And targeting people due to their race has no place in the state of Florida."
Saturday's tragedy and the looming potential for devastation from another storm will test how DeSantis balances his official duties with his political ambitions. The Republican has spent much of the past three months on the road as he seeks to win the GOP nomination over a large field of contenders, including former President Donald Trump, whose own response to disasters became fodder for Democrats at election time.
DeSantis' campaign did not immediately provide an update on his future political travel, but he told reporters Sunday that he was "locked in on this" storm and "we're gonna get the job done." DeSantis canceled a town hall scheduled for Monday morning in South Carolina, as well as his keynote address at South Carolina Rep. Jeff Duncan's 12th annual Faith & Freedom BBQ. His wife, Casey, will attend in his place, campaign press secretary Bryan Griffin said in a statement on X.
Asked where he planned to be this week, DeSantis responded: "I'm here. I am here."
DeSantis provided updates on Idalia's trajectory as it gained strength between Cuba and Mexico. The storm has maximum sustained wind speeds of 40 mph, according to the National Hurricane Center, and it could become a hurricane by Tuesday afternoon. DeSantis warned that the Gulf of Mexico, experiencing record warm sea surface temperatures, could quickly turn this storm more powerful.
"Please just heed the warnings of your local officials (and) continue to watch the news," he said.
The remarks came during one of DeSantis' first public appearances in his home state since he entered the race for president in May. He returned to Florida from Iowa, where he spent the weekend following the first Republican presidential primary debate touring the Hawkeye State for the fifth time in the last seven weeks. On Saturday evening, the governor's office shared a video of DeSantis from Iowa condemning the violence as "totally unacceptable" and called the shooter "cowardly" for taking his own life.
Until now, DeSantis has not felt the need to come back to Florida to publicly address a handful of other emergencies his administration has faced this summer, including outbreaks of leprosy and malaria, a deadly spree of flesh-eating bacteria, record-breaking temperatures off Florida's shore that have threatened delicate coastal ecosystems and a teetering property insurance market.
DeSantis' return to Florida to manage two high-profile crises comes as he has intensified his criticism of President Joe Biden's response to the Maui wildfires. Republicans have seized upon a five-day period of silence from when Biden first commented on the deadly fires to when he next spoke publicly about the devastation there.
"Biden was on the beach while those people were suffering. He was asked about it and he said no comment. Are you kidding me?" DeSantis said at Wednesday's GOP debate in Milwaukee. "As somebody that's handled disasters in Florida, you've got to be activated. You've got to be there. You've got to be present. You've got to be helping people who are doing this."
DeSantis, though, has also faced blowback at home for his own handling of events that preceded the challenges he is now confronting upon arrival in Florida.
Democrats have accused DeSantis of not speaking out forcefully enough against pervasive demonstrations of neo-Nazism in Florida. A string of antisemitic demonstrations have rocked Florida in recent years, especially in Jacksonville, where hateful messages were displayed in public, including a stadium during a Florida-Georgia college football game DeSantis attended.
In January 2022, DeSantis lashed out at those who called on him to condemn neo-Nazi demonstrations that had taken place near Orlando, accusing his political opponents of trying to "smear me as if I had something to do with it." During a visit to Israel this year, DeSantis signed a bill into law that prohibited antisemitic displays onto buildings.
"Ron DeSantis repeatedly refused to condemn numerous Nazis rallys (sic) across Florida. Some even flew DeSantis flags alongside swastikas," former state Rep. Carlos Guillermo Smith wrote on social media after Saturday's deadly shooting.
The Florida governor was interrupted by crowd members Sunday evening when he began to speak at a vigil for the Jacksonville shooting victims. As DeSantis was interrupted, Councilwoman Ju'Coby Pittman took the microphone and addressed the crowd, telling everyone to put parties aside.
As for Idalia, storms often put Florida executives in a leadership crucible that test their responsiveness and ability to console during periods of tremendous devastation.
DeSantis was elected in the aftermath of Hurricane Michael, a powerful, destructive storm that ripped through the Florida panhandle. DeSantis as governor has overseen the recovery of the region, which is still ongoing.
Last year, DeSantis commanded the state's response to Hurricane Ian by holding regular news conferences that offered detailed and matter-of-fact updates on the logistics going into the rescue and recovery missions. He put aside his political rivalry with Biden during a joint appearance where the two assured local residents that their administrations were working in harmony.
Ian's destruction killed dozens of people who failed to leave their gulf coast homes in time, forcing DeSantis to defend the timing of evacuation orders from local officials and the efforts by his department of emergency management to warn people about the storm's potential surge.
Asked Sunday if Ian altered how the state prepares for evacuations, DeSantis again stood by the county response and said evacuation orders would continue to come from local officials.
"That's the way it's always been," he said. "That's the way it's going to be."
CNN's Kit Maher and Sara Smart contributed to this story.