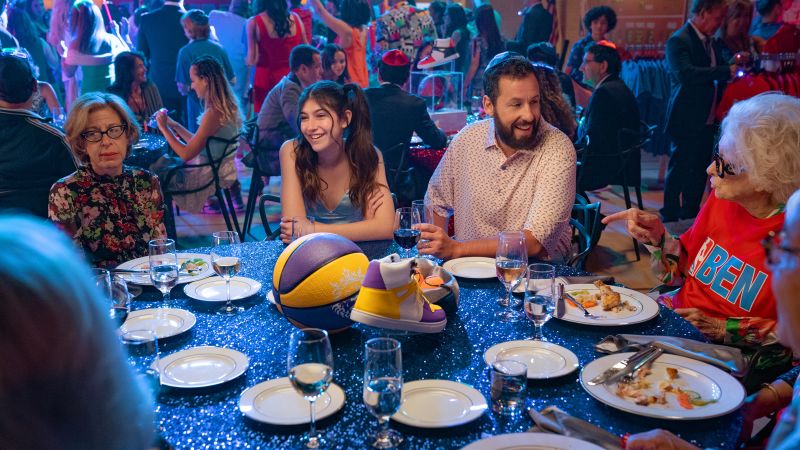 Sunny Sandler starred in her own real-life bat mitzvah just last year, making her lead role in dad Adam Sandler's new Netflix comedy "You Are So Not Invited to my Bat Mitzvah" that much sweeter.
The youngest daughter of the "Happy Gilmore" star celebrated her bat mitzvah – a Jewish rite of passage celebrated when a girl turns 12 or 13 – in May 2022 with a lavish affair in Los Angeles, and her guest list was full of famous faces.
Jennifer Aniston, Taylor Lautner, David Spade and Peyton List, among others, were present at Sunny's big day, as seen in videos and photos posted to social media by guests at the time.
The footage also showcased Sunny's sweet-themed after-party where singers Charlie Puth and Halsey performed for her family and friends.
"You Are So Not Invited to my Bat Mitzvah" is a family affair, too.
The movie stars the entire Sandler family with Adam playing Sunny's dad, real-life sister Sadie playing her sister, and her mom, Jackie, playing the mom of her best friend Lydia (Samantha Lorraine).
Based on author Fiona Rosenbloom's 2005 novel of the same name, "Bat Mitzvah" follows Sunny's character Stacy Friedman and her best friend Lydia "who've always dreamed about having epic bat mitzvahs," according to an official synopsis.
When a popular boy at their religious middle school comes between the two besties, drama ensues and bat mitzvah invites get rescinded. It's a hilarious, sentimental and nostalgic coming-of-age tale full of classic Adam Sandler humor and plenty of teenage angst.
"Saturday Night Live" star Sarah Sherman, who plays the eccentric Rabbi Rebecca and is comical in every scene she appears in, plus Idina Menzel and Luis Guzmán round out the cast.
All in all, it feels like it was "bashert" – that's the Yiddish word for "destined" – that Sunny would go on to star in a film with her entire family about becoming a bat mitzvah just a year after she celebrated her very own.